Adlington's festive fundraising and fashion fix to support deaf children
Published Date

: 20 Jan 2020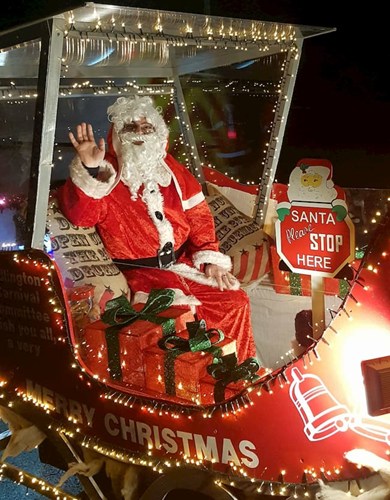 The townsfolk of Adlington opened their doors to a seasonal surprise this December when Father Christmas came knocking to collect donations for the National Deaf Children's Society.
Santa and his happy helpers from the Adlington and District Carnival Committee have been doing the rounds of the town each weekend in December to raise money for the charity via donations..
The Committee, which is entirely run by volunteers, organises community fundraising events throughout the year for charity, and the National Deaf Children's Society was selected to be its charity of the year for 2019-20.
In addition to Santa's seasonal visit, the Committee has already planned a series of other fundraising activities for the National Deaf Children's Society, culminating in the three-day Adlington Carnival, which is held every July in Jubilee Playing Fields.
The next event in the calendar will be the annual fashion show, held on 21 February at the Adlington Community Centre in Chorley. Tickets are £5 and need to be bought in advance - see the official poster below for more information on how to book your place.
The hard working and dedicated Adlington Carnival Committee hopes to raise over £8,000 for the charity this year.
Claire Lubbock, of the National Deaf Children's Society's fundraising team, said:
"I want to say a huge thank you to the amazing Adlington Carnival Committee and the people of Adlington for a truly lovely seasonal gesture. We couldn't be more grateful for your wonderful support and the incredible generosity.
"It's through selfless gestures like these that we are able to keep on doing what we do, supporting the 50,000 deaf children and their families across the UK, now and into the future."