An update on British Sign Language in Wales
Published Date

: 26 Feb 2019
I'll never forget one particular phone call with a mother of a newborn baby who had just been diagnosed as deaf. Like 90% of families with a deaf child, her family had no previous experience of deafness. Her baby's diagnosis had come as a huge shock. She broke down in tears and said: "I just want to know that I will be able to talk to my baby."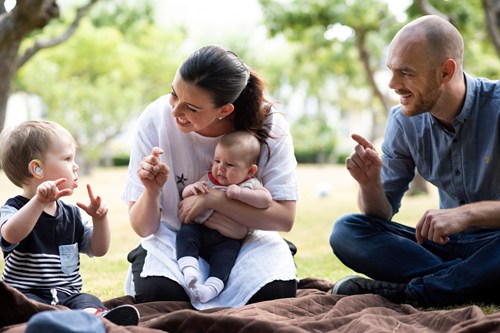 Being able to develop communication with your baby is something many of us take for granted. And yet it is so fundamental - both in terms of establishing a bond and developing language.
For many families, sign language is one option they would like to pursue to help establish communication with their child. And yet, too many families are struggling to access support to learn to sign. British Sign Language (BSL) courses are often costly or do not cover the type of vocabulary required by a young family.
Earlier this month, I was contacted by the BBC to comment on the story of a Monmouthshire couple who have resorted to fundraising in order to access BSL classes to sign with their daughter.
I was also in touch with Assembly Members, who debated BSL access issues in the Assembly (a video and transcript is available on the Welsh Assembly's website). During this debate, the Welsh Government promised to review availability of BSL classes across the country. This review is much needed and the National Deaf Children's Society Cymru will be following its progress closely.
The Education Minister also stated that she'd consider developing a national charter for the delivery of services and resources for deaf children, young people and their families. The National Deaf Children's Society Cymru has been in touch with the Minister to express our support for such a charter. We feel it could be used to drive forward improved support in a number of ways, including access for families to learn BSL.
Fingers crossed that this review will be the first step to addressing this important issue.
The Debate in the Assembly also covered other BSL issues…
The debate also covered calls to offer a BSL GCSE in Wales; an issue that the National Deaf Children's Society Cymru has often raised. The Education Minister confirmed the new curriculum would enable schools to opt to teach BSL.
In the meantime, Qualifications Wales (the body responsible for GCSEs on offer in Wales) has expressed willingness to adopt a BSL GCSE developed in England once it becomes available.
The National Deaf Children's Society is aware that discussions are ongoing in England around developing a BSL GCSE, so we will keep watching this space!
By Debbie Thomas, Policy and Campaigns Officer Wales.