Changing Technology: How we help you keep pace
Published Date

: 08 Jun 2018
I recently came across an old survey we ran in 1984. One of its main conclusions was that parents felt they had limited access to easily understood information about technology. Using technology can be quite daunting at the best of times, and it's especially hard to see its benefits if you don't have all the relevant information!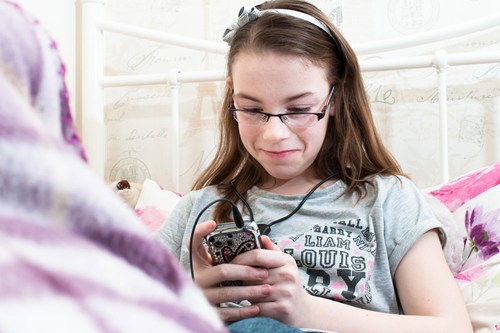 We've worked hard in the past decades to ensure families have the information they need to make an informed choice on the right technology to support their child. We cover technology in our events for families and parents of deaf children. Our Roadshow bus delivers technology sessions to schools around the UK. We sent out 1,866 copies of our 'How Technology Can Help' and 'How Radio Aids Can Help' booklets last year. We continue to campaign for better provision of technology to deaf children and young people; last year, we published research on the benefits of using radio aids in the early years at home. And let's not forget our Blue Peter Technology Loan Service that went live in the mid-1980s. The name has since changed to the Technology Test Drive, but the principle is still the same: a free-of-charge technology loan service offering deaf children and young people, their families and the professionals working with them the opportunity to borrow products and try them out in their own environment.
We have close to 100 different kinds of products on our Technology Test Drive. Technology is constantly evolving and children want to be seen with the latest tech. That's why we continuously update our stock. And we recently launched the Borrow to Buy scheme in which our members can borrow all the latest Phonak Roger radio aids, soundfield systems and accessories. But remember: despite the changes in technology the fundamental principles of how technology can benefit deaf children don't change that much. A few examples:
• Amplified headphones can help young children listen to videos on an iPad and develop their vocabulary.
• Alarm clocks with a vibrating pad can help young children learn to tell the time and older children to get up on their own and be more independent.
• Radio aids can help your child make the most out of education and fulfil their true potential.
• Streamers can be a great way for deaf young people to make phone calls on their own, taking control of their lives and embracing responsibilities.
• Direct input leads can be used to listen to music. They look similar to the in-ear headphones a teenager's peers may have, making them fit in and helping to develop their social identity.
The summer holidays are nearly here. Many of us might even have a break from our everyday hectic lives. Why not take this time as an opportunity to try out technology with your child? Access our Technology Test Drive, put in a request, and… happy testing!