Getting the right careers advice
Published Date

: 12 Dec 2017
When I was a boy what I wanted to be when I was older changed regularly – I wanted to be a teacher, then a weather man and then a journalist and then it was a solicitor. As I grew older and had to seriously consider my options at GCSE followed by A-levels, the doubts crept in – would these jobs be suitable for me? Would the communication barrier be too great? 'Focus on what you are good at' I was told and I settled on the biological sciences in the end, following in my parents' footsteps. Working in laboratory should be ok for a deaf person – there will be opportunities there, I thought to myself.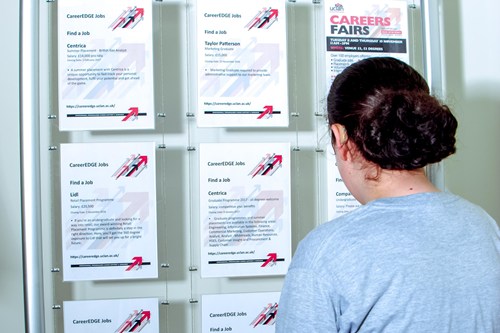 I was right – there were opportunities. After graduating in Genetics, I worked in a lab for a few months but I soon realised that this type of work was not for me. It was not because I was deaf – I know a few deaf scientists and they love their work. I just felt I had not followed my passions and had settled for the safe option.
It was in 1995 that I took my GCSEs and it was only in that year that disability discrimination laws were introduced. Access to Work, a Government scheme which can cover the costs of communication support in employment, was launched at the same time. I did not know anything about Access to Work or about my rights in employment until much later but I wish I had. I might then have had the courage to follow my passions. This is why I believe good careers advice does matter. Sadly, our research tells us too many young people are not getting this.
Last week, the Government launched a careers strategy which aims to make sure young people receive better careers advice in schools and colleges in England. Refreshingly, for a Government policy document, the needs of young people with disabilities were considered at several points within the strategy. The highlights in relation to deaf young people are:
Schools and colleges will be expected to use the Gatsby Benchmarks to improve careers provision. One these benchmarks is 'addressing the needs of each pupil' – particularly important for deaf young people.
Every school or college will have a Careers Leader who will be expected to prioritise careers support for 'disadvantaged' young people including young people with disabilities.
20 Careers Hubs will be set up across England that will be focused on groups of young people 'most in need of targeted support.'
The Careers and Enterprise Company and the Gatsby Foundation will work together to set out good practice in supporting young people with disabilities.
The strategy has the potential to make a difference. Unfortunately, it is not backed by much in the way of extra funding which may limit the ability of the new Careers Hubs and Careers Leaders to reach out to significant numbers of young people. Still, it is better than nothing.
The Careers Strategy only applies to England. Scotland, Wales and Northern Ireland have their own careers policies and we know there are issues in those countries too. Wherever, you live we expect deaf young people to be getting tailored advice.
If you live or work with deaf young people, you too can play your part. Our website has videos aimed at young people thinking about their futures that you can signpost to. We are also looking at how we can further develop our resources around careers so watch this space! If you have any views about what we could produce – let us know in the comment boxes below.
PS – I did leave the laboratory by the way. 15 years, several roles and two more university degrees later, here I am as an Education and Training Policy Advisor for the National Deaf Children's Society, a job I much enjoy!