My experience of the Labour party conference
Published Date

: 16 Oct 2017
Hello, I am Erin and I'm from Wiltshire. I have a hearing loss and wear two hearing aids. I am currently doing A Level History, Philosophy and English Literature. I attended the Labour Party Conference and I'd like to tell you a bit about my experience.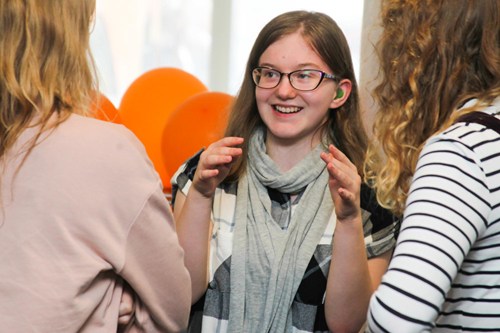 On Sunday 24 September I got on the train to Brighton. It took a little under four hours to get there. I was on my way to the Labour Party conference where I had 8 meetings lined up to talk about three campaigns that the NDCS are doing. They are Listen Up to improve children's audiology services, Right to Sign, putting British Sign Language (BSL) in schools as a GCSE and PIP'd Off, about Personal Independence Payments, and the difficulties that deaf people have in getting them. I talked about the Right to Sign campaign as it was the one I helped create with the last Youth Advisory Board.
On the Monday, Brighton was quite rainy and we arrived at the hotel at around 10am to get ready for our first meeting, it was with Sharon Hodgson, the MP for Sunderland West. She is the Shadow Minister for Public Health. She was really nice and we talked about Listen Up, Right to Sign and PIP.
While we were talking with her, the next MP arrived – Alex Cunningham of Stockton. He was also really nice. He gave us some ideas of what to do with the campaigns and who to talk to about different bits. He agreed to ask his local hospital to sign up to the inspections for Listen Up!
Our next meeting was with Liz Twist who is the new MP for Blaydon. We talked about Listen Up! and Right to Sign. Afterwards we met Stephanie Peacock who is also a new MP, for Barnsley. She agreed to ask her local hospital to be part of the inspection process and we also talked about Right to Sign and having Teachers of the Deaf in Schools. We then had a break for lunch and walked around the exhibitions.
After lunch, we saw Jeremy Corbyn and John McDonnell. I managed to get my picture taken with both of them. Our next meeting was with Dawn Butler, the MP who signed a question in parliament. We talked to her about Right to Sign, and she seemed surprised to see that I couldn't sign. She had already done most of what we wanted to ask her to do, and she was happy to talk about other things to help our campaigns. Next was Helen Goodman who had done a lot of work already with the National Deaf Children's Society and she was very happy to help us. We talked about Right to Sign, Listen Up and PIP.
Our last meeting was with Tracy Brabin, who was friends with Jo Cox, who I wrote a bit about loneliness for. We also talked about Listen Up and Right to Sign. I had a really good time and would like to do it again.
The best bit of my day was seeing the taxi drivers showing their support for the Uber ban in London by beeping their horns. It went on for about 20 minutes and was really loud! I also liked meeting all the different MPs. Top tips from me for conference are: to share – talk to the MPs and ask questions if you don't understand something; they are ordinary people.