NHS England publishes new hearing loss guidance – our reaction
Published Date

: 29 Jul 2019
NHS England, working with other organisations such as the Local Government Association and Public Health England, have published some new guidance on assessing the needs of people with hearing loss in their local area.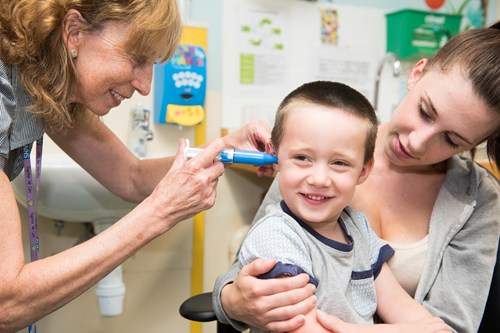 This new document will help local councils and NHS commissioners when it comes to planning and buying health, wellbeing and social care services in their area, looking at the current and future needs of their residents. These are also known as Joint Strategic Needs Assessments – or JSNAs for short.
What does it include?
Here at the National Deaf Children's Society we were delighted to have been asked for our expertise when creating this document, which contains lots of references to our research, campaigns and resources. The guidance:
highlights our Listen Up campaign and lack of IQIPS accreditation in questions for commissioners to ask about the quality of local audiology services. It also says that NHS audiology services are expected to undertake a self-assessment against IQIPS before delivering NHS care which is a key ask of our campaign.
mentions our campaigning around radio aids in the early years and the drop in numbers of Teachers of the Deaf in questions for commissioners to ask about quality of support from local authorities. It also references research on the numbers of deaf children and local support services.
references our Supporting Achievement resources for pre-schools and schools and quality standards for local authority specialist education services for children with sensory loss.
refers readers to the full service and quality requirements for children's audiology services, as set out in the national Hearing Services for Children service specification which we wrote on behalf of NHS England.
links to our resources for local authorities on meeting the social care needs of children and young people with hearing loss.
gives direction on involving people with hearing loss in the JSNA process. It mentions Children's Hearing Services Working Groups (CHSWGs) and directs readers to our website for an interactive map with information about local groups for children with hearing loss and their families.
And finally it talks about NHS England's Accessible Information Standard and suggests using our guidance on how to make information accessible for children and young people with hearing loss. 
There is lots, lots more in the guidance including sections on accessibility of services, child and adolescent mental health services (CAMHS), and employment.
It is well worth sharing the document with your local services and networks. We're looking forward to working with local areas as they implement this good practice.