Radio aids in the early years – your rights
Published Date

: 08 Oct 2018
We published research last year which shows that radio aids – which provide deaf children with additional amplification – can have a big impact in their early years development. In particular, they can make it easier for children to hear their parents and others more clearly when, for example, in the buggy or in a car. Despite these clear benefits, many local authorities do not make radio aids available to parents of pre-school deaf children to use at home.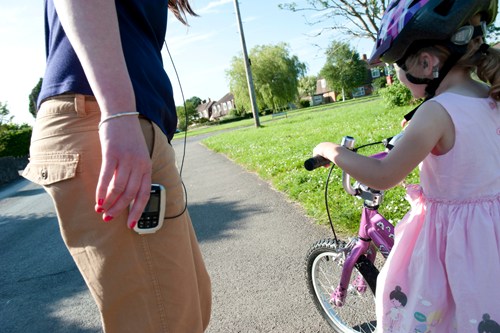 We're calling on local authorities to work with health bodies to review their policy on this issue and to ensure that parents are given the opportunity to try a radio aid with their children aged 0-4 , both at home as well as in early years settings to see if it works well for them.
Quality standards on the use of personal radio aids state that every deaf child should be considered for a radio aid at first hearing aid fitting.  However, families tell us that this does not always happen.  So what should parents do if the local authority says no? Here's a brief summary of your options in challenging this:
First, you should ask for information on why your child has been turned down for a radio aid. In some cases, there may be good reasons why a radio aid is not the right option at this time. It's also possible that a Teacher of the Deaf may have concerns about loss or damage to equipment. Having an open discussion may help to find possible solutions to any issues.
If the answer is still no, you can challenge this decision in two different ways.
If your child already has an Education, Health and Care plan (England), a statement of special educational needs (Wales and Northern Ireland) or a co-ordinated support plan (Scotland), you can also ask for a review of the plan/statement so that a radio aid can be added to it. You also have the right to request an assessment for a plan or statement if your child does not already have one. Our website has more information about your rights under laws for children with special or additional needs.
You can also make a formal complaint to the local authority on the grounds of disability discrimination. In particular, if you live in England, Scotland and Wales, local authorities and education settings are required, under the Equality Act 2010, to provide 'auxiliary aids' (which includes radio aids) as a reasonable adjustment to disabled people. They are also required to take steps under the Public Sector Equality Duty to proactively remove any disadvantage that disabled children may experience. Given the importance of good language and communication in the early years, we think it should be seen as unreasonable to deny a family with a deaf child a radio aid unless there are good reasons why not. Our website has more information about the Equality Act and how it can be used in education.
If the local authority still says no, you can appeal to a special Tribunal that hears cases about potential disability discrimination and/or a failure to follow laws relating to special or additional needs. There are time limits, so it is important to get more advice or information as soon as this happens.
For more information and advice, you can contact our Helpline. You can also borrow a radio aid through our Technology Test Drive.
If you have already made a complaint to your local authority or are still experiencing challenges, please do get in touch. We're looking for families who, with lots of support from us, might be interested in taking legal action on radio aids in the early years – you can find more information about this in our short video.