Right to Sign campaign update: Minister says no
Published Date

: 12 Sep 2017
Earlier this year, the National Deaf Children's Society Youth Advisory Board, after months of hard work, launched their new Right to Sign campaign, calling for young people to have more opportunities for young people to learn sign language in schools.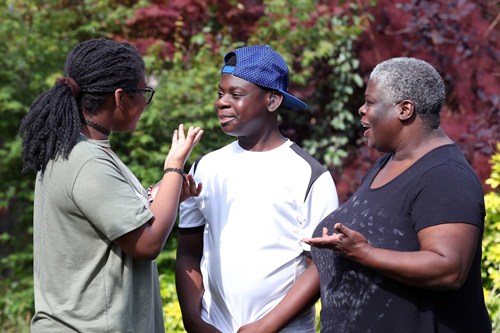 They surveyed over 2,000 young people – deaf and hearing – and found that a whopping 92% thought schools should offer British Sign Language (BSL) as a GCSE. They published a report setting out the results in full and the case for action.
And the response from the Government? No.
Yesterday, when asked if the Department for Education in England would encourage exam boards to offer BSL as a GCSE, the Minister, Nick Gibb, said: "At present, there are no plans to introduce any further GCSEs beyond those to which the Government has already committed."
To our knowledge, this is the first time the Government has ruled out introducing a BSL GCSE since the campaign was launched. It's a massive disappointment and a real slap in the face for all of the hard work done so far by the Youth Advisory Board.
It's hard not to feel angry about the response. It's simply unfair and unjust that BSL, an official language in the UK used by thousands of people, is being treated in a way which implies it has a lower status and importance than other languages already being taught as GCSEs. It could even be seen as discriminatory to deaf people.
We're not going to be deterred and will keep pressing the Department for Education in England for action – our briefing sets out some of the arguments we're using. Two members of the Youth Advisory Board will also be asking MPs to support their campaign when they head to party political conferences later this month.
If you want to show your support for our work, please sign the Youth Advisory Board petition. More information about the different ways you can support the campaign can be found on the Buzz website.