Right to Sign – update on BSL GCSE campaign
Published Date

: 02 Aug 2018
There's been another breakthrough in the Right to Sign campaign, and it's all thanks to two of our amazing campaigners.
Back in June, we explained that the Department for Education in England had done a U-turn and would now allow a GCSE in British Sign Language (BSL). However, they also said that there could not be any new GCSEs in this Parliament. In theory, this meant that there could be no BSL GCSE before 2022.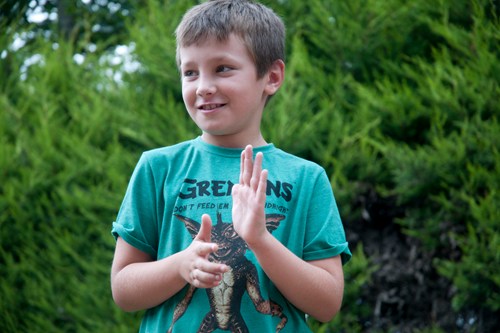 Daniel Jillings, a 12 year old deaf young person, decided to take legal action, with support from his Mum, Ann Jillings. His solicitors, Irwin Mitchell, argued that a blanket policy of no new GCSEs was discriminatory, especially to young people like him for whom any new GCSE in BSL would come too late if it couldn't be introduced before 2022.
In response, the Department has conceded that it will make an exception for a BSL GCSE and that it can now be introduced before 2022. This is great news, and we would like to pay tribute to Daniel and Ann for sticking to their guns and challenging the Department on this.
In terms of what happens next, any exam body, such as Signature, will still need to meet the requirements set by the Department for Education and the exams regulator Ofqual. It's important that any GCSE is of the highest standard and has the same credibility as other GCSEs. We're calling on the Department to do everything it can to support and expedite progress, so that a new GCSE is ready to go as soon as possible so that young people like Daniel can benefit from it. We want to see evidence they're taking a 'can-do' attitude towards making a BSL GCSE a reality.
Much will now depend on the progress that the Department, Ofqual and exam bodies like Signature make and it's still too early to say how any new BSL GCSE will work in practice. However, the Department's announcement is a big step forward and we can now be more optimistic that change will come sooner rather than later.
More information about Signature's work in this area can be found on their website. Keep an eye on our campaigns blog as well for more updates.