Should there be a right to a radio aid?
Published Date

: 08 Oct 2018
Everyday life can be busy and noisy with family gatherings, trips out to playgrounds and activity centres and frequent journeys in the car and the buggy. Having two children myself I know how loud we all can be particularly when my six siblings and their children come round. In fact recent research indicates that young children can spend up to 25% of their day in noisy environments. So knowing what we know about how important it is for young children to hear spoken language in order to develop good communication and language and how babies have to learn how to be good listeners, why can't all deaf pre-school children be considered for a radio aid at the same time as they are fitted for a hearing aid?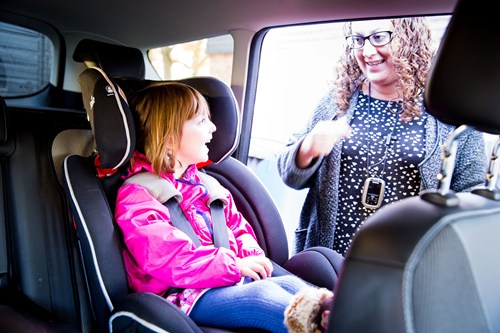 We think every family should have the right to try a radio aid, from an early age, so they can see if it would work well for them. Our research shows that it can have big benefits. If you would like to try one, you can talk to your audiologist and Teacher of the Deaf about radio aids. As soon as your child has hearing aids or a cochlear implant, discuss options with your Teacher of the Deaf about trying out a radio aid at home. It may take some getting used to and you don't need to use it all the time, but when you think about the times your child is in a noisy place or behind you in the car, it will be then that your child could really benefit from hearing your voice clearly.
So here are some things you may want to consider when using a radio aid with a baby or toddler.
Think about the best time to use the radio aid for you and your child, it may be in the car, when you are sharing a book with a sibling, or playing with your child at toddler group. Take a look at this short video to see how a family used a radio aid to help communication.
All the family can use the radio aid, so pass it around when another family member is interacting with your child
Radio aids use up battery power so you will need to change the batteries in your child's hearing aids more frequently
Place the microphone carefully. About 15cm from your mouth is best and avoid wearing anything that will knock against it as the sound will travel straight into your child's ears.
Don't forget to use the mute button, there are some conversations your child doesn't need to hear.
Unfortunately, radio aids are not always available for use in the home or for pre-school deaf children. We're campaigning for them to be more widely available – local authorities will need to ensure that services have the resources to fund, maintain and monitor the equipment.
Remember the best communication happens in a quiet environment, when you are close to you child, they can see your face and you are sharing experiences, but when this isn't possible consider trying a radio aid. If you'd like more information about radio aids, take a look at our website.