Graham Bell Centre for the Deaf
The Graham Bell Centre for the Deaf (GBCD) is a rural non-governmental organisation, founded in 1991 working to help empower those living with disabilities in the Hooghly district in West Bengal.  The Graham Bell Centre for the Deaf have been working specifically with deaf communities to help deaf children and their families with communication support, educational opportunities and training to help deaf young people obtain lifelong skills.  
How DCW and GBCD work together
We have worked with DCW for 16 years on projects to support deaf children and young people. The main focus of our work together has been on:
Helping deaf children access education. To this end their parents, teachers, siblings and community members have been trained to develop deaf appropriate teaching skills so that the children can access education.
Empowering parents of deaf children by building their capacity and confidence to support their children at home as well as working with parents to understand their deaf children's rights
Training deaf youth in basic literacy and vocational skills as well as workplace behaviour so that they are can compete with others on an equal footing in the job market. We also educate employers so that they have suitable policies and practices that enable deaf people to be employed in their businesses.
Building on our learning from the primary education projects we have implemented in the past, since January 2020 we started supporting deaf children in secondary education.  Various methodologies and tools are being used to teach the deaf children the more complex subjects required to be learnt at this level.  This is being done with the assistance of our Community-based Rehabilitation Workers, Deaf Role Models, Community Resource persons and school teachers.
Beneficiary of the project, Barun Nayek says: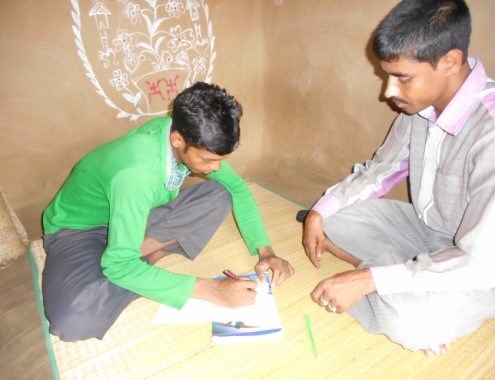 "I got introduced to GBCD when I was ten years' old, I got a formal diagnosis for my deafness then and I started working with GBCD to develop my communication skills. As I got older GBCD helped me to get employment with the Bislery Mineral Water Company, I am so happy to have my own bank account and am building up my own savings."