Khagenhat Welfare Organisation
About KWO
Khagenhat Welfare Organisation is a local not for profit organisation committed to improve the lives of disadvantaged communities in North Bengal. KWO focuses on four thematic areas including disability, women's empowerment, agriculture and youth development as well as focusing on those that are the most marginalised.
How DCW and KWO work together
We have worked with KWO since 2011 on projects to support and strengthen educational outcomes for deaf children in North Bengal.
The main focus of our work together has been to support deaf children to access education. To this end their parents, teachers, siblings and community members have been trained in deaf appropriate teaching methods so that they can help the deaf children access education.
Having focused for several years on developing inclusive environments in primary schools in the district, since January 2020 our focus has shifted to secondary education. Several deaf children have now progressed to secondary school and require assistance at this level. We are building on our learning from the past, using various methodologies and tools to teach deaf children the complex concepts in the curriculum. This is being done with the assistance of our Community-based Rehabilitation Workers, Deaf Role Models, and resource persons in the community such as retired school teachers.  
Beneficiary of the project, Bakul Alam says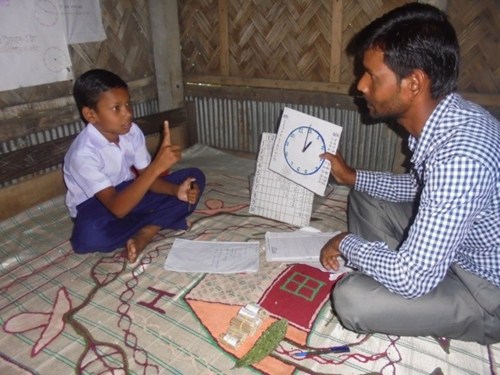 "I attend monthly meetings with other parents of deaf children. I have learnt about improved communication skills, basic Indian Sign Language, deaf awareness training as well as about benefits such as the disability certificate. I am using visual learning aids to help my child learn literacy and basic maths, my son is now able to learn and I have growing confidence in his abilities."