The National Association of Parents of Deaf Children
About NAPADEC
The National Association of Parents of Deaf Children (NAPADEC) is a non-governmental organisation established in 2009 with a goal of promoting and advocating for the rights of deaf children and young people in Uganda.
How DCW work with NAPADEC
We are working with NAPADEC by implementing a three-year project to improve communication between deaf children and their families across six districts in Uganda by facilitating parent support groups.
To date over 300 parents of deaf children in the districts have formed parent support groups. The groups provide a network to share experiences and learn together. The parents receive deaf awareness training and they learn sign language to improve communication and language skills.
The goal of the three-year project is to
Improve communication between deaf children and their families: already over 100 parents within the parent support groups are learning sign language and are having more meaningful discussions with their deaf child
Improve deaf awareness at community, district and national levels: key awareness-raising activities have been delivered with the participation of community members, parents, deaf children and deaf young people
Grow the parent support groups and the services and support available to the groups: peer mentoring and training on psycho-social support, child protection issues, leadership and group dynamics, management and governance of self-help groups is available to help the parent support groups be truly sustainable
Peace Ikiriza, Assistant Project Manager at NAPADEC says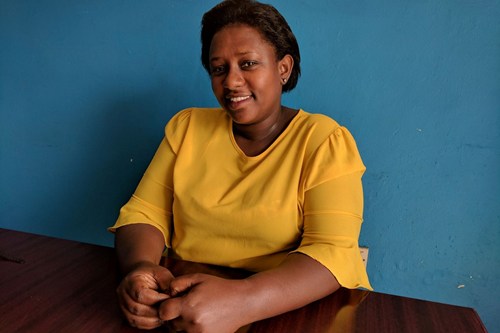 "As a deaf person within in the workplace, I see it as my duty to be a role model, I work with parents of deaf children to overcome fears they have about deafness, to encourage them to invest and learn sign language and to build a relationship with their deaf child. I tend to work with mothers, but am a big advocate to get all family members involved in learning and communicating. We see first-hand the benefits this has for the deaf child."