Deaf children must not be left behind during this Covid
These are challenging times for everyone, but now more than ever, UK governments and others making decisions, need to hear from families about the challenges they're facing with Covid. That's why we're asking deaf children, young people and families what they need, regularly.
Families have told us that they are concerned about;
Lack of specialist education support
Access to audiology services
Poor accessibility of online learning
The increased use of facemasks, especially in schools
We are working to influence decision-makers across the nations of the UK, as well as local services. We have submitted evidence to many inquiries about Covid, based on what we've heard from deaf young people and their families. You can see our responses to Government inquiries here.
Email [email protected] and let us know about your current experiences of support, any concerns you have and about what matters to you at the moment.
Also, we have lots of information and advice for families dealing with Covid.
Facemasks and face coverings during Covid
The increased use of facemasks has been very difficult for deaf children and young people, often making them feel more isolated and less confident speaking to new people. We understand the need for facemasks to help protect people from Covid, which is why we have been calling for the use of clear masks.
Education
This has been particularly important in education, where there has been significant progress made.
Deaf young people have been at the heart of this campaign with Dinah, a deaf young person who sits on our Youth Advisory Board, starting a petition calling for clear facemask in education during the Covid crisis. The support for Dinah's petition has been huge!Watch Dinah's video here.
After many months of pressure from thousands of campaigners, the Government in England updated it's guidance for schools on facemasks. The guidance now:
Gives examples of reasonable adjustments that might help deaf children whilst masks are being worn
Makes it clear that there are benefits to using transparent face coverings
Allows visors to be used if people don't feel comfortable removing their mask so a deaf person can lip read
Recommends that schools discuss the adjustments needed with children and families.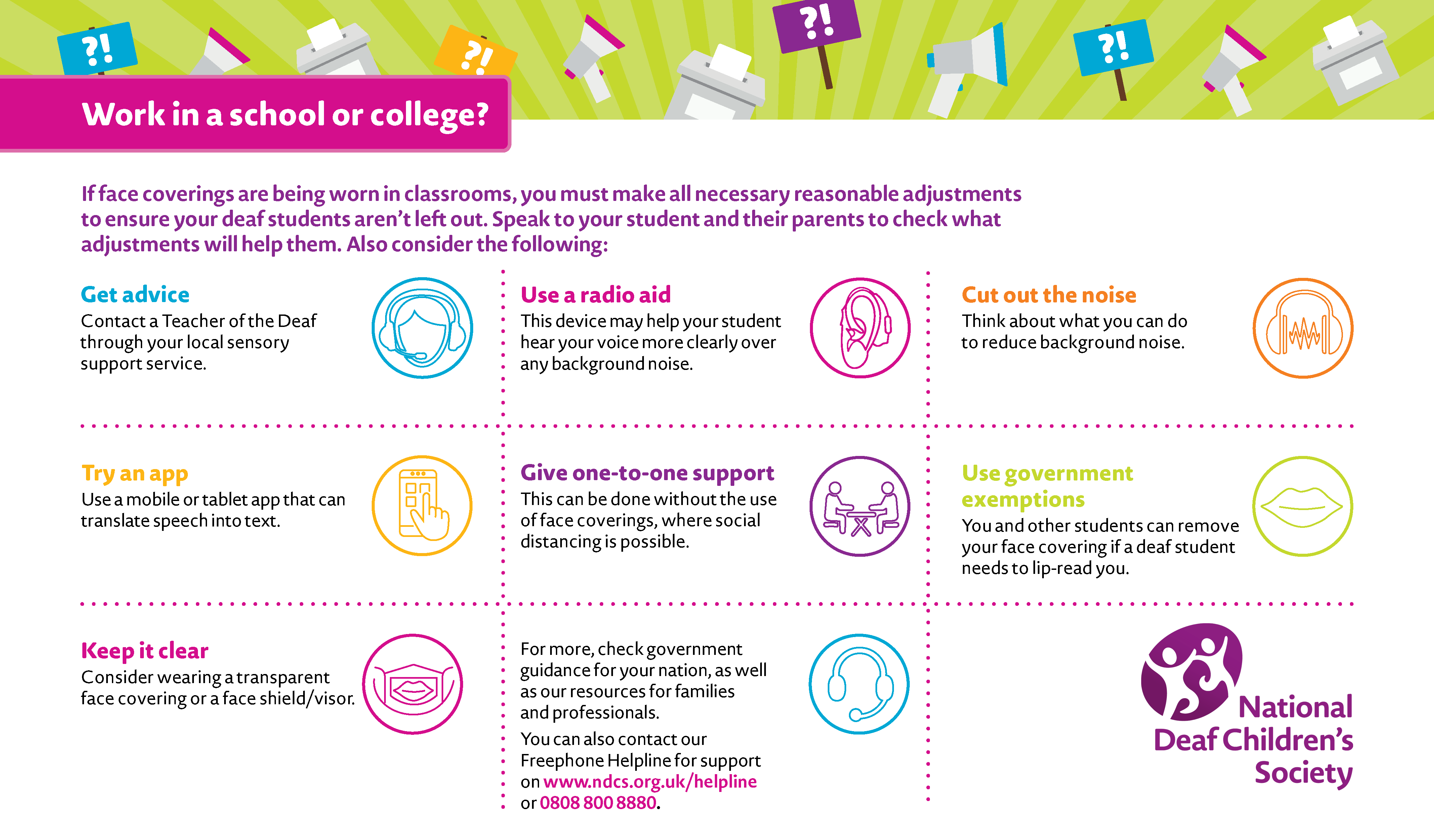 This is a huge success! Thank you to everyone who signed the petition, lobbied their MP and talked about the campaign to their friends and family. This change wouldn't have happened without you!
What about Northern Ireland, Scotland and Wales?
In Northern Ireland, we've worked with officials to ensure that guidance sets out in detail the need to support deaf children if face coverings are being worn. It includes a section on clear face coverings and face visors/shields.
In Scotland, the Government has also recently changed guidance to make clear that schools should consider the impact of using face coverings with deaf children and should explore reasonable adjustments when these present a barrier to learning. Schools can also consider the use of transparent or see-through face coverings.
In Wales, guidance is also clear that the impact of face coverings on deaf children should be carefully considered. The Government has now agreed to provide funding for clear masks in schools.
Health
In 2020, there was a trial of 250,000 clear facemasks in NHS hospitals and a number of new medical grade clear masks are now available.
We are working with the Department of Health and Social Care to improve the availability of clear masks as well as the range of designs. We hope that transparent masks will be able to used long after the pandemic is over to support deaf patients where masks are needed in hospitals, clinics and dentistry.
You can see an update on the work of the NHS Supply Chain PPE group here.
Public spaces
Whilst facemasks are still needed in public spaces, our main focus is on improving deaf awareness. We have created some top tips for communicating with deaf people whilst masks are being worn. Could you share these on social media or ask your local supermarket, train station or bus company to put them up?
We also have advice on what to look for in face coverings in public places.
Accessible online learning
Families have told us that many resources that deaf children have been asked to use at school or during home learning are not accessible. We've raised this problem with decision-makers in Government but we've also made a guide to creating accessible content. Please share this with any organisation you think needs some tips for making content accessible to deaf children.
Take action now
Tell your MP to promote our new guide to make resources accessible for deaf children and young people.
We've worked with a number of organisations to help them improve their offer for deaf children:
Oak National Academy – delivered weekly assemblies during the first lockdown, which were all British Sign Language interpreted. They have also committed to 100% subtitled content, and have some BSL content for younger age groups.
BBC Newsround - our young campaigners worked with BBC Newsround to improve their web content. Priorities for improvements focused on more subtitled video content and BSL interpretation. There were also suggestions for reducing background noise or music in videos and for having more deaf specific content. Although the changes have not yet happened we continue to push Newsround to do so.
Have you noticed any online resources that aren't accessible? If you want to challenge the organisation to do better get in touch, we can help. We can offer advice on subtitling and BSL interpretation, the legal side of accessibility and we can join you in meetings or draft letters.
Access to education and health services
Our teams across the UK are working with local groups of parents and professionals to monitor what's changed, when it comes to the support that deaf children rely on. We have seen many examples of good practice during the pandemic. But we have also worked to challenge local authorities where they weren't being flexible, for example by not allowing deaf children to take home radio aid equipment.
If you are having difficulties getting the support or equipment your child needs, please let us know and we'll help you challenge this: [email protected]
Many audiologists have been redeployed from their usual roles to support the NHS in dealing with COVID-19. As health services, like audiology, reopen we are working to support professionals to adjust to post-COVID ways of working. We want to make sure that they have the staff and the funding to support as many deaf children as they can, as soon as is possible. If your audiology service is unable to see your child at the moment, please do look at our advice on caring for your child's hearing aids at home or contact our helpline if you need individual support or advice.
What's next?
We will continue to work on all these areas and campaign to reduce the inequality that has been created by the pandemic. We want to see a world where deaf children and young people no longer face barriers and isolation because of their deafness.
We will also continue to listen to deaf children, young people and their families. If you think there's something else we should be campaigning on – please get in touch [email protected].