Support us
For a child, every day should be an adventure – a chance to meet new friends and explore the world. But deaf children are missing out.
Bullied for being different. Let down by schools that don't support them. Too many deaf children grow up isolated and lonely.
With your support, we can be there for every deaf child who needs us. 
Become a National Deaf Children's Society supporter
It's quick and easy to become a supporter member of the National Deaf Children's Society.
Join us today and help change the lives of deaf children and their families across the UK.
As a supporter member you will be entitled to receive:
Our exclusive full colour 'Connect' magazine keeping you up to date with the work of the National Deaf Children's Society and the issues surrounding childhood deafness.
A FREE National Deaf Children's Society children's T-shirt.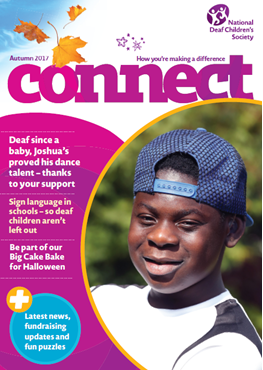 Finding out your child is deaf can be a huge shock.
Mum Debbie told us: "When I was told that my beautiful 18 month old daughter Ruby had suddenly lost her hearing, I was terrified.
"But thankfully, we've had the most wonderful support from the National Deaf Children's Society. They have been our lifeline and when we had so many questions and concerns, their Helpline staff were incredible. They were able to reassure us that Ruby's deafness didn't have to be a barrier and that with our love and all of their expert back-up, Ruby could gain the confidence and skills she needs to have a happy, carefree childhood."
A gift of £12.50 could give a family like Ruby's, who have just found out that their baby is deaf, 20 minutes of free, confidential support through our Helpline.