Adapting to life post-lockdown
Published Date

: 17 Sep 2020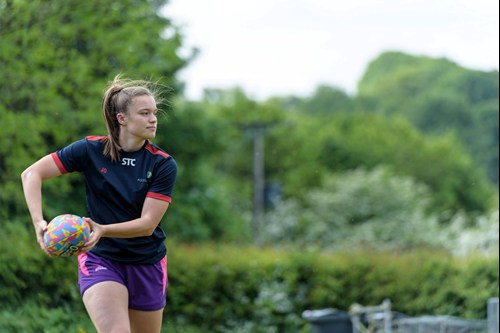 The COVID-19 pandemic will have impacted everyone in some way. Personally I'd just made the GB training squad for Tokyo 2020 and was hoping to fulfil my lifelong dream of competing in the Olympics in rugby 7s. Then COVID-19 happened and changed all that.
It was bad enough that the Olympics were cancelled but things were about to get much worse. England Rugby lost their funding and I lost my job and house in London. I had to move back to my family home in Yorkshire.
Adapting to change can be stressful. The life I'd mapped out for the next few years had literally changed overnight. Communication problems can compound stress levels. Change usually means contacting and communicating with lots of new people, something which doesn't come easily or naturally to me.
So, I set about planning a new life and setting new goals which involved contacting others. The number of organisations who have a lack of deaf awareness is concerning and quite depressing. Accessing basic information from large organisations can be so frustrating for a person who's deaf. Often your asked to call a telephone number, which completely ignores my hearing loss and inability to use a telephone in the same way as a hearing person. I've even tried to complain about the lack of accessibility, only to be told to ring the complaint line. You couldn't make it up!
It's easy to retreat into a shell when you think everything is going against you. In reality, it's not. For me, the Olympic dream is still strong and the destination is still the same but the route to achieving my goal has changed.
I decided to make new plans. Lockdown provided me with thinking and planning time. Time is a precious commodity, something I don't seem to have had for years with my hectic training and travel schedule. I set out where I wanted to go and how I would get there. I needed a job but I also needed to be in the best position to be selected for Tokyo 2021.
I thought about the following questions: What do I enjoy doing? What can I actually do? What skills and experience do I have? Who can I contact to make my new plans happen?
I started implementing my new plans. I've now returned to playing 15-a-side rugby and signed for a women's premiership rugby team, Sale Sharks. This will put me in a professional sporting environment to help me prepare mentally and physically moving forward.
I've started a little pet photography business too. I love photography and my family run a hotel for cats so I have lots of cats I can photograph. I won't be a millionaire but it will help fund my training and travel.
Not only that, I'm well on my way to releasing an inclusive and ethical sports leisure clothing range with a big emphasis on diversity and awareness. This is an area I'm passionate about and I was inspired by my visits to schools and work with special needs children. It's about celebrating being unique. 
So, what have I learnt from this year? 
The pandemic has made me look closely at what I really want to do and how I can get there. I've learnt to not take anything for granted. Every positive in my life should be appreciated and enjoyed.
Adapting to change doesn't happen overnight. The first step is to start making plans and move forward one step at a time. 
Seek help. Always get advice from people with experience, it makes life easier. Sometimes you just need to seek it out and ask for it. We can't do everything on our own.
Confidence and communication skills are slow to gain and quick to lose. Forcing yourself to do little things you aren't comfortable with helps build your confidence. It's often not as bad as you expect. Asking a question in a shop or speaking to a stranger may be no big deal to some. These are hurdles I constantly struggle with. I'm moving forward a small step at a time.
Life post-COVID 19 has changed a lot. Everyone has their own battle to fight. Be kind and help each other through a difficult time.