Alex's superhero sisters
Published Date

: 08 Apr 2021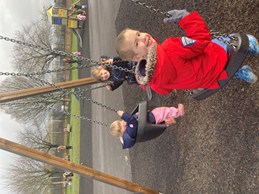 Alex has been backwards and forwards to doctors, hospitals and consultants since he was only a few months old. Throwing in the additional speech therapy and audiology appointments, his hearing impairment and speech delay takes up a lot of our time. People are constantly asking how he is and making a fuss of him. Saying how he's such a brave boy and praising him for when he gets his speech sounds right. If Alex was an only child, then him having our undivided attention wouldn't be an issue, but he isn't an only child he has two sisters.
Imagine how you would feel if your sibling was getting the lion's share of your parent's time? Would you feel jealous? Second best? Resentful? These would all be natural emotions for a child. But, I can honestly say that Alex's sisters are true heroes! They have never shown a flicker of jealousy or resentment. They help Alex with his speech and his 'magic ears' and should anyone make fun of him… well, the British Army couldn't defend him any better! 
We're very mindful of the amount of our time that Alex and all his appointments take up which is also time taken away from the girls. We try to do little things for them to make them feel just as special as their brother. Recently Emilia (Alex's big sister) asked me if we could have a Mummy and Daughter Day. As soon as she asked my husband booked a day off work, so he could look after Alex and Evie (his little sister). Emilia is now busily planning the exciting things she wants us to do – mainly baking, painting our nails and playing on the beach!
When we have to get to the hospital early, for surgery, Emilia gets taken to school by her godmother, who she adores, so that's a special treat for her too. We also try to have special one-to-one time with Evie, playing in the sandpit or just reading a story. Evie is still very young so doesn't fully understand what's going on. Although I have caught her a few times trying to put Alex's 'magic ears' in! 
I think we're very lucky that Emilia and Evie have reacted so well to the time we have to spend with Alex. Perhaps it's because they're all so close in age, they can never remember a time when Alex hasn't had 'magic ears'. In any case, we're super proud of all of our children and how well they've coped and adapted to Alex's needs. Emilia, Alex and Evie you're our heroes!