All hail siblings!
Published Date

: 06 Feb 2020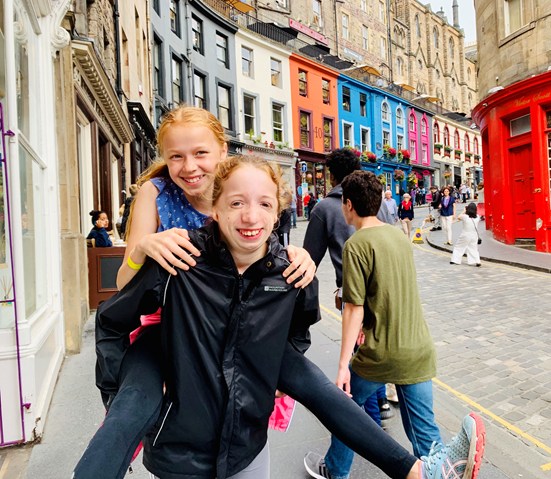 Our daughter, Annabel, is two and a half years younger than Maia. On the surface their relationship is typical sibling stuff, they love and annoy each other in equal measure, but having a sibling with a hearing loss no doubt presents a unique twist on things.
While we had the cute toddler phase when Annabel would insist on wearing a hairband to look like her sister, there are times when she despairs at the peculiarity of it all.
There's indeed the odd perk, like the occasional discounted ticket, but Annabel is also quick to call out any favouritism towards her big sister, however well-intentioned. Maia's difference is such that we joke of her minor celebrity status, yet Annabel will say that it's sometimes easier for her when no-one knows who her sister is – gulp. I guess we all need a break sometimes.
I think the siblings in our National Deaf Children's Society families are heroes, contributing hugely to their deaf siblings' wellbeing and confidence. At bath time, bedtime and in the pool (when Maia's hearing aids are off), Annabel can holler like no other to get her sister's attention. We have witnessed Annabel protectively distract Maia from stares, both through chatting to her and by positioning herself in her sight line. She handles the awkwardness when Maia hasn't heard correctly and fields questions from school friends regarding her sister's Treacher Collins Syndrome. She's also sat patiently through countless "How's Maia doing?" conversations.
As a true team player, Annabel has taken cancellations and rescheduling on the chin, whiled away hours in waiting rooms and childcare, and frequently set off to school alone when Maia's needed some R and R.
Although both girls have their own interests and friendships, together they enjoy a great deal of fun and increasing independence. With their savvy and companionship they're each other's safety net and nurture a very special bond.
In a world needing people skills more than ever, I believe our children's unique sibling experience will be their strength. Annabel knows that having a disability does not define a person, just as being Maia's sister does not define her. She knows that it's ok for families to have different routines and priorities and that kindness is king. Annabel has a true and most important place in our family. Last week she fended off a thoughtless texter, responding: "But she is my sister and I will love her".
Hats off to this girl and all other awesome sibling warriors out there!