How to still feel part of the deaf community when you don't know sign language
Published Date

: 20 Aug 2020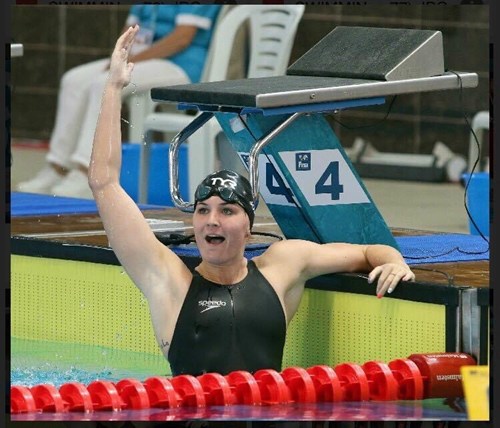 "You're not deaf, you've been speaking to me fine for the last 10 minutes…" These were the words spoken to me by the woman beside me in the audience, before I spoke about my journey as a double Deaflympic gold medalist and deaf world champion. The woman was getting ready to argue with me. I could have decided there and then not to do the presentation, take the woman on a journey up to my hospital and whip out my audiograms from the last 19 years to show her the 110 and the 95dB loss I have in both my ears. But I decided against that. I didn't want to waste petrol. Instead, I smiled, tucked my hair behind my ear, so she got a glimpse of my bright pink hearing aid, and took to the stage.
By the end of the presentation, I think she decided I was, in fact, deaf. But why is it that people automatically assume that deaf people can't speak? That we can't be understood? I wasn't born deaf, my loss was picked up when I was five years old and declined rapidly until I was 16, when I was introduced to the profoundly deaf category. From then until now, it's stayed pretty consistent. I've spoken English my whole life, and never had any communication issues, apart from the odd, 'what?' a few times or the usual difficulties with background noise. 
When I was younger, my mum taught me and my older sister some basic sign language as she thought it was a useful thing to know, and, as always, mother has been proven right. Throughout the years I've picked up sign language from travelling the world competing at deaf competitions and being part of the deaflympicsGB team. It has been a very useful skill and has most definitely helped me to communicate with deaf people who do solely rely on sign language. I have watched signing friends frustratingly try to speak to hearing people and other deaf people who don't sign. The reality is that the chances of meeting someone and them knowing English rather than sign language is much higher, so although I find sign language is such a useful and important skill, using English and oral speaking is going to make life that little bit easier for me.
I've read and heard so many stories where people are made to feel that they don't necessarily belong in the deaf community because they don't know sign language. I find this absurd! Just because you don't know sign language, doesn't make you any more or less deaf. If you were born in France but didn't know French, you are, of course, still French! As a deaf child born to two hearing parents, I'm extremely thankful I know how to speak English orally – and I'm extremely thankful my mum did teach me some basic sign language too. One day, in the far future, when I become a parent, whether my child is hearing or deaf, I hope to be teaching them to speak English orally. Maybe when they get older, they will want to learn some sign language too. I'll be leaving that decision up to them. It's okay to be deaf and not know how to speak with your hands. As long as you are happy with the way you communicate with others, that's all that should matter.