Oliver's lockdown birthday
Published Date

: 02 Jul 2020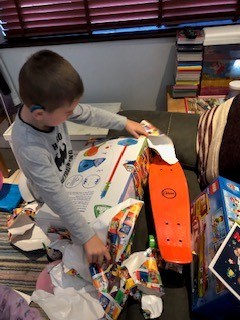 This year was very different for Oliver when he celebrated his sixth birthday. Firstly he wasn't at home. When lockdown was announced in March we all made the decision for Oliver and his two siblings Thea (4) and Lara (1), to move in with us with their mum and dad for the duration. Oliver's mum is a nurse and we usually help out with childcare. We knew once the schools and nurseries closed they would need support.
We explained to Oliver about the virus, he wouldn't be able to go to school and so he was going to stay at nanny and grandad's house for a while – 15 weeks and they're still here! Oliver had lots of questions at the beginning about the virus, and we had to explain several times as Oliver doesn't always hear all of the sounds in a word and sometimes gets the words wrong, which results in him getting the wrong end of the stick! When the school closed we were able to get Oliver's' radio aid from them which we use when he's in the garden - although he ignores us on purpose sometimes! We also made sure we had a good supply of batteries for his hearing aids.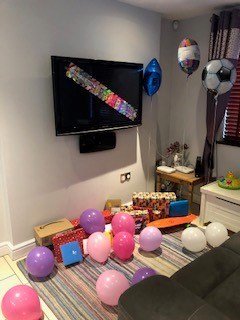 For Oliver's birthday we'd arranged for Oliver to have family and a few friends over with a bouncy castle and to run trains around the garden. Oliver was very excited about this, however a couple of weeks before his birthday we explained because of the virus, we would not be able to have his friends round or hire the bouncy castle, but we would postpone this until we could, maybe later on in the year. Oliver understood this very well, we'd talked about the virus when he moved in, we wanted to reassure him that everything was going to be OK. 
The night before his birthday we put up banners and balloons and laid all his presents out. He woke everyone up very early on his birthday, very excited. The weather was good so he went out and ran his trains in the garden and played with his outdoor presents. We had a small BBQ and managed to get him a cake from the supermarket.
It was a smaller party this year, but Oliver enjoyed himself and was able to FaceTime and Skype his friends and family which was really good. They could see his cake but not taste it this year!