Laugh & Learn™ Let's Count Animals for Baby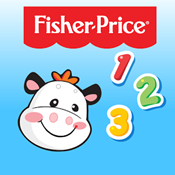 A very simple interactive app where your child can learn to count up to 10 animals.
It involves getting the child to listen for instructions and interact with the cartoon animals on screen.
It also has songs, between counting tasks, to help engage them. A very simple and fun app.
What families say:
"This app is very colourful and easy to navigate, my daughter was able to tap on the animals and tap to the next page. She was able to repeat the numbers after a short while using the app. Lila enjoyed the background music and the animal noises. Maybe the app could be a bit more interactive when you tap on the animals." 
Jeff, dad to Lila (2). 
Developer: Fisher-Price
Cost: Free
Available on: iOS and Android