Collins Big Cat Playing Story Creator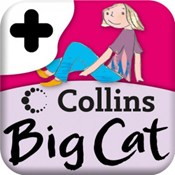 "We like playing in the rain, the wind, the snow and the mud. Where do you like playing?" Read along as three children play outside whatever the weather. This has a predictable story and patterned language to support early readers. There are hidden surprises to discover and a fun quiz to help your child remember what they have learned.
What families say:
"This app was very self-explanatory and all picture prompts were relevant. Very easy to use - my daughter grasped the concept and loved the story making function. She could help to create stories and listen to stories independently. She also loved that we could add our voices to the story. This will support her reading and was really good for getting her to use her imagination."
"Good instructions. Easy to use but our daughter got a bit bored with this one, I don't think there was enough going on to grab her attention for long enough."
Developer:  HarperCollins Publishers Ltd
Cost: Free
Available on: iOS