Ear ID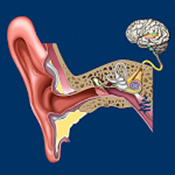 This range of apps is designed to help explain the functions and parts of the ear. It uses images, animation, 'drag and drop' games and memory tasks.
Individual apps focus on the inner ear, middle ear and labyrinth.
This app is aimed primarily at teachers and hearing professionals, but would also be useful to anyone interested in how the ear works.
Developer: Blue Tree Publishing, Inc.
Cost: Free - £4.99 (costs vary within the range)
Available on: iOS and Android