Notability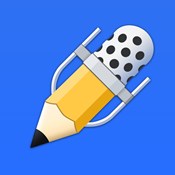 This is a note-taking app which allows you to record a spoken conversation with your doctor or nurse and link it to your notes or documents.
It could help during medical appointments as both you and the medical person could make notes which can be viewed again later.
Notes can be searched by title or content, and can be organised and stored within the app or backed up elsewhere. 
Developer: Ginger Labs
Cost: £5 - £9.99
Available on: iOS