Geemarc Wake 'n' Shake Voyager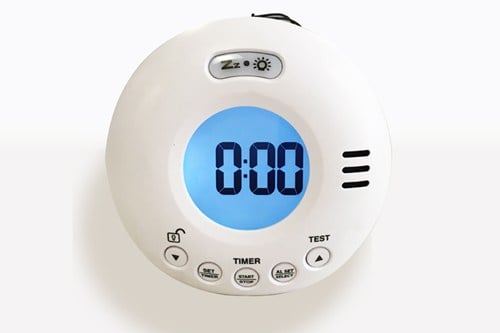 Key feature
Other features
Medium loud alarm (2 settings)
Vibration (2 settings)
Flashing light and 'torch'
Pillow clip
Button to light up display
Timer function
Uses batteries
The buttons auto-lock so they aren't accidentally pressed at night
What deaf young people say:
"It is very portable. I used this when I was away from home. It is quite small too so it can fit in my suitcase without taking up too much space. It made it possible for me to wake up on time when away without my parents. It's really good for deaf young people so they can be more independent. The one thing I didn't like is that I could not find a way to make it make sound, vibrate and flash all at the same time- I would like it to do all three."
Cam (14), moderate to severely deaf
Want to buy?
To buy it, visit Connevans
Typical price £25 (£30 inc VAT)
The Voyager comes in black or white and is available to loan for free from our Technology Test Drive service for one month.