Phonak ComPilot and ComPilot II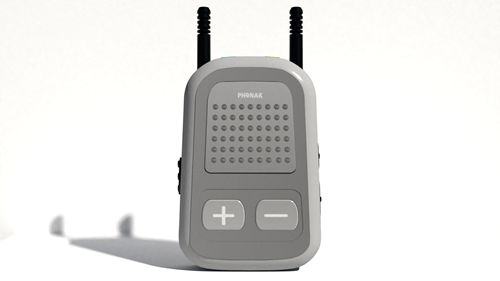 Key feature
Multi functional piece of equipment that can send sound from phones, tablets, TV or a small microphone directly to certain Phonak hearing aids and Advanced Bionics implants
Other features
No set-up required - works straight from the box
Accessories include a TV adapter which sends the TV's sound to the hearing aids over about 30 meters, and a mini-microphone which can send speech to the hearing aids over about 20 meters
An audio lead is included for connection to products that don't have Bluetooth
A Roger X radio aid receiver can be connected so that it can pick up sound from a radio aid transmitter
Compatibility 
The ComPilot can be used with the following hearing aids: Phonak CORE, Spice, Spice and Quest hearing aids, and the Advanced Bionics Naida Q70 and Q90 processors.
The ComPilot II works with the following Phonak Venture and Belong hearing aids: Audéo V, Bolero V, Virto V (excluding nano and NW 0), Naida V, Sky V, CROSS II, Audéo B, Bolero B, Nathos Auto, Sync HP and Sync Micro HA's.
What families say:
"Can help any deaf child or person use a mobile. Can also change their lifestyle and attitude. My daughter became very happy using this product. She started using her mobile to communicate with her friends, and also became more confident in her lifestyle and with all family members and her friends."
Dad to 16-year old Fatima
"He can adjust the volume to his level without the family having to have the volume loud. Easy to use. The microphone is fantastic for using in the car. He can hear the TV more clearly and can play on his tablet while we watch TV without the sound being heard by us"
Mrs C
Want to buy?
Typical price £174 (£209 inc VAT) for the ComPilot and £205 (£246 inc VAT) for the ComPilot II
Phonak Remote Mic II £163 (£196 inc VAT)
Phonak TV Link II Basestation £110 (£132 inc VAT)
This is available to loan for free (with the option to buy) from our Borrow to Buy service for 60 days.