Free information and advice sessions
We have a range of free online events that you can join. You'll be able to get lots of information, join discussions with other families, and ask questions to our experts. Booking is essential as places are limited.
What you'll need to join our online events
As long as you have access to any computer, smartphone or tablet with an internet connection then you'll be able to access our online events.
You don't need any previous experience of these online events. You can join in as much or as little as you like. We'll send you everything you need to know to be able to join. We'll also have experts on hand to support you with joining the online event.
Communication support
Closed captioning is available for all online events. If you need any communication support to join please email [email protected] and we can book BSL and other interpreters.
Available online events
Register for an event that suits your family's needs at this time by completing our online booking form.
Our online sessions are free however places are limited and booking is essential.
Starting Secondary School for Deaf Children – What To Expect
15 July 2020 2-3pm
Suitable for parents and carers who have children moving on to secondary school this year.
With so much disruption to deaf children's education due to COVID-19, our experts are here to help. They'll be providing lots information and guidance on what you should expect when your child transitions to secondary school. You'll have the chance to chat to our experts from England, Wales, Scotland, and Northern Ireland, and with other parents and families.
Family Fund: Supporting Disabled Children During The Coronavirus Lockdown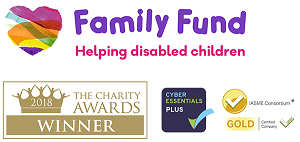 22 July 2020 2-3pm
Suitable for families with children aged 0-17 years.
For this session, we'll be joined by Rachel from Family Fund, the UK's largest charity providing grants for families raising disabled or seriously ill children and young people. We'll be discussing how the coronavirus has impacted families with disabled children. Also, find out more about the support being provided by Family Fund during this time and how you can apply for help.
An Intro to Technology and Apps for Young Deaf Children (aged 0-5)
Date TBC
Suitable for families with children aged 0-5 years.
Join our technology expert, Kim, and learn about how technology can support your child during their early years. Kim will be sharing lots of useful information and advice on different types of hearing technology such as apps and radio aids.
Navigating Benefits for Families of Deaf Children with Sajal
Date TBC
Suitable for families with children aged 0-16 years.
Learn more about benefits available for deaf children, Disability Living allowance, how to apply, and other benefits that you and your family could access.
Apps And Tools You Can Use to Caption or Subtitle Live Videos For Deaf Children
Date TBC
Suitable for families with children aged 4 and older and who are already reading.
Learn more about automatic captioning and subtitling apps with our technology expert Kim. Kim will be talking about different apps and tools your deaf child can use at home to access live videos. For example, their teacher's videos or friend's videos on social media.
Making the Most of Your Child's Hearing at Home with Vicki
Date TBC
Suitable for families with children aged 0-16 years.
Learn how to care for your child's hearing aids at home and how you can make hearing and listening easier for your child.
Next Steps - Work and Further Education for Deaf Young People (16-18)
Date TBC
Suitable for parents/carers and their children who are currently in year 11* and 13**.
With many exams cancelled and uncertainty around grades, our expert, Martin, will be sharing his advice on what the next stage might bring. Find out how to get support for your child's next move to sixth form, college, apprenticeship, university, or work. You'll also have the chance to chat with our experts and other families. Young people are welcome to join too with their parents or carers.
*S5 in Scotland or Year 12 in Northern Ireland. ** S6 in Scotland, or second/third year in further education, Year 14 in Northern Ireland.
Boosting Your Child's Self-Esteem and Wellbeing with Keri
Date TBC
Suitable for families with children aged 4-16 years.
Learn some practical strategies on how to support your child during this difficult time and help them to maintain good emotional health and wellbeing.
Home Learning with Emma our Teacher of the Deaf
Date TBC
Suitable for families with children aged 4-12 years.
Our Teacher of the Deaf will be giving her top tips and strategies for learning at home with your child.