Deaf-friendly Standard
We're delighted to launch our new Deaf-friendly Standard for organisations and leisure providers offering services for deaf children and young people.
The Deaf-friendly Standard is awarded to organisations that demonstrate inclusivity and good communication. The new standard has three levels: Bronze, Silver, and Gold. These are based on criteria points that cover areas such as deaf awareness, contact methods, and health and safety.
We also actively encourage all organisations to consider volunteering and work experience opportunities for deaf young people within their service. Learn more about how to be deaf friendly.
Through the framework, we aim to support services to understand how to behave and demonstrate that they are deaf-friendly and inclusive. The new standard will also make it easier for deaf children, young people and their families and friends to identify deaf-friendly services in their area.
Deaf-friendly Standard logo
You can identify if an organisation has been awarded Bronze, Silver or Gold by looking out for these logos on their promotional materials.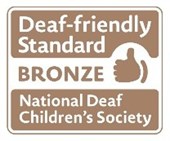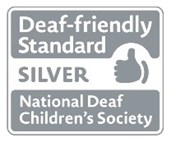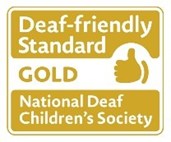 Apply for the Deaf-friendly Standard
All organisations that provide services for children and young people that meet certain criteria can apply for the Deaf-friendly Standard.