Books
We asked families to review books with a deaf character or focus. Here's what they thought…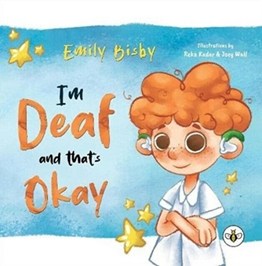 Written by Emily Bisby
Available from bookshops
£5.99
Ages: 5 to 10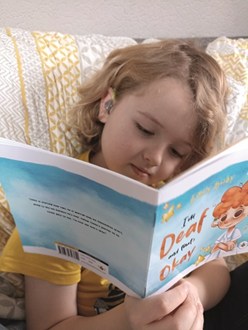 Reviewed by Angie, mum to Oliver (7) who's severely to profoundly deaf and wears hearing aids.
Oliver really enjoyed I'm Deaf and That's Okay. The book tells the story of Timmy and his day in Year 2 at school. Timmy is a bit sad when the other children don't want to play with him because they think he's ignoring them, so the next day he explains to his class that he's deaf and couldn't hear them talking as he wasn't facing them. It really hit home with Oliver and addressed some of the problems he faces at school but didn't really understand before as he's so young. This book has really helped.
Oliver's favourite part is where Timmy tells everyone about his superpower – lip-reading! Again, this is something Oliver can do but has never really understood how cool it is! It's a fun book which is also very helpful in understanding the problems a deaf child might face in a mainstream school. Oliver loved it so much that he took it to school, and his teacher read it to the class, who all really enjoyed it too!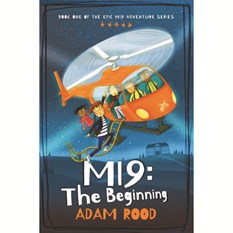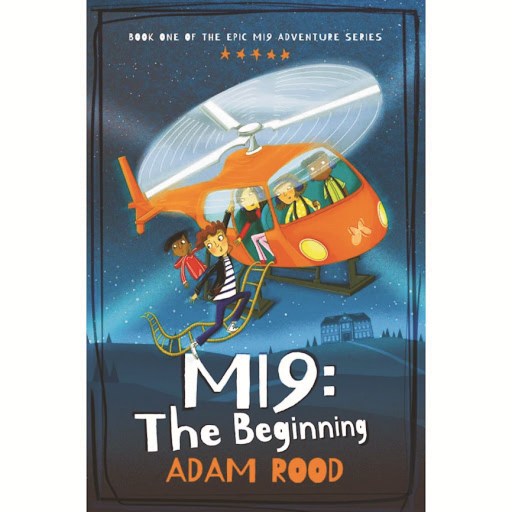 Written by Adam Rood
Illustrated by Lesley Danson
£7.99
Ages: 5 to 14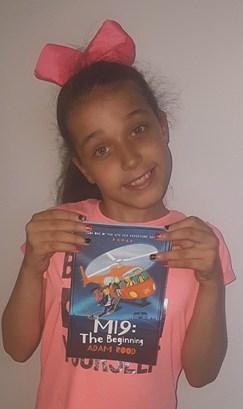 Tiana (9) is profoundly deaf in one ear and wears a bone anchored hearing aid.
MI9: The Beginning by Adam Rood is about a boy named Billy, who wears hearing aids because he has microtia. He also has a superhero power to read people's thoughts. I think the book is for newly confident readers.
My first reaction to the book was excitement. I found it easy to read by myself, though I did ask my mum for help with some of the words to understand them.
I have never ever read a book like this one in my life! I felt I had things in common with the character Billy, as we both have green eyes and super hearing aids, although I was born with a unilateral hearing loss. I learned more about microtia and how it affected the shape of Billy's ear.
I would buy this book 100% and I recommend all children to read this book. This is one of my new favourite books!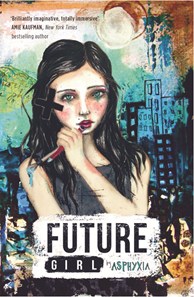 Written by Asphyxia
Available from bookshops
£10.99 RRP
Ages: 11 to 18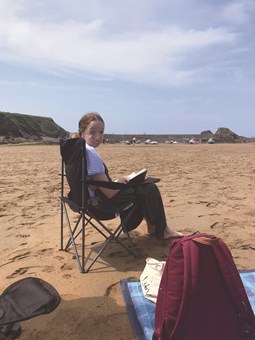 Maia (16) is moderately to severely deaf and wears bone conduction hearing devices.
Future Girl is an immersive book, styled as a journal, about a deaf teenager called Piper, who's struggling with her deaf identity. One day, she meets Marley, a hearing teenager who has a deaf mother. He teaches Piper to express her deafness by teaching her sign language. However, Marley is also struggling as he has trouble finding his place in the hearing world. Throughout the book, Piper discovers her artistic abilities and allows these, and her communication skills, to express her political beliefs. Teenagers, both deaf and hearing, will enjoy this book.
When I first received the book, I was in awe of its look. I understand that it's wrong to judge a book by its cover, but from looking at this front cover, I knew that the book would be very artistic. I couldn't wait to start reading it!
The first-person narrative allows the story to flow, so it's easy to read because you're involved with the events of Piper's life. I've never read anything like this, and that's a good thing! Not only does it have an original take on climate change, but this is also the first book I've read with a deaf protagonist and one to whom I could relate. I can identify with Piper's struggles to lip-read and communicate in noisy situations. I believe my younger self would have related to her struggles with her deaf identity.
I learnt the importance of being proud of your deafness and not letting it stop you from expressing your beliefs and opinions. I'd recommend this to deaf teenagers and hearing people who want to learn about the deaf community.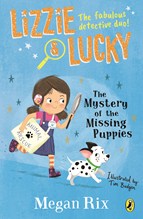 Written by Megan Rix
Illustrated by Tim Budgen
£6.99
Ages 5-10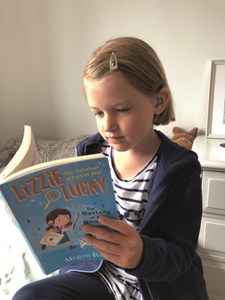 Reviewed by Elodie (6) who's moderately deaf and wears hearing aids, and her mum Hannah.
This book is about a girl called Lizzie who wants a dog and manages to save a dog who someone has stolen. Lizzie is deaf and her parents are deaf too. Lizzie's friend is hearing and they communicate through a mixture of sign and lip-reading. The story is really about the mystery that Lizzie is solving though.
It was an exciting story – I liked how Lizzie saved the cute dog. I was worried when the thief's van parked up with the dogs inside, but at the end all the dogs were saved, phew! It's the first chapter book that I've read and it was nice to listen to my mum read it to me.
Mum Hannah adds: Lucky and Lizzie is short enough to read to a child in a few sittings, or for a young reader to read themselves. I'd say it's most suitable for children aged 5 to 7. Apart from the picture of Lizzie wearing hearing aids on the front cover, there weren't many similarities between my daughter's experience of deafness and Lizzie's, however it was easy to read and we still enjoyed it.
Written by Lynne Kelly
Available from bookshops
£6.99
Ages 8-12
Reviewed by Poppy (10) who is profoundly deaf and wears cochlear implants.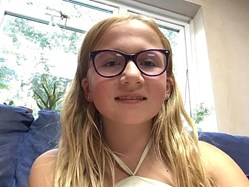 I got this book a while ago. I put it to one side as it looked boring, but my mum persuaded me to read it. 'OK,' I said. I looked at the front cover, read the back cover, then opened the book. I read the first two pages and I was hooked! I wanted to read more but it was time for bed. The next morning my mum reminded me about the book and I started reading again. I read and read. I'd nearly finished it by bedtime!
The book is really interesting. It's a beautiful story about a deaf girl Iris who finds out about a whale called Blue 55. The whale sings at a different frequency to other whales. He thinks he's the only whale in the world! The girl signs to her grandma and her grandma says they should encourage the whale. They record a CD of music, play the CD and hope that Blue 55 can hear it. Iris is really happy when he does, she strokes the whale and the whale goes back to the sea.
Song for a Whale is a fantastic story. I would recommend all deaf children and adults read the book! It would be good in British Sign Language (BSL) but I use BSL and it was easy for me to understand.
Written by Raymond Antrobus
Illustrated by Polly Dunbar
Available from Tales on Moon Lane and other bookshops
£12.99
Ages 3-7
Reviewed by Sian, mum to Llion (5) and Ania (2). Ania is moderately to severely deaf and wears hearing aids.
Can Bears Ski? is a beautiful, heartwarming children's book about a little bear and his dad and the journey they go on to find out if Little Bear needs hearing aids. This book is brilliant and captured the imagination of the whole family. It helped us understand what it's like to find out you can't hear well.
This book is easy to read. Ania was immediately drawn to the colourful
illustrations in the book and instantly connected with the hearing aids Little Bear is wearing, which look like hers. The clever use of small to really large text helped Ania understand when something was meant to be quiet or loud. Because of this, the book illustrates how Little Bear experiences the world.
Ania's big brother Llion was hooked by the skiing references, but the story of Little Bear has helped him to understand what his sister goes through at her audiology appointments. It's encouraged us all to talk about how not being able to hear might feel for Ania and Little Bear. Our favourite part is when Little Bear gets his hearing aids and we find out if bears really can ski!
I would highly recommend this book for the whole family, especially for anyone supporting their child the same way as Dad Bear. We absolutely adore this book and it has fast become a bedtime favourite in our house.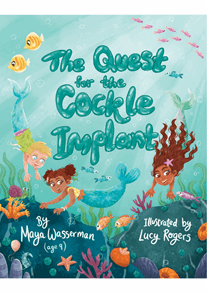 Written by Maya Wasserman
Illustrated by Lucy Rogers
£6.99
Reviewed by Poppy (10) who is profoundly deaf and wears cochlear implants.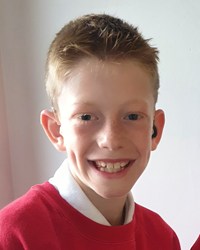 Reviewed by Freddie (9) who is profoundly deaf and wears a cochlear implant and a hearing aid:
The book is about a mermaid called Angel who loses a cochlear implant. I liked that Angel had a cochlear implant like me. She was super brave going into the cave on her own to find it. She knows how important they are. Her sister, Coral, was a very kind sister to help Angel find her device, but she needs to be more careful when playing!
My favourite part of the story was when they met the Merkitty. He's a very strange creature, and he was scary at first, until he realised Angel was just like him. The Merkitty was super fearsome but it was cool that he was deaf, too.
I like that the book was really colourful and that the cockle implant was hidden in the pages to find. My friends would like this story as well because it's got adventure and different characters in. Because the Merkitty is kind to Angel, it would help them to be kind to others, too.

Reviewed by Ivy (6) who is profoundly deaf and wears a cochlear implant:
This book is brilliant. It's about a deaf mermaid called Angel who loses her cockle implant (like a cochlear implant) and goes on a quest with her sister Coral to find it! The quest is exciting, especially when Angel, Coral and their friend Finn work together to find the Merkitty, a big kitten with a mermaid's tail, who has the cockle implant. The Merkitty's also deaf, and Angel cleverly uses sign language to communicate with him.
This book made me feel happy because of the way the sisters look out for each other. The pictures are warm and vivid, and there's a very loving feeling between Angel and Coral. I'd recommend this book to all children, deaf and hearing. It shows that hearing children need to be careful when they're playing with deaf children, but also that deaf children can do anything if they stand up for themselves and have friends to help them.
Written by Victoria Forrest, Where is the Bird? is an augmented reality book that encourages families to learn British Sign Language (BSL) via the accompanying app, Baby BSL. Pictures on each page of the board book can be scanned to open an animation video showing you how to sign the name of the object.
Available from Amazon.
£8.99
Ages: 0-4
Reviewed by Isabelle who is mum to Ioan (13 months) who has suspected moderate hearing loss and wears hearing aids.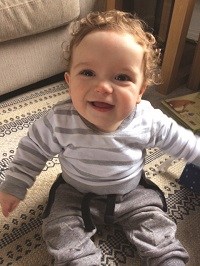 Ioan loves books and was happy to flick through Where is the Bird? The images are in black and white but he enjoyed looking at them. So far, Ioan has picked up the signs for 'bird' and 'where'.
The main issue I had with Ioan was his attention span. Possibly due to his age, he likes to take over and open and close the pages himself, making it hard to concentrate on one image and sign. I found the best way to read it with him was to sit directly opposite and hold the book towards him. That way he was already looking in my direction so I could show him the corresponding BSL sign.
I found the app easy to download and very easy to use, which was great. The moving images are bold and colourful so they draw your attention.
However, to use the app and book together, as well as teaching the sign, I needed Ioan to focus on different objects, then back to me. Typically, when he saw the colourful image appear on my phone, he just wanted to play with that and the book was dropped. I think for his age, the book and app are easier to use separately, as otherwise there is just too much going on. It could also be that he's a very busy baby and always on the move!
I would recommend Where is the Bird? to families with slightly older children who are learning to sign. The app might also be more effective on a larger screen, such as a tablet. I'll continue to use the book and app, and hope Ioan will get to grips with it as he gets a bit older.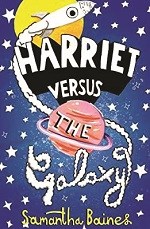 Written by Samantha Baines.
Available from Amazon.
£9.56 (hardback) or £6.99 (paperback).
Ages: 5-10, 11-4
Reviewed by Cerys (10) who is profoundly deaf and wears cochlear implants.
I was very lucky to receive a signed copy of the fantastic book Harriet Versus the Galaxy from a competition my Dad entered for me on the National Deaf Children's Society Northern Ireland Facebook page.
Just like me, Harriet is deaf and 10 years old. She wears hearing aids to listen to the sounds of the world around her, though I have cochlear implants.
In the story, Harriet's hearing aids don't just hear everyday sounds but also let her  translate an alien language when she discovers an alien hiding under her bed. She learns that her granny is part of a secret organisation that is protecting the galaxy from the Muncha Aliens and, with her hearing aids, Harriet's the only one who can understand them.
The book was easy to read with a great story and lots of cool pictures. It was also great to read about another deaf girl and how she deals with being deaf. I liked how, at the end of every chapter, the book describes all the different planets in the universe. The story was easy to understand and would suit boys or girls from ages 7–11. I would like to read more stories about Harriet's adventures and how she's getting on with her new friends.
Written by Paul Ogden and David Smith
Available from Amazon.
£21.62 (paperback) or £20.54 (kindle edition).
Suitable for parents.
Reviewed by Allison who is mum to Augustus (6) who is moderately to severely deaf and Elsie (5) who is mildly to moderately deaf. Both wear hearing aids.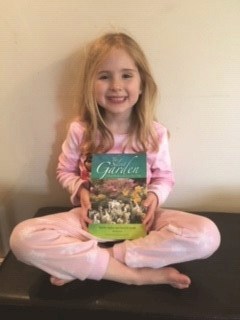 This book was longer than I expected and a bit of a slog at times to get past the Americanisms. However, I also found it reassuring in places to hear other parents have felt the same way I did on discovering both my children have permanent hearing loss. It sent the positive message that all feelings are OK. Although some of the grieving process the book talks about wasn't relevant to me, the feeling of sadness at knowing my children may have additional hurdles to overcome was poignant.
This book explores the American system so there isn't any reference to our Education, Health and Care plans. However the battle for the right support appears to be similar on both continents. The difficult decisions that parents have to make with regard to school choices, communication methods and surgery are explored, but for me I felt it offered emotional support around those subjects more than providing evidence for or against different choices. That's understandable given the system is ever-changing and technology advances quickly, but I feel like I was maybe past the point of needing that reassurance and emotional support. Maybe this book is best suited to those at the start of their journey with their deaf child.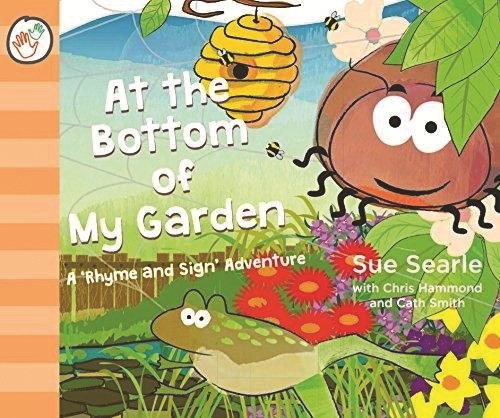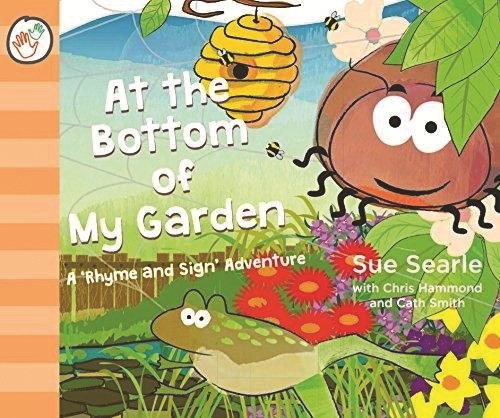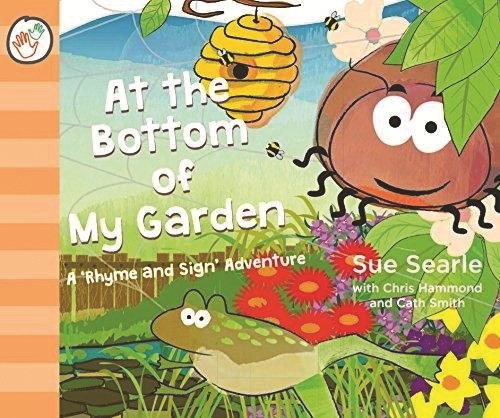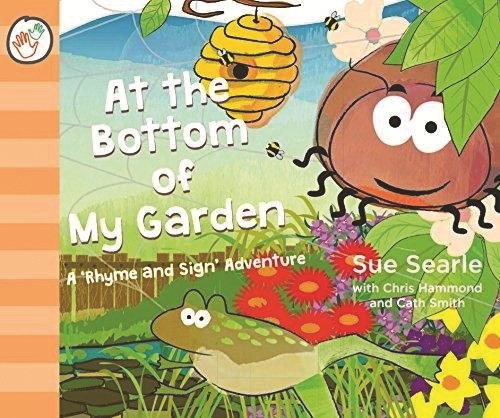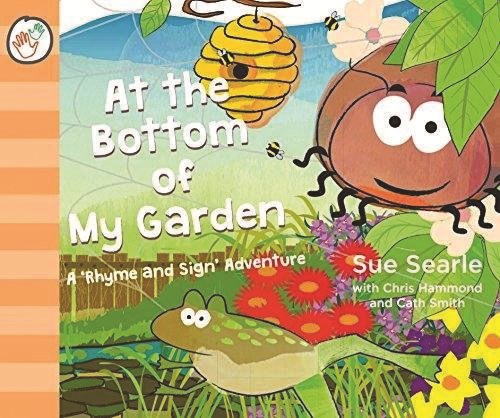 By Sue Searle
Available from Amazon
Ages: 0-4, 5-10
£6.99 and £7.49
Eleanor is mum to Isaac (5) who is severely deaf and wears a bone anchored hearing aid.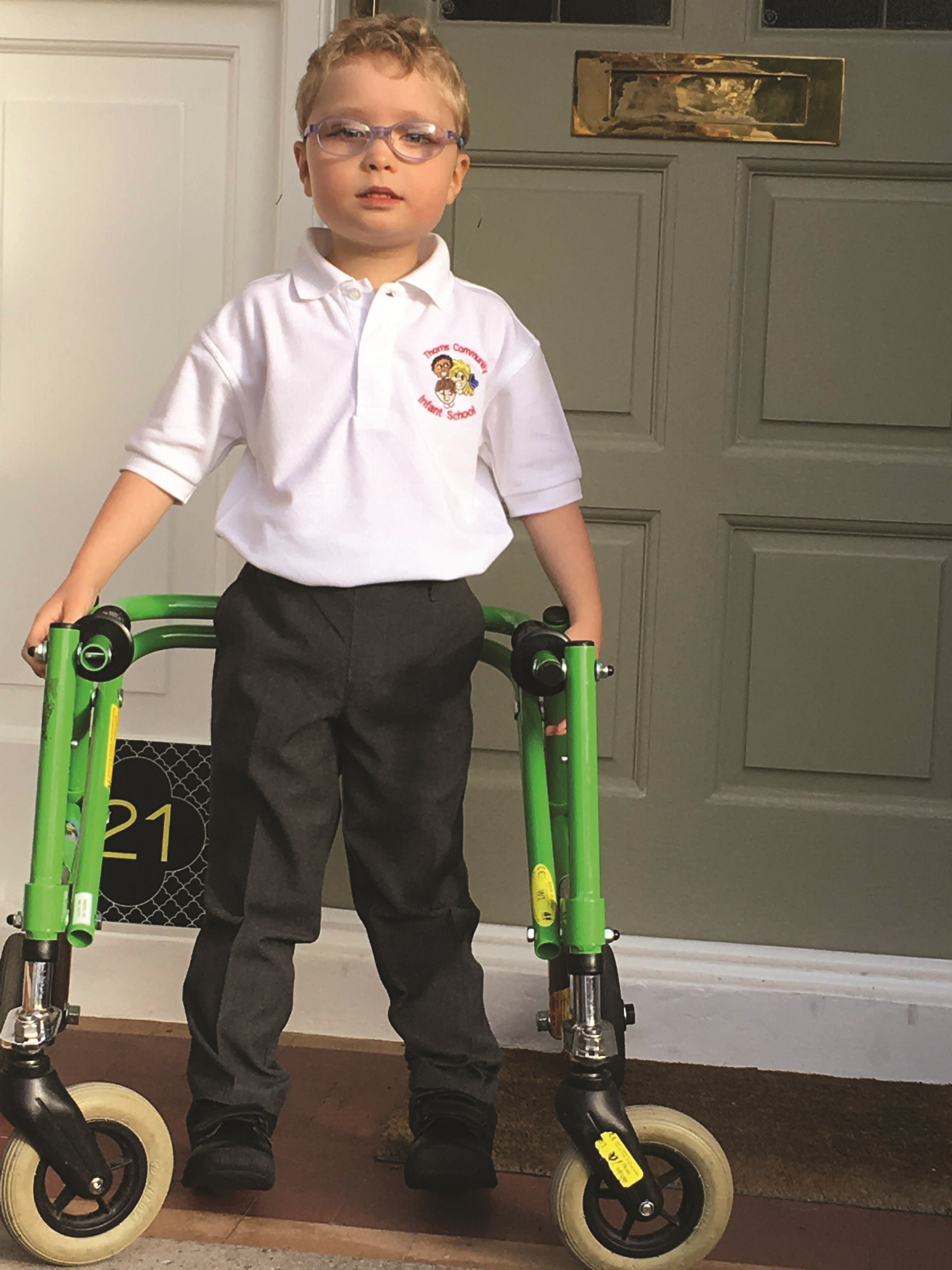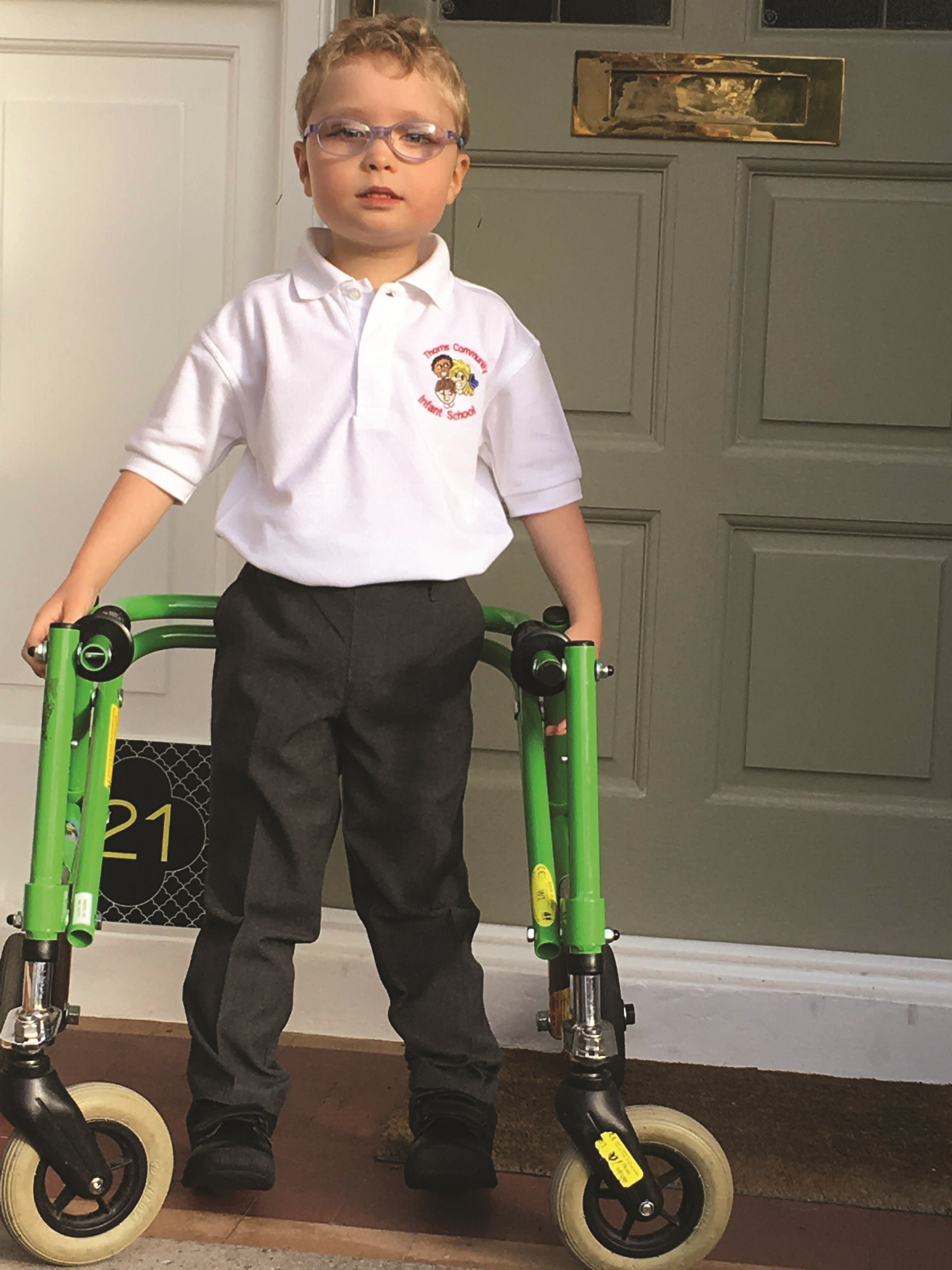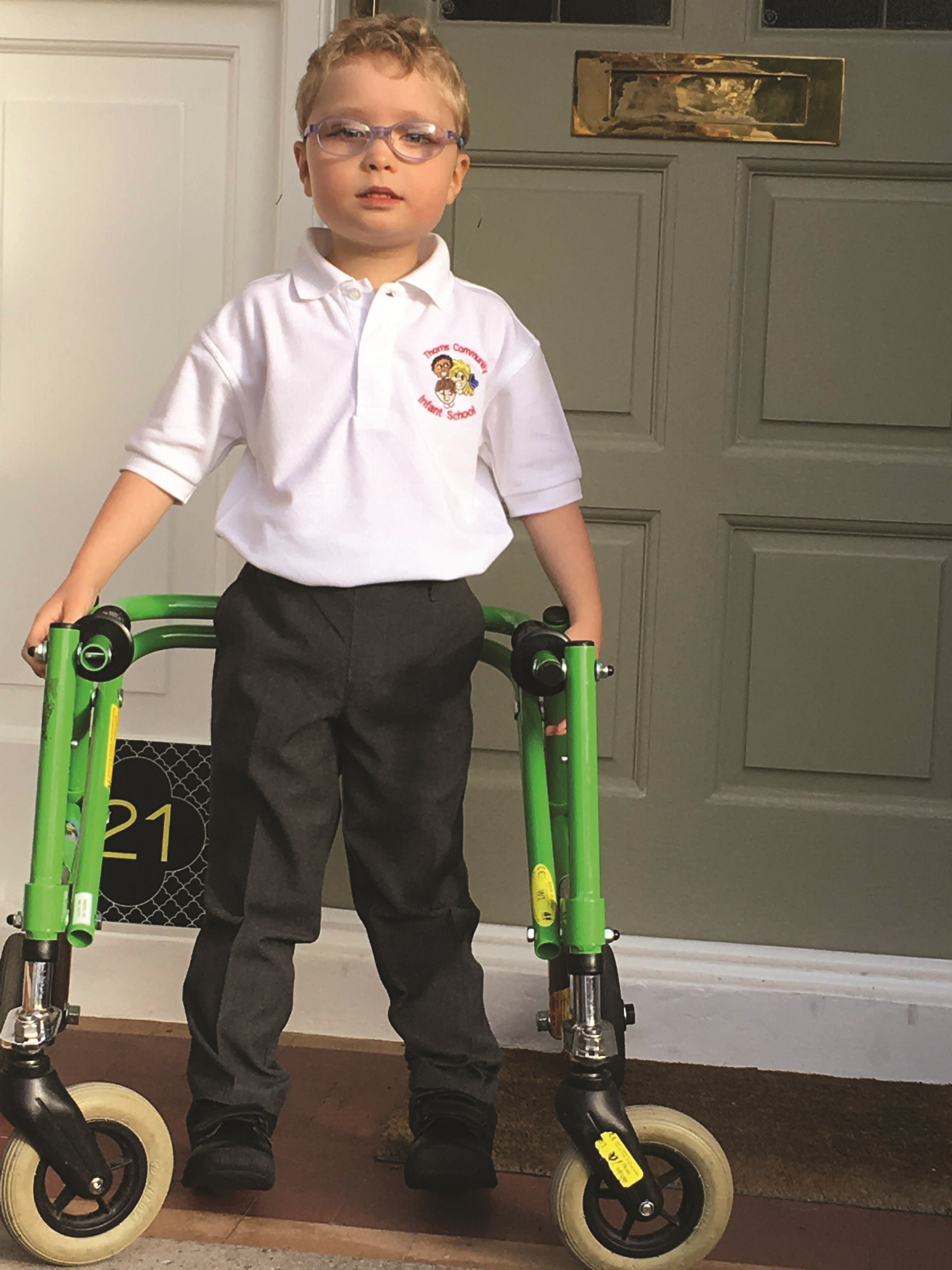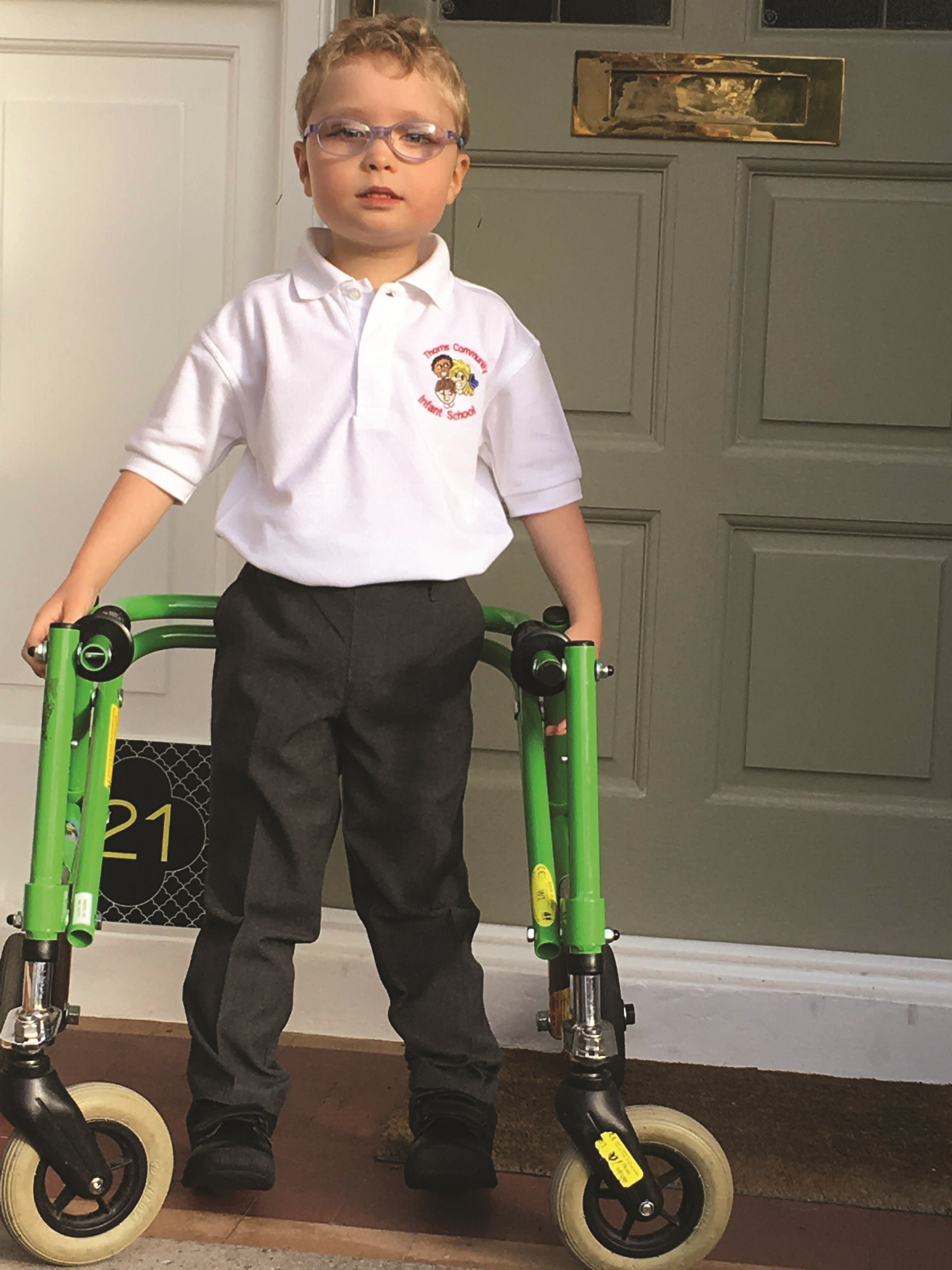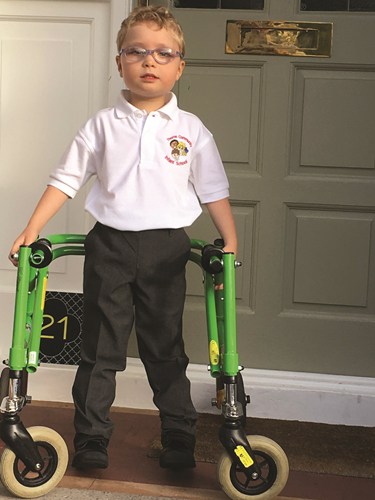 Isaac
"My son Isaac has always loved books. We don't routinely use sign language but we have learnt basic British Sign Language together. At the Bottom of My Garden is a delightful book aimed at young children. There's lots to explore as the story takes you on a journey through a garden full of creatures. On each page you're introduced to a new garden creature and told something about them.
The repetition and rhyme really appeals to younger children, as does the task of finding the different creatures as they appear in the pictures. Out of My Window is another great book from the series. The story invites you to look out of the window as you enjoy a train ride through the town and countryside. The focus is on different vehicles and what they're for. The rhythm and rhyme of the story is really appealing to young children. It follows the 'I spy' format I'm sure lots of children are familiar with.
In both books each page has pictures of key signs that accompany the story. I found, even though Isaac doesn't sign much, he was really interested to learn how to sign the words. For beginners, there are useful tips at the beginning of the books and illustrations of how to form some of the basic hand shapes.
There's also a guide with tips on how to get the most out of reading with your child, help them to practise key skills like paying attention, observation and language development, and to increase their confidence and enjoyment of reading.
Overall we gave both these books a huge thumbs up in our house. We would recommend them for signers and non-signers alike."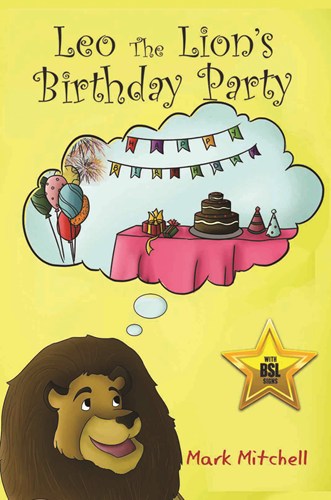 By Mark Mitchell
Available from Amazon
Ages: 0-4, 5-10
£9.60 (paperback) or £3.50 (kindle edition)
Reviewed by Laura, who is mum to Zak (3) who is profoundly deaf and wears cochlear implants.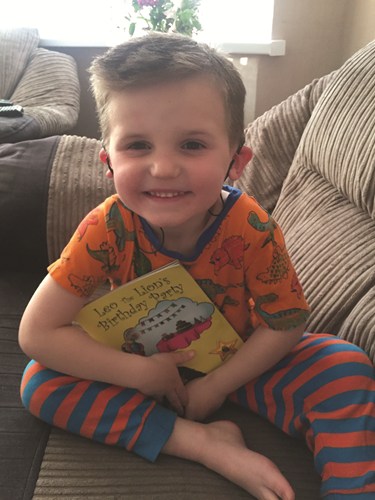 "What a brilliant book! It captured my son's attention immediately and is now his favourite bedtime story. He loved Leo the Lion and the excitement of a birthday party was an added bonus. The whole concept of the shopkeepers not understanding the lion is so clever and my son found it hilarious when the lion roared. Due to the repetition, he was even ready to roar along with Leo at the appropriate time!
My son uses both speech and British Sign Language so he loved it when Leo the Lion returned to each shop, signed his request and got the goods he wanted. It was so refreshing to have both communication methods in a book in such an interesting way.
The illustrations throughout the book are perfect. Each page has a clear simple picture explaining the content so it visually captures the little one's attention.
I can't give this book a better review, I can't think of any fault and it certainly has my son's approval!"

By Cath Smith
Available from Amazon
Ages: 0-4, 5-10
£4.99
Reviewed by Allison, mum to Augustus (6) who is moderately to
severely deaf and Elsie (5) who is mildly to moderately
deaf and who both wear hearing aids.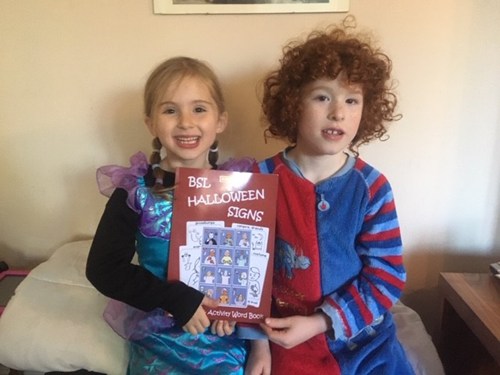 Elsie and Augustus
"This book has pages to colour and also activity pages with quizzes matching signs to words. All of the pages contain signs related to Halloween. My five-year-old daughter really enjoyed it, particularly the pages where you have to fill in the missing letters. We looked at the sign for that word, found the corresponding page to see how to spell the word, then went back and filled it in. It was a great rainy day activity we could do together. My six-year-old son coloured a few pages but wasn't as interested.
We don't do much signing in our house so the children enjoyed the activities more than the signs but I can see how useful the book would be for learning vocabulary for British Sign Language and speech. The words were more complex than I imagined too, such as 'goosebumps' and 'werewolf', which was a definite bonus. The combination of sign, colouring and missing letters made this a versatile book that had something in it for both my children with very different interests. The fingerspelling at the back was a little too much for them to remember at this age but it's something we can revisit when they next want to do some colouring as every sign can be coloured."
Written by Ross Montgomery
Available from Amazon
Ages: 5–10, 11-14
£6.99 (paperback), £4.31 (Kindle edition)
Reviewed by Ollie (11) who is moderately deaf and wears hearing aids.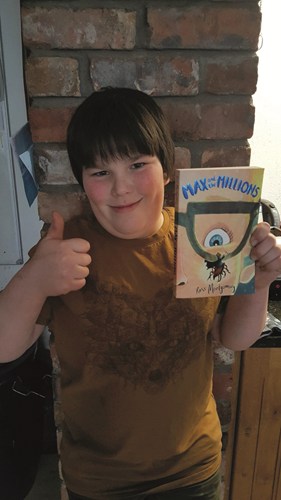 Ollie
"I loved this book! The story is about Max and his roommate Sasha and how they rescue millions of tiny people that the school caretaker Mr Darrow invented. But Mr Pitt, the school headmaster, thinks they're rubbish and tries to destroy Mr Darrow's creations.
My favourite part of the story was when the bin bags were swapped over! Mr Pitt thought he was stamping on the bag Max and Sasha were trying to rescue with the tiny people in it but in fact the bag he took was filled with old sour milk jar. Mr Pitt stamped all over them and ended up covered in rotten milk!
It was great to read about a character who is deaf. The issues that Max experiences with hearing aids and with other people are very accurate."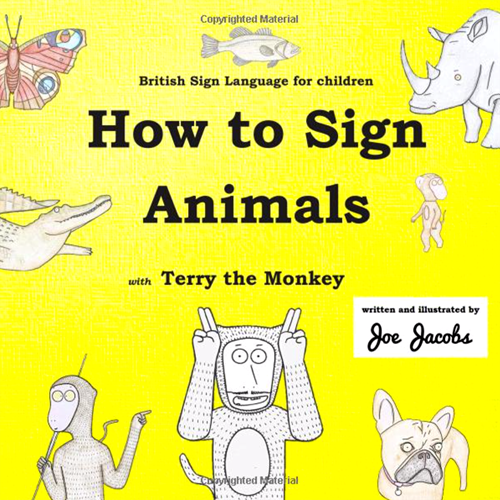 Written and illustrated by Joe Jacobs
Available from Amazon
Ages: 0–4, 5–10
£6.99
Reviewed by Sarah, mum to Amelie (6) who is mildly deaf and wears hearing aids.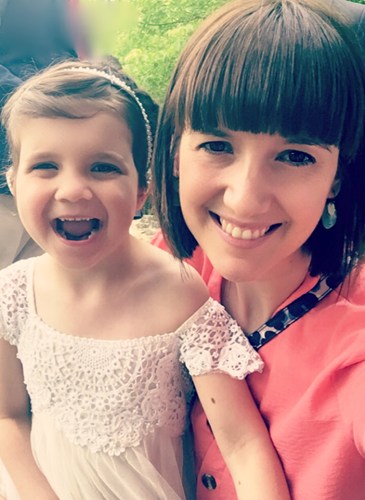 Amelie and Sarah
"How to Sign Animals with Terry the Monkey is an enjoyable and friendly introduction to British Sign Language (BSL), complete with colourful illustrations and easy-to-follow instructions. The book is a great resource for any family who would like to introduce their children to BSL.

Amelie and I have explored the book together and she took it into school to share with her class friends too. It's an ideal tool to help educate her peers about using sign language as a form of communication and for them to enjoy learning different animal signs. I personally feel that the book would be most suited to children up to 8–10 years of age.
Terry the Monkey is very engaging and the words used throughout the book are full of energy. It's beautifully illustrated and the instructions are very clear. The illustrations are detailed enough to allow the signs to be copied independently, without the necessity of reading.

There are a wide variety of over 50 types of animals featured in the book, including farm animals, zoo animals, pets and sea creatures. Our favourites were the unicorn and the lion!
We would definitely recommend this book. It's obvious that the author has put a lot of thought into making sign language fun and accessible to children. There are a few more books available including How to Sign Food and How to Sign Christmas which we will be buying. They're also available in American Sign Language."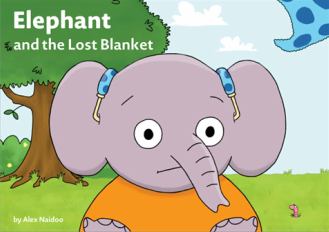 Written and illustrated by Alex Naidoo
National Deaf Children's Society, 2018
Elephant takes her special blue blanket with her everywhere. It's her favourite thing in the whole world. So when it goes missing in the park one day, Elephant is desperate to find it. Her friends come to the rescue and help her search, but all is not as it seems…
Following the success of our two books for children aged 4–7, Jake and Jasmine to the Rescue and Daisy & Ted's Awesome Adventures, we've launched our third book and this time it's for little ones aged 0–5. We think it's important for deaf children to see themselves reflected in the books they read even from a young age, so we've created the perfect book for young children.
Available from Amazon.
Ages: 0-4, 5-10
£6.99
Reviewed by Missy-Anne, mum to Ava (2) and Mia (8 months) who are both moderately deaf.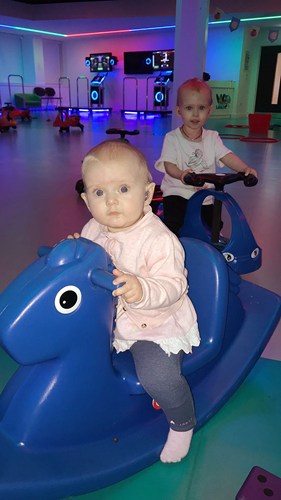 Mia and Ava
"I think this is a really good book. I like how simple it is; there's not too much going on in the story or on each of the pages, making it easier to read and show my daughters. Both of them are at different stages so it's great to read the words to my older daughter who's able to follow the story more and point to the elephant or butterfly for the younger one. I also like how it's clear to see Elephant has hearing aids but it's not made into a big issue. It also shows her being able to do things like other children who are hearing.
It would be good to see more sound words in the book, for example when Elephant rushes down to breakfast there's the word 'crunch' but that isn't shown anywhere else in the book. I feel it could be added to the page where Elephant is checking her boots are still good for jumping and her blanket blows away, for example under the blanket the word 'whoosh' or when giraffe is going down the slide 'weee'. As a parent whose daughters go to speech therapy, these types of words are brilliant for keeping children engaged.
Throughout the book I also thought it would be good to see signs so I was pleased when I got to the end to see the top tips for reading and also the video link for bringing signs into the book to make it come to life."
Reviewed by Stuart, dad to Lois (3) who is profoundly deaf.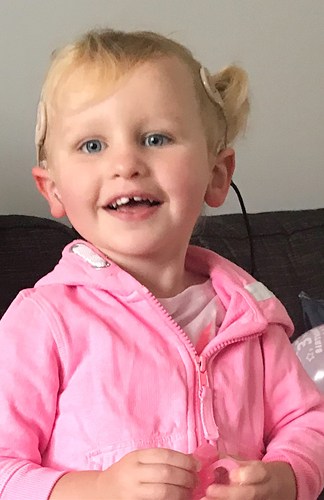 Lois
"Elephant and the Lost Blanket is about a young elephant who loses her favourite blanket during a trip to the park with her friends.
The book is set in a child-friendly environment with the contents of the book featuring everyday occurrences in a child's life. The book is useful for developing language with deaf children, particularly as it includes words for objects, animals, activities and the emotions that they learn throughout their early years.
The book is handy for reading at home and nursery and is useful for prompting children to explore the sounds and noises that the characters would make. It's vibrant, colourful, exciting and packed full of illustrations and words that can bring the story to life. It also includes some useful tips to make sure that deaf children can access and learn as much from the book as possible. It's reassuring for deaf children to read stories where the main characters wear hearing aids/cochlear implants and this provides a valuable talking point when narrating the story. I would recommend this book for all children, but especially to parents, carers, teachers and supporting staff of deaf children as a fun way to learn and develop language."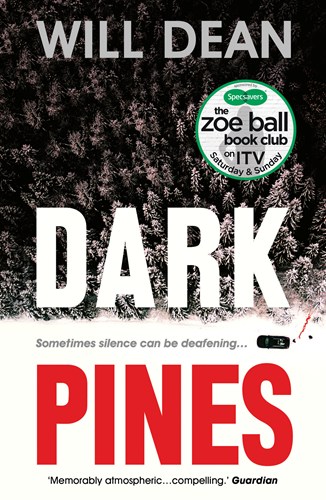 Written by Will Dean
Available from Amazon
Ages: 19-25
£6.33 (paperback) and £2.99 (Kindle Edition)
Reviewed by Liam (21) who is mildly deaf.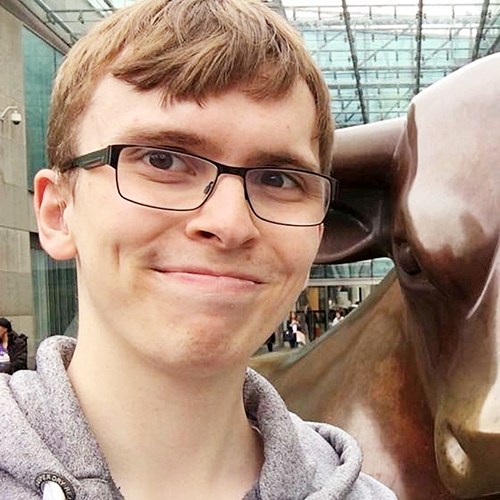 Liam
"In many ways Dark Pines by Will Dean is your traditional Swedish crime novel. With a unique setting, confident characters and a gritty crime at its heart, it's a bold debut. Yet perhaps more unconventional is the protagonist, Tuva Moodyson, a journalist for the local paper, who is deaf.
Often described as an invisible disability, seeing how writers represent deafness is always interesting. In this case, Tuva's hearing aids are constantly mentioned across the 300-or-so page novel. Sometimes it's relevant but in other instances it serves as an unnecessary reminder.
Throw in some other characters – of which there's a unique bunch, including a creepy taxi driver, eccentric ghostwriter and haunting doll makers – and you not only get a classic whodunnit but also some interesting conversations with hearing characters who are far from deaf aware.
The over-the-top fascination with deafness and the backhanded compliment 'you talk well for a deaf person' both make an appearance but are quickly challenged in Dean's writing. While working on the book, the author consulted with blogger Deafinitely Girly and the research shows.
The same goes for the setting. Based in a fictional forest, it's a landscape familiar to Dean, an Englishman who now lives in rural Sweden. However it isn't long before he runs out of imaginative ways of describing the surroundings, with similes getting more farfetched and bizarre as the story drags on.
Like most crime fiction, Dark Pines is slow to develop with a lot of repetition to make up for it. But when the story picks up pace in the second half of the book it becomes a gritty, thrilling and worthwhile read. I'd give the book three stars out of five."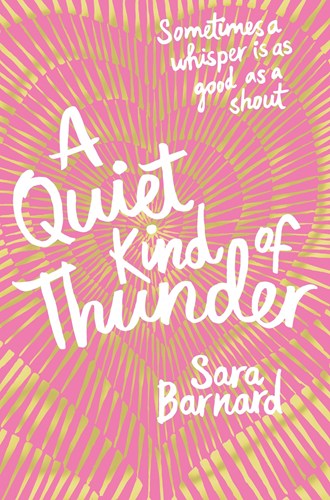 Written by Sara Barnard
Available from Amazon
Ages: 15-18
£5.98 (paperback) and £4.74 (Kindle Edition)
Reviewed by Esther (15) who is severely deaf.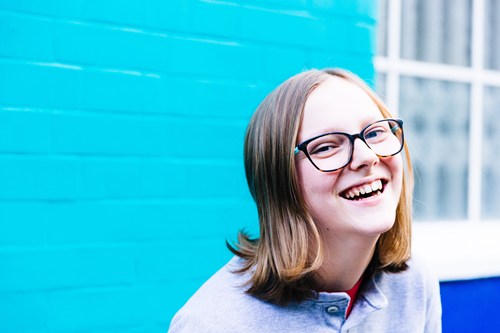 Esther
"After reading this book, I just wanted to give Steffi and Rhys a massive hug. This coming of age tale takes you on an emotional rollercoaster as Steffi and Rhys work out who they are together, while figuring out who they are by themselves. Steffi has selective mutism and Rhys is deaf.
Steffi is lost without her best friend Tem on the first day of sixth-form but is soon introduced by the teacher to the new kid Rhys, as they both know British Sign Language (BSL). The book follows familiar teenage themes as we watch Steffi navigate arguments with her best friend, lying to her parents and falling in love for the first time.
Sara Barnard created Steffi and Rhys to be relatable and real. The author wrote all their thoughts as raw and unfiltered – it felt like I was a part of their story, not just a spectator. The story focuses on hard subjects but the author writes with truth and depth. However, as the book was told from Steffi's point of view, I would have liked to have read more about Rhys.
As a deaf person, I think it's a great book for other deaf teenagers to read as Rhys's experiences were very relatable – he even mentions the National Deaf Children's Society at one point! He mentions his frustration with not being able to hear things and that he feels he must depend on people, however he also mentions the opportunities he receives from being deaf and the community he can be a part of.
This heart-warming book would be perfect for people aged 14 to 18 and is a brilliant book for both deaf and hearing teenagers alike."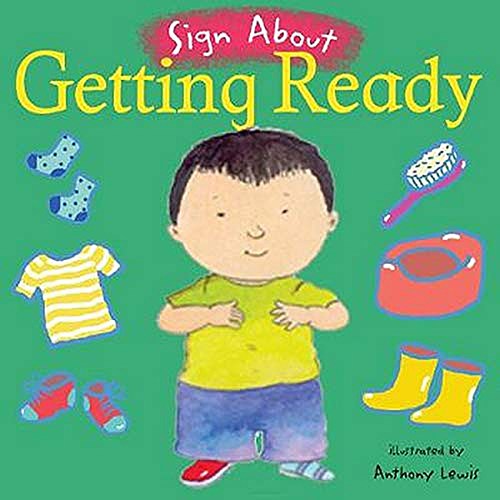 Written and illustrated by Anthony Lewis
Available from Amazon
Ages: 0–4 5–10
£3.99 each
Reviewed by Nadine, mum to Primrose (5 months) who is severely to profoundly deaf and wears hearing aids.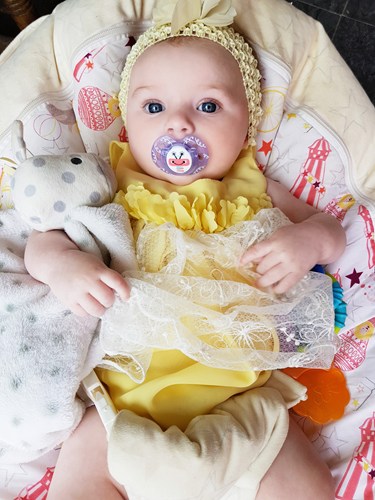 Primrose
"These books have been a godsend as I've just started British Sign Language (BSL) lessons and some of the everyday baby words are not always included in the course. It's fantastic to be able to sit with my daughter Primrose and show her the pictures and do the signs with her.
We take the books everywhere with us so we can use them at all times. Primrose is always watching intently whenever we use BSL and she's already starting to use her hands as a form of communication, even at just five months old! The Sign About Getting Ready book is very useful in the morning and we've just started weaning so the book Sign About Meal Time is very informative. Sign About Playtime is just a really fun one! I would highly recommend the books to anyone as a great form of learning and communication. I'll definitely buy more books and will pass them around to my friends to show how amazing they are so they can invest too.
We absolutely love these books!"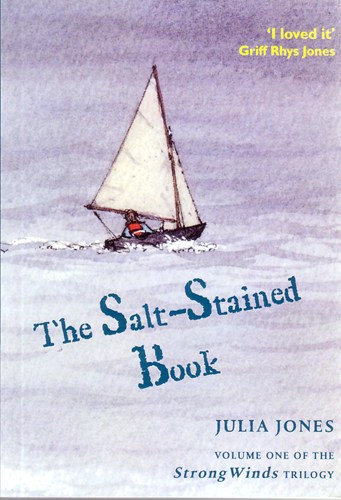 Written by Julia Jones and illustrated by Claudia Myatt
Available from Amazon
Ages: 11-14, 15-18, 19-25
£7.99 (paperback) and £4.64 (Kindle edition)
Reviewed by Amber (17) who is profoundly deaf.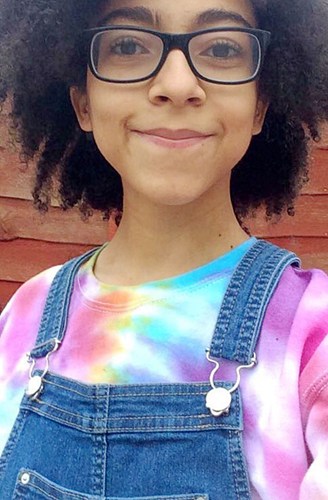 Amber
"This book follows 13-year-old hero Donny and his close relationship with his mum, Skye, who has been profoundly deaf since birth and has dyslexia. Donny becomes a young carer after his Gran dies and their own private world is shattered when Skye is unfairly brandished 'incapable' and whisked away to a mental health hospital while Donny is placed in care.
The carefully crafted narrative contrasts the welfare team's stereotypical views of disability with Donny's resourcefulness and resilience. He makes friends in school and in his foster home; together they help Donny in his quest to get his mum back and also oversee the mysterious arrival of Great Aunt Ellen.
This inspiring book is intended for teenage and young adult readers. I loved the themes of heroism, survival and friendship and also the clear comparison to Arthur Ransome's Swallows and Amazons. It's an honest account of the difficulties faced by Donny. It was refreshing that they included the British fingerspelling alphabet at the end, had somewhat humorous references to deaf culture and included things like signing. However I feel that deafness could have been shown more; Skye being away and visits being limited meant that it was not featured as much as it could have been. Overall I'd definitely recommend this book (and the other two in the trilogy) to deaf teenagers."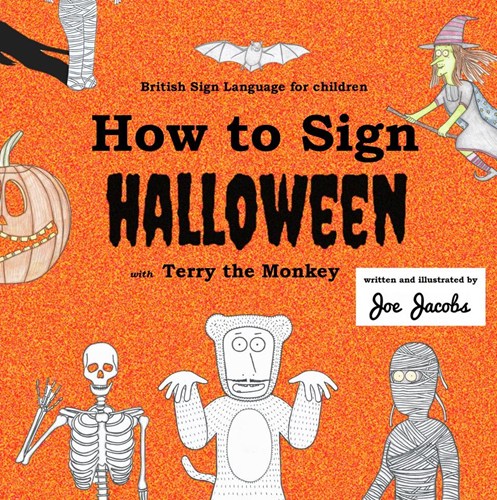 Written and illustrated by Joe Jacobs
Available from Amazon
Ages: 0–4, 5–10
£4.99

Reviewed by Alison, mum to William (8) and Harriet (6), who are both profoundly deaf, and Sadie (3), who is hearing.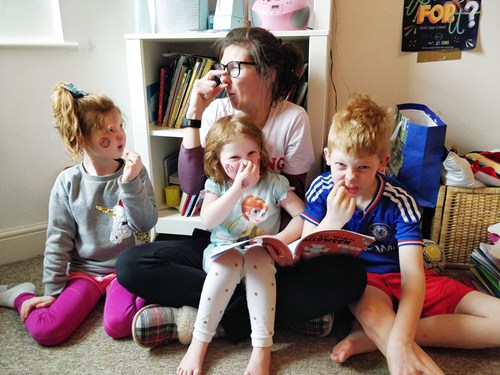 Alison, William, Harriet and Sadie
"This book is an introduction to British Sign Language (BSL), based around the theme of Halloween. It's a story about the traditions of Halloween night, interspersed with clear descriptions and pictures of relevant BSL signs. The illustrations are beautiful and it's a lovely book to read and look at.
The book is very simple and easy to follow. The story is built around the signs rather than the signs fitting into a more exciting story. That's not to say it isn't enjoyable.
My deaf children are six and eight and are fluent in BSL. BSL has regional differences and so some of the signs in the book are different to the ones they have learned at school. They found this in part amusing and in part frustrating. For this reason I think this book is better suited to children earlier on in their BSL journey. My hearing three-year-old got a lot out of it and it was good to be able to connect the signs with an activity she understands.
I really loved the last page where it gives you hints and tips on what to do with your face and mouth when you're signing. Facial expressions and lip patterns are such a massive part of using BSL and I think that's often lost in early years books where you just see a picture and a description of how to move your hands.
In conclusion I think this is a very gentle introduction to BSL suited to pre-school children. Terry the Monkey is a very likeable character and I hope we see more of him!"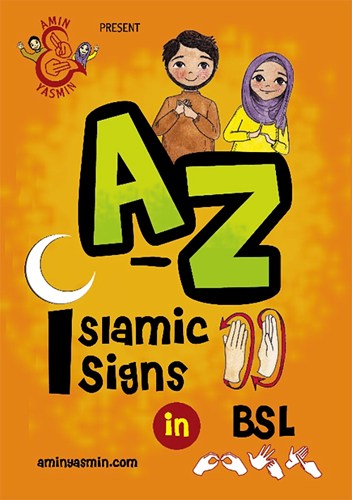 Written by Aminul Hoque and Habiba Khanam and illustrated by Rahima Begum
Amin & Yasmin Ltd (2017)
Available from Amazon, Shopify and Waterstones
Ages: 5–10, 11–14
£9.99
Reviewed by Altaf, dad to Adam (12) who is profoundly deaf and wears cochlear implants.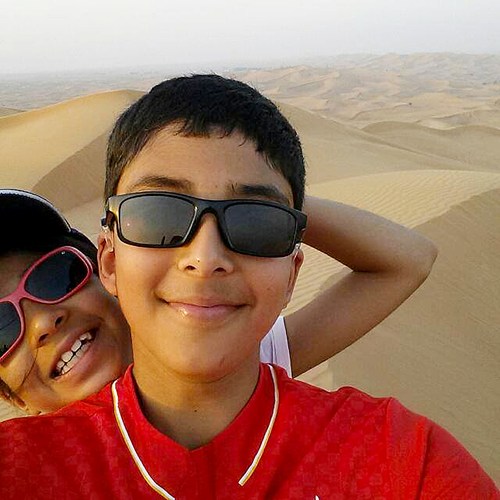 Adam
"A–Z Islamic Signs in BSL is published by Amin & Yasmin Ltd, who have put together a 'unique journey' showcasing an A–Z of Islamic signs in a fun and engaging manner.
Both my son, Adam, and I thought the book was an extremely helpful resource for Muslim families with deaf members who want to introduce their children to British Sign Language (BSL) by using the example of everyday Muslim words and phrases. We thought that the vocabulary used in the book was extremely relevant, both in everyday use and during religious ceremonies and occasions.
The sign vocabulary was well illustrated through the culturally diverse pictures of different Muslim children, as well as being well accompanied by the instructions and Arabic translation. I would definitely recommend this book to any Muslim families with deaf children who are starting to teach their children BSL. It would also be helpful in religious schools to help teach hearing pupils how to interact with their deaf Muslim counterparts in BSL."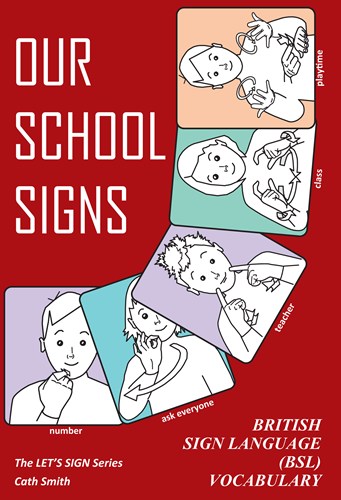 Written by Cath Smith
Available from Amazon Print on Demand
Ages: 5–10
£6.99 print edition
£8 Kindle edition
Reviewed by Jane (Teacher of the Deaf)
"I love the books from the Let's Sign series by Cath Smith. We use several from the series within our school already and I'm delighted that Our School Signs has been released as it targets our needs and responsibilities within our Hearing Impaired Unit (HIU) perfectly. As per all books from the range, Our School Signs helps us to teach British Sign Language (BSL) to our deaf children, children within the mainstream and the wider network of staff within the school. We host two Signing Clubs at school, both of which are popular with the children and staff, and this particular book enables us to teach signs that are most relevant to school, school topics and school amenities and helps us to label equipment too. The 'Link the Sign to the Word' puzzle at the end of each section has also been very well received.
A parent of a child within our HIU commented that they may buy the book too as it will help to give them a greater level of knowledge about the topic of 'school' and fill in gaps they've not learnt while gaining their BSL qualifications.
It's a fantastic book, clear and easy to follow, and really does contribute to getting everyone successfully through their school day."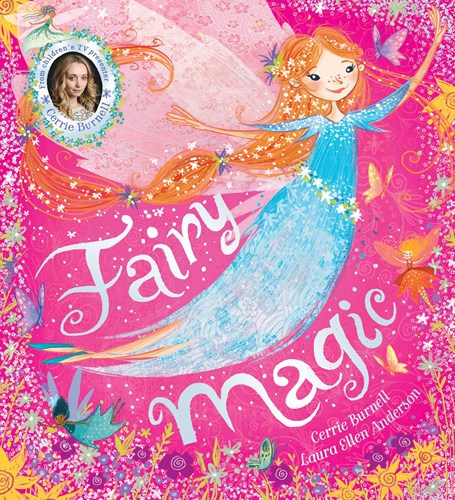 Written by Cerrie Burnell and illustrated by Laura Ellen Anderson
Available from Amazon
Ages 0-4
£6.99 print edition
£4.24 Kindle edition
Reviewed by Hannah, mum to Ruby (5), who has a mild to moderate hearing loss and wears hearing aids, and Freddie (2), who has a mild hearing loss and also wears hearing aids.
"Fairy Magic is a beautifully illustrated children's book about a girl called Isabelle who meets a fairy called Summer-Blue at the end of her garden. As a deaf girl, Isabelle finds she can feel and sense things that her siblings can't.
This book is for those up to the age of five and provides some interesting facts on how other animals use senses instead of hearing to find their way. It also gives hearing impaired children a character they can relate to.
Ruby enjoyed listening to the book and, as soon as she heard there were fairies involved and a girl who had hearing difficulties like her, she was even more interested. Freddie loved the colourful pictures and pointing out the different colours, animals and children.
As a parent of two children with hearing loss I felt the book was well written and had the right balance of fun and information. I also found the relationship between Isabelle and her hearing twin and how they communicate in their own way very endearing.
Overall this is a nice, magical story, although for deaf children I can't help but feel there are already better books available (Freddie and the Fairy is our favourite)." 
Written by Karen Harlow and illustrated by Sandra Aguilar
National Deaf Children's Society, 2017
We think it's important for deaf children to see themselves reflected in the books they read and know they can do anything their hearing friends can do, so we're excited to have published our second children's book. When Jake, who is deaf and has a cochlear implant, returns to his superhero school after the summer he finds out that Tilly, the school's tortoise, has gone missing. Jake teams up with Jasmine, a new girl in his class, and together they go on a quest to find the school's much-loved pet and show that anyone can be a superhero!
Available from Amazon
Ages: 0-4, 5-10  
£6.99
Reviewed by Lisa, mum to Chloe (6) and Jack (5), both of whom are profoundly deaf and have bilateral cochlear implants.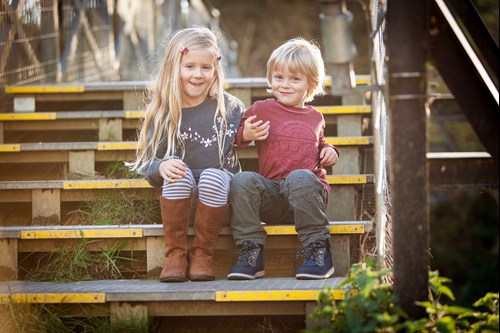 Chloe and Jack
"We read this book to both our children and they were completely engaged and keen to see what was going to happen next. They thought it was fun and interesting, especially when the superheroes used their superpowers.  
It was great that a couple of signs were added to the book, both our children pointed this out and did the signs while reading. They talked about what was happening and their favourite parts. The fact that Jake has a belt to hold everything for his cochlear implant was a great addition.
We would recommend this book and both children said they would read it again. It's great to have a deaf role model that they can relate to and who comes to the rescue and does something amazing. Superheroes are cool!"


Reviewed by Charlotte, mum to Lauren (7) who has a severe bilateral hearing loss.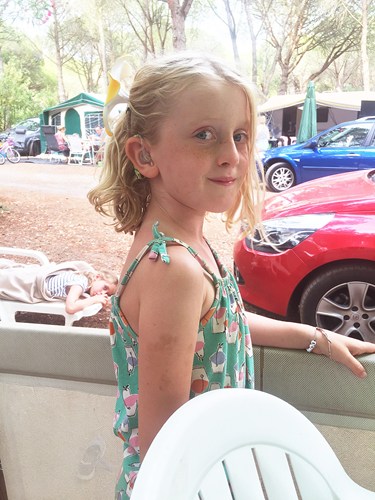 Lauren

"Lauren really enjoyed the story of Jake's first day back at superhero school after the summer holidays. It's very encouraging and positive to see that Jake likes to wear his cochlear implant and puts it on in the morning by himself as part of his getting dressed routine.

The book also shows how Jake uses different communication techniques with some basic sign language. The way it explains how Jake needs the correct environment to be able to hear well is done simply and easily for the reader to understand.

The book is very colourful and visual and, with help, Lauren could read most of the book by herself. It's great to be able to read books with characters who wear hearing aids and cochlear implants as on a day-to-day basis Lauren doesn't see other children wearing them."

Lauren says: "I thought the story was very funny and loved how Jake could change shape with his superpower. I also liked that he made a new friend and was kind."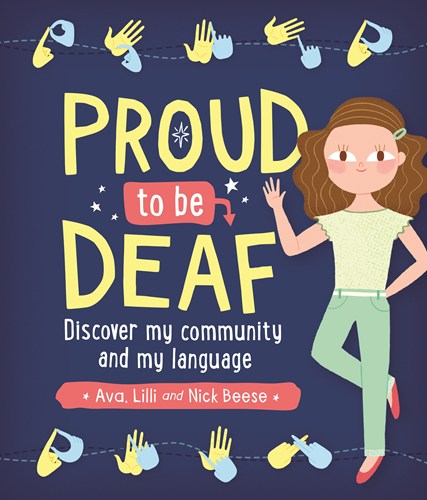 By: Ava, Lilli and Nick Beese
Available from Amazon
Ages: 5-10
£8.99 Kindle edition
£12.99 hardcover
Reviewed by Elizabeth, mum to Hannah (6) who is profoundly deaf.



Hannah

"I was interested in the book Proud to be Deaf because I thought my daughter Hannah and I could enjoy it together. The book tells Ava's story, explaining what it's like to be a deaf seven-year-old and living with deaf parents. Ava attends a mainstream school but it isn't clear whether she has speech or not. I think her hearing aids only provide her with the ability to hear loud sounds but not to access speech, I might be wrong.
I enjoyed reading it and learnt some interesting facts but there were not enough pictures to keep Hannah's attention and there was too much text for her. The book is broken down into easy-to-read snippets of information, but I would say it's aimed more at children over eight.
The book has a very positive and happy vibe to it, and at the back it teaches you some simple but useful British Sign Language (BSL). I would recommend this book because I enjoyed reading it and I think Hannah will enjoy it when she's older."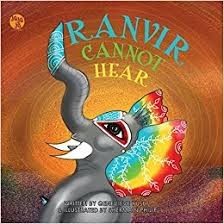 Written by Genevieve Yusuf and illustrated by Shermain Philip
Available from Amazon
Ages: 0–4, 5–10
£6.99
Reviewed by Elena, mum to twins Timothy and Ashley (4). Ashley has a moderate to severe hearing loss.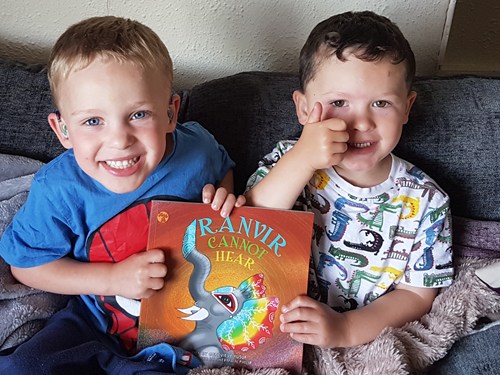 Ashley and Timothy

"This book is set in the plains of India and is about a little elephant named Ranvir who cannot hear but he can do other things. Ranvir sets off on a journey to search for his hearing and along the way he meets new friends who, like Ranvir, are unable to do certain things.
I particularly liked the message that the story conveys: don't worry about what you can't do but concentrate on what you can. It's a lovely, thought provoking story of empowerment that encourages children to focus on the skills and talents that they have. The book is very colourful and has beautiful illustrations. My sons particularly liked the anteater who was wearing spotted trousers and also liked the British fingerspelling alphabet at the back of the book and pointed to each letter and signed it.
My only suggestion would be that Ranvir could have had a hearing aid or cochlear implant but that's personal preference and wouldn't stop me recommending the book."
Written by Lesley Berrington and illustrated by Karen Middleton
Available from www.hattieandfriends.co.uk 
Ages: 0–4, 5–10
£5.99 including P&P

Reviewed by Lynn, mum to Freya (6) who is profoundly deaf with cochlear implants.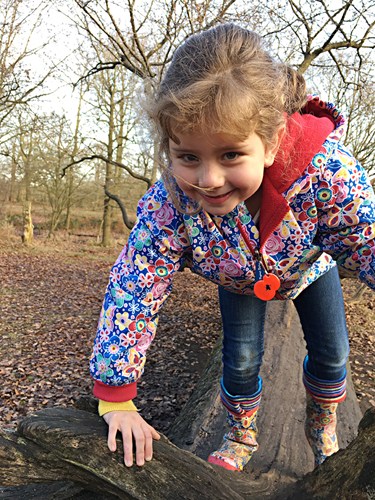 Freya
"The front cover of this storybook has an illustration of two children, Hattie and Toby. Toby has a visible cochlear implant and my daughter noticed it immediately and commented on it admiringly! The book is a simple and pleasant story about a day at the park with a character who happens to have an implant. No mention is made of Toby's implant or any hearing loss/deafness in the narrative itself. I think that my little girl really got a kick out of seeing herself represented in a storybook that was focused on something other than the implants.
The story follows two families on their busy day at the park. The characters all use speech and the language is geared towards younger children. I found the text a little tough to read, especially in low light, as it was overlaid directly onto the pictures rather than being on a plain background. The illustrations are packed with little extra details for children to explore – there's lots to talk about on every page.
I love the idea of the positive inclusion of deafness in all aspects of play and development, and I think books like this can contribute to improvement in self-esteem as well as promoting positive attitudes in the wider community. My daughter is the only child with cochlear implants in her school and she'll often spot another person's hearing aids 100 yards away! She likes to see herself represented and this book did a great job of exactly that. We also liked the diversity shown with lots of different characters. This is a lively storybook for all young children and we enjoyed reading it together."
By Nick Lake
Available from Amazon
Ages: 15–18, 19–25
£12.99

Reviewed by Erin (17), who is moderately deaf.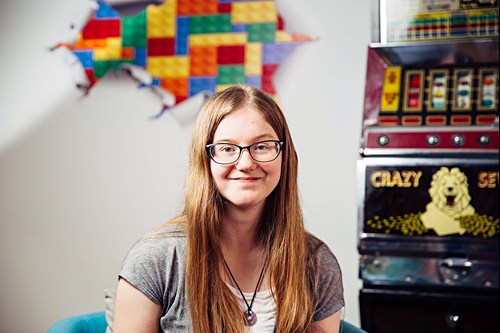 Erin

"There Will Be Lies is a book written from the perspective of a deaf teenager called Shelby who lives in Arizona. Shelby lives a sheltered life: she doesn't go to school and her mum controls everywhere she goes. One day she gets hit by a car and a coyote tells her that there will be two lies and then the truth will be revealed, and after hearing this she goes on a journey to discover the truth and find out who she is inside.
I like this book because it's not instantly obvious Shelby is deaf. She doesn't mention that she's deaf until a couple of chapters in, but there are some clues: she misses out on what people say when she isn't facing them, she uses subtitles on the TV and the author doesn't use speech marks but uses italics to show speech. That's one thing I didn't like about the book. Even though it shows that characters are signing, when Shelby and others are speaking the author keeps using italics which made the dialogue hard to follow. Apart from that it's a really good, addictive book and I would definitely recommend it to everyone."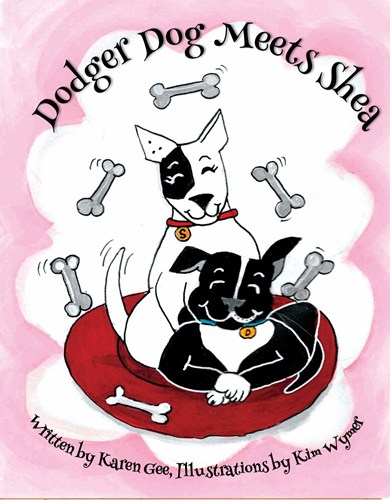 Written by Karen Gee, illustrations by Kim Wymer
Available from Amazon
Ages:  0-4, 5-10
£6.99

Reviewed by Rebecca, mum to Bethan (5) and Noah (2), who both have mild to moderate hearing loss and glue ear.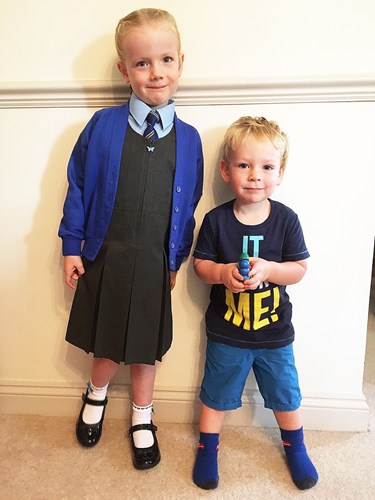 Bethan and Noah

"This book is about a dog called Dodger who dreams of having a brother or sister to play with. He then goes to visit a dog at a rescue centre who eventually goes home with them. The new dog, Holly, is deaf and at first Dodger thinks she is ignoring him until he understands how to communicate well with her, and then they both have lots of fun together. 
My five-year-old enjoyed this book. She said it was funny and she liked the dogs. My-two-year old was less interested, but he prefers old favourites to new books at the moment. It's quite long and takes a while to get going but the excitement at the end is really sweet. 
It would be a nice book if you were about to get a rescue dog or other animal, or maybe to help the sibling/friend of a child with hearing problems to understand how to communicate better with them. I would consider getting other books in the series."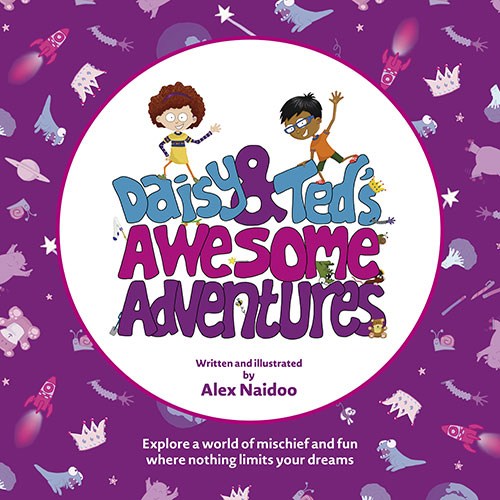 Written and illustrated by Alex Naidoo
Available from Amazon 
Daisy and Ted's Awesome Adventures is an exciting story, aimed at four to seven year olds, that follows Daisy, a deaf girl who wears a hearing aid, on imaginative adventures with new friend Ted. In this colourful tale where nothing limits the imagination, they encounter pirates, wizards and princes and travel through time. These adventures are all brought to life by vibrant and colourful illustrations by the book's author, Alex Naidoo.

Ages: 0-4, 5-10
Price: £6.99
Reviewed by Mark, dad to Cerys (7), who wears bilateral cochlear implants.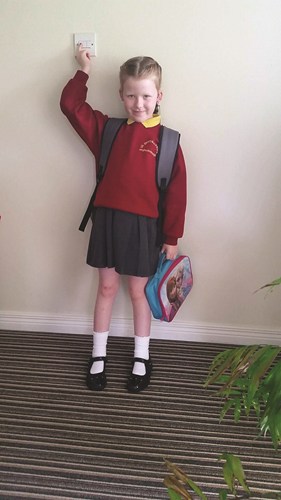 Cerys

"As a parent to a young reader I look for adventure, great visual art and a story that has a connection to our own way of life in a good storybook. The story of meeting different characters who have different encounters and travelling through time is simple but effective. The two friends, Daisy and Ted, work well with each other and the story clearly shows how important conversation and feeling included is to a deaf child.
Daisy and Ted's Awesome Adventures is full of warmth and the characters they meet are all recognisable and relevant to an adventure story, and the artwork is colourful and clear. Cerys is 7 and finds the language simple and easy to read, but I think children aged 3–10 should enjoy the story."


Reviewed by Sherrie, mum to Megan (4), who is profoundly deaf.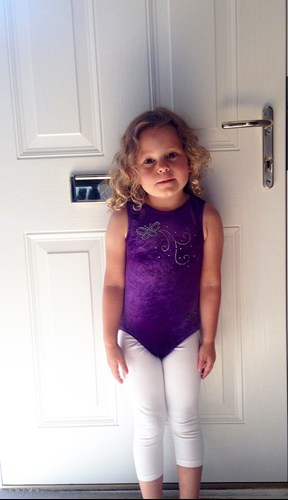 Megan

"This is a story about a deaf little girl called Daisy and her new friend Ted, incorporating facts and tips for communicating with a deaf child. The story illustrates different ways in which you can support Daisy using a fun adventure for each one. Megan enjoyed the story and looking at the pictures of Daisy with ears like hers. Whilst sharing this story Megan and I had a conversation about her friends and how they can help her if she is struggling to hear. I think this book would be useful for all children within the age range to help them understand deafness. It would be particularly good to read with children in a classroom or group environment to support friendship building and encourage children to ask questions if there is anything they don't understand about deafness."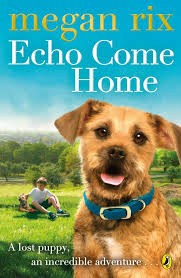 By Megan Rix
Penguin Books
Ages: 5-10 and 11-14
£5.99
Reviewed by Kirsty, mum to Zach (9) and Miriam (5). Zach has enlarged vestibular aqueduct syndrome and degenerative hearing loss. He wears bilateral cochlear implants.



Zach

"This is a story about 11-year-old Jake - who is deaf and wears hearing aids - getting a hearing dog called Echo and the difference the dog makes to his life. It also talks about the difficulties he experiences including friendships, missing things in class, isolation and fear of sleeping in case the fire alarm goes off and he doesn't hear it – all things many deaf children experience.
Jake is separated from Echo and much of the story is the dog's adventures to get home to his owner. We read it as my nine-year-old son, Zach, is deaf and has a hearing dog (coincidently also called Echo) and there were so many parts he could relate to. The author herself is deaf. It's a great story for upper primary to early secondary age children, or anyone who loves dogs! I've recommended it to many adults too. It's also a great insight for my son's friends to learn about some of the difficulties he has in being deaf without him having to tell them."