Charlie's good deed
Published Date

: 09 Jul 2020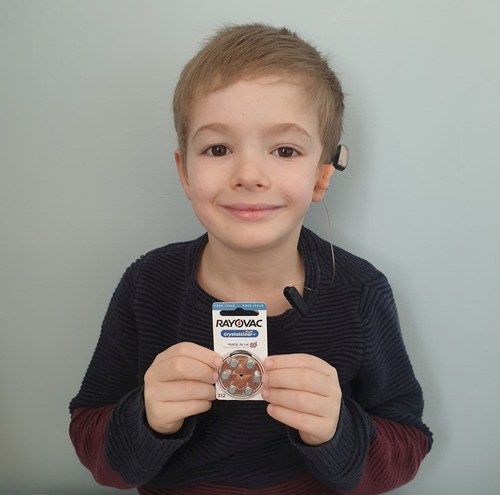 During the peak of the pandemic when schools were closed and we were told to stay indoors, I came across a lady on social media who lives locally to us and was in urgent need of some hearing aid batteries as she had run out.
The lady had posted a picture of the hearing aid batteries she needed on a local community group page and said how she'd tried ringing the local hospital and the GP surgeries for assistance because she couldn't get out and about with her children.
Unfortunately, no one could help her, and she was worried that once the batteries had run out, she would struggle to hear her family.
I realised straightaway that the batteries she needed were the same type that our nine-year-old son Charlie uses for his BAHA as he was born with left-sided microtia atresia. So, I spoke to Charlie and I showed him the ladies cry for help. Charlie sympathised and told me he couldn't leave the lady without any hearing as he knew how important his hearing aid is to him and the difference it makes to have it on.
Charlie agreed to donate six packs of his own batteries. Due to the pandemic and situation at the time, Charlie knew that we wouldn't be able to physically hand the batteries over to her so he insisted on writing her a little note so that she would know that he was happy to donate his batteries. He even drew a little smiley face! We quickly got ready and popped all the batteries into a fastened bag along with Charlie's note. We then drove 15 minutes from the village where we live to the local town and I put the bag through her letter box.
After returning to the car, I sent the lady a message to tell her that we had posted them, and she was grateful for the quick response and support Charlie had given her. She said that the note had made her smile too.
It got me thinking about how things like hearing aid batteries had been forgotten about during these difficult times. I did some research and then came across a wonderful charity that are still posting out a wide range of hearing aid batteries all over the UK. The charity is called Chloe's and Sophie's Special Ears Fund. They saw what a selfless act Charlie had done after it reached the national news, so they kindly sent him some more batteries to replace the ones he gave out. I also shared the charity name and link on our local community group and on the Microtia Mingle UK Support Group page for anyone who couldn't leave their homes and needed more batteries.
We are so proud of Charlie and his act of kindness. He's always happy to help and support other people in any way he can.