Kenzie's birthday at Disneyland Paris
Published Date

: 22 Sep 2022
I can't believe Kenzie is four already. Where does the time go! Recently, I surprised him with a birthday treat and took him on a family holiday to Disneyland Paris. He was so excited to go and see Mickey Mouse.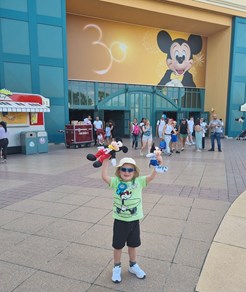 This time at the airport and on the plane, Kenzie had no problems; he didn't even comment on any noise at all, he was just so excited!
We stayed in a pirate-themed hotel, and he loved being the captain all weekend in his pirate hat. He was so excited to go to Disneyland and see where Mickey Mouse lives. Being the summer holidays, it was extremely busy as you can imagine, but this didn't phase him one bit. Even with the large crowds and noisy environment, he still enjoyed every second.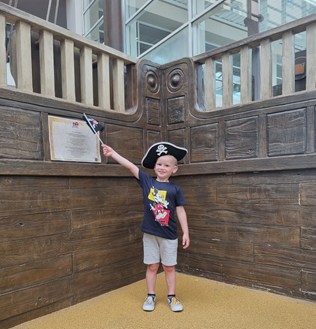 Kenzie loves rides, and the amount he could choose from was incredible. I arranged a Priority Card for him, which allowed him access to all the rides via the exit so we didn't have to wait in long, noisy queues. This was a huge help, and I would recommend this to anyone visiting. All you need to do is take proof of disability and a photo ID. They could not have been more helpful and supportive.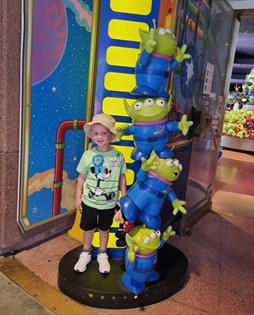 The only thing we struggled with was getting Kenzie's attention to talk to him due to the amount of noise. If he walked a little too far ahead, it was really difficult to get his attention and call him back, so I did try to get him to hold my hand the whole time.
Kenzie particularly enjoyed the simulation rides and jetting through space on spaceships! He also loved seeing all the characters and collecting his many Mickey Mouse teddies from the Disney shops.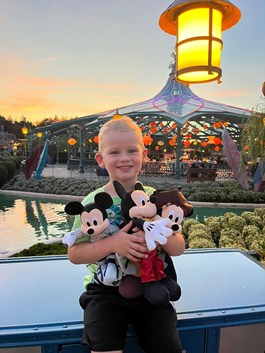 We stayed until the very end and watched the illuminations and fireworks, which were amazing! Kenzie loves fireworks, and the sound has never bothered him.
We also went on a boat trip to visit the Eiffel Tower and some of the sites around Paris. Kenzie loved the boat ride and watching the water under the boat. He did find it a little loud and held his ears for a few seconds, but as soon as he got used to it he was absolutely fine.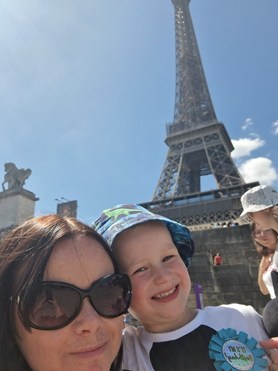 The weekend before we went away, he also had his first big boy birthday party where he invited his friends. He chose to have it in our local indoor play area and picked the theme he wanted. Being the independent little boy he is, he helped me make his animal party bags and sweet cones for all of his friends. He had the best time and loved being the centre of attention for the day!
I'm so incredibly proud of the person Kenzie is becoming and how brave he is, taking each day in his stride and enjoying life to the full! Here's to another year of adventures with my gorgeous best friend. Happy birthday my little super star!