Education Recovery: Close the Gap
Our campaign to close the gap in educational attainment for deaf young people in Scotland.
In 2014, we published our Close the Gap report which contained research commissioned from the University of Edinburgh. The report highlighted that deaf young people in Scotland are regularly falling behind at school and missing out on higher education and employment opportunities.
Campaign
Our aim is to close the educational attainment gap that exists for deaf young people in Scotland, as measured by the Scottish Government's school leavers' attainment and destinations data.
First of all, we asked the Scottish Government to acknowledge the attainment gap and commit to closing it - which they have now done.
We have also recommended that Education Scotland (Scottish Government body with responsibility for education) carries out a Review of deaf education, to build recommendations to close the attainment gap.
Updates
In 2015 the Scottish Parliament's former Education and Culture Committee formally launched a short Inquiry into the attainment of pupils with a sensory impairment. We responded to the Committee's Call for Evidence on the Inquiry and took part in one of the Committee's three meetings about the Inquiry. 
The Scottish Parliament have published their report with their conclusions following the Inquiry into the attainment of pupils with a sensory impairment.
The report contains a number of suggestions for improvement to help close the education attainment gap. These areas include:
Limitations of attainment data on pupils
Models of education provision (mainstream or resource-based)
Workforce planning (such as Teacher of the Deaf numbers and qualifications)
Technology and access to the curriculum
Classroom environment adaptations
Leaver destinations
We welcome the Report, which contains a number of strong and relevant recommendations that may drive efforts to close the attainment gap for deaf learners in Scotland.
We produced a written response to the Committee's recommendations and are currently working to support the Report's recommendations into action.
Radio aids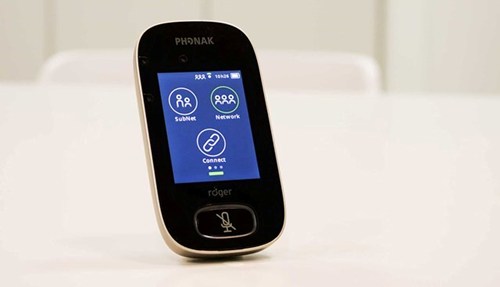 Radio aids technology transmits a person's voice directly to a deaf child's hearing aids or cochlear implants. This makes a big difference for many deaf children and can help them to develop language before they start school. Despite the benefits, not all councils in Scotland provide this technology for pre-school deaf children to use in the home with their families.
The latest CRIDE statistics show that 67% of local authorities in Scotland do not provide radio aids for use within the home for deaf children aged 0-4 years.
How can I access a radio aid for my deaf child?
Radio aids are available to loan for free from our Technology Test Drive service for three months. This gives you the time to see if a radio aid is useful for your child. You can then ask your local authority sensory support service to provide the radio aid.
Still struggling to get a radio aid?
Please get in touch with us at [email protected].
CRIDE Scotland
CRIDE reference group in Scotland
The Consortium for Research into Deaf Education (CRIDE) carries out a UK-wide survey on deaf education provision and reports back on this annually.
A reference group has been set up to steer the work of CRIDE in Scotland.
About CRIDE
In Scotland, the CRIDE surveys have helped create a national picture of the provision of deaf education by collecting:
Information about deaf learners
Information about the workforce supporting deaf learners
Information about the types of provision for deaf learners which exists in local authorities
The information obtained from the surveys has been vital in informing responses to national consultations such as the British Sign Language (Scotland) Act 2015 and the Scottish Parliament's Inquiry into the attainment of pupils with a sensory impairment.
The data is also vital in helping local authorities plan delivery of their services effectively and in supporting specialist services to develop and share best practice.
The survey was not carried out in Scotland in 2015. This was due to similar work being undertaken by the Scottish Government at the time. A survey was issued by the Scottish Government and partners in 2016 to local authorities. The report from this survey has not yet been published.
Scotland reference group members
The members have worked to improve how the CRIDE survey fits within the Scottish education context, whist ensuring the data collected can still be compared with the rest of the UK.
Rachel O'Neill
Rachel O'Neill is a lecturer at the University of Edinburgh where she is programme director for the Inclusive Education MSc and teaches and organises the deaf education pathway. She worked in Greater Manchester as a teacher with deaf children and college students for 25 years, before moving to Edinburgh in 2006. Her research interests include the achievement of deaf pupils in large data sets, bilingual approaches, and teaching literacy more effectively to deaf learners.
John Ravenscroft
John Ravenscroft is Director of the Scottish Sensory Centre as well as the Deputy Head of School/Director of Teaching and Learning at the Moray House School of Education. Specific areas of interest include hearing impairment, visual impairment, inclusion, childhood and disability studies and inclusive education.
Fiona Smith
Fiona Smith is Coordinator of Ayrshire Hearing Impairment Service and Chair of BATOD Scotland.
Sheila Lundberg
Highland Deaf Education Service
Karen McKain
Sensory Support Service Manager, Aberdeenshire
Catherine Finestone
Teacher of the Deaf, Head of Sensory Services Forum
Eileen Burns
Headteacher, Hamilton School for the Deaf
Lois Drake
Policy and Campaigns, National Deaf Children's Society
Young Campaigners
Who are the Young Campaigners?
Our Young Campaigners are a group of 16 deaf young people aged between 13 and 18 years old, who make sure the voices of deaf young people are heard in policy making in Scotland by campaigning on issues affecting deaf children.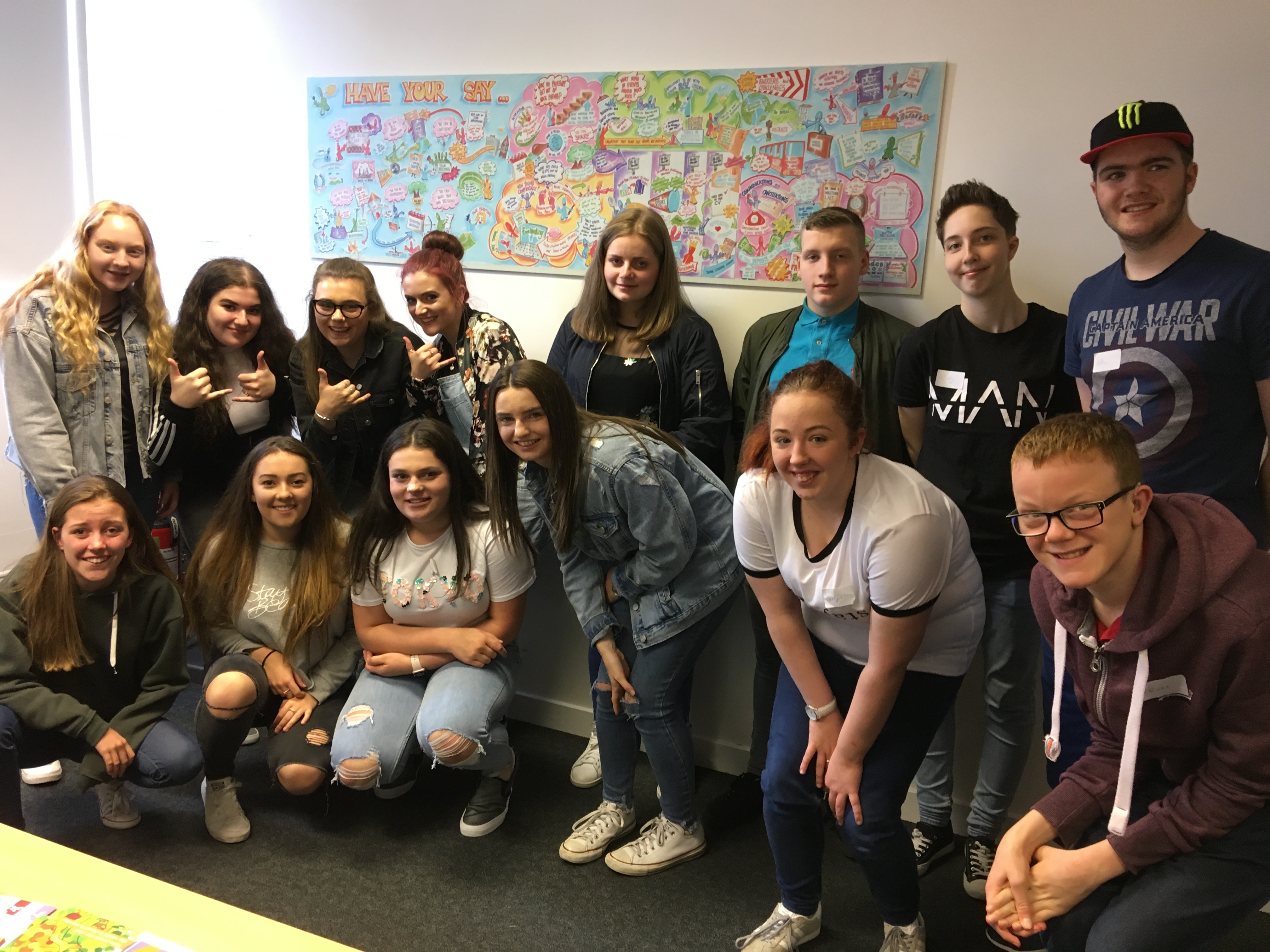 Part of becoming a Young Campaigner is building self-confidence and learning new skills to act as deaf role models.
What do the Young Campaigners do?
The group meet regularly to learn about their own rights, how decisions are made in the Scottish Parliament and how campaigning influences decision makers. They are currently campaigning to see British Sign Language (BSL) taught in more schools, and to improve deaf awareness as part of the BSL Act plans.  They help to get deaf young people's voices heard by:
Attending meetings with MSPs and policy makers
Attending Party Conferences
Being involved in key decisions on topics and findings that could affect deaf young people. Become a Young Campaigner!
Contact [email protected] for more information on how to get involved.
Campaigning wins 
The Young Campaigners took a lead role in our reception and launch of the Getting it Right from the Start report in the Scottish Parliament. This event was led by young people and attended by the Cabinet Secretary for Education and Skills, John Swinney MSP.
Find out more about the report.
Recent activity
As part of the Disabled Children and Young People's Youth Forum (Youth Action Success) we attended the Scottish Government's Supporting Disabled Children, Young People and their Families website launch and met with the Minister for Children and Young People, Maree Todd MSP.  We took the chance to quiz her on our campaign priority of getting BSL taught in more schools in Scotland. 
The Young Campaigners led a meeting with Cabinet Secretary for Education and Skills, John Swinney MSP at the recent SNP Conference.  Sharing their experiences of education as deaf young people and making suggestions for the future.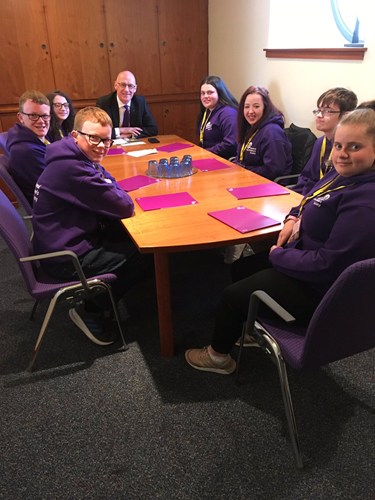 British Sign Language (Scotland) Act 2015
"...a fantastic example of members of a minority group in our society coming together, forming a cross-party group, setting out their priorities and lobbying members..." - Mark Griffin MSP

Introduced by Mark Griffin MSP to the Scottish Parliament on 30 October 2014, the British Sign Language (Scotland) Act 2015 was passed into law on 17 September and is the first of its kind in the United Kingdom.
We welcome this landmark legislation and believe that it could act as a critical step in strengthening the position of the language in Scotland. If fully implemented, the legislation has the potential to support more deaf children and their families to access their right to the support they need.
The legislation aims to raise awareness of British Sign Language (BSL) and improve access to services for those using the language by requiring the Scottish Government and listed local bodies to publish and implement their own plans for how they will promote the use of the language.
We were fully involved in the consultation process in the run up to the passage of the Act. Our evidence to the Scottish Parliament was informed by parents of deaf children and deaf young people themselves.
A British Sign Language Scotland Act Partnership has been set up to help implement the Act. Members include ourselves, the British Deaf Association, Deaf Action, DeafScotland and Deafblind Scotland. The Scottish Government are members as support partners. To stay up to date with the latest news you can join the British Sign Language (Scotland) Act 2015 Facebook group.
Getting It Right From The Start
We know that with the right support from the very start, deaf children can achieve as much as their hearing peers. Support in the early years is vital for deaf children and their families to help them overcome the barriers they face at this critical time.
Our campaign report, Getting It Right From the Start: improving early years support for deaf children in Scotland, outlines the key issues for deaf children and their families in the early years.
Getting It Right From The Start report: British Sign Language version
A six part British Sign Language version of the report:
Key messages
Our report, outlines the key issues for deaf children and their families in the early years. In summary:
Early years is a crucial time in any child's development, and for deaf children there are a number of barriers which can delay development.
Developing age appropriate language is challenging for deaf children due to the communication barriers they experience. This has an impact on attainment and life outcomes.
There has been good progress in Scotland, particularly around the British Sign Language (Scotland) Act 2015, implementation of Getting It Right For Every Child and the funding we secured from Big Lottery Scotland to deliver unique early years support for deaf children and their families for three years.
However, there is still much work to be done. We recommend: continued investment into specialist services, Scottish Government endorsed early years guidance for deaf children, improved local accountability and monitoring of deaf children's outcomes, improved data collection and a strong commitment to early years within the Scottish Government's first British Sign Language National Plan.
Campaigning for mental health in Scotland
Growing up deaf in a hearing world is hard. The frustrations and barriers deaf children and young people experience can put them at greater risk of experiencing mental ill health.
Evidence tells us that even though deaf children are more likely to experience mental health problems than their hearing peers, they face more barriers in accessing the support they need.
In Scotland, there are no specialist mental health services for deaf children, even though these services are well established in other parts of the UK.
We think this is wrong, and every deaf child should be able to access the support they need, when they need it.
That's why we are campaigning for this specialist service to be set up, to ensure that deaf young people in Scotland have access to a specialist mental health service which is fully accessible. We're also campaigning to raise awareness of the need to promote positive emotional health and wellbeing amongst deaf children and the professionals who work with them.
Campaign update
We are campaigning to set up a nationally funded Deaf Child and Adolescent Mental Health Service (DCAMHS) and we have been working with national and local partners to develop this.
Current progress
In 2013 the National Services Division accepted our Stage 1 proposal for this service. The commissioning process for new services is complex, however this remains firmly on our agenda.
Contact us!
We are hopeful that the inclusion of mental health within the draft BSL National Plan will add to this campaign. Email [email protected] if you want to share your experience or get involved.