My deafness didn't stop me becoming a musician and inventor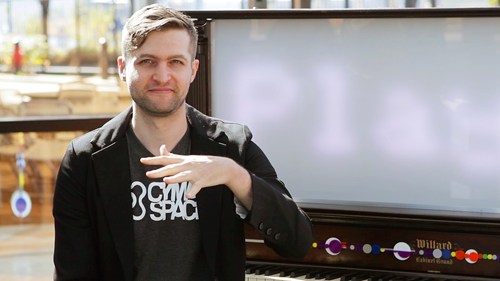 Myles De Bastion (33), who is profoundly deaf, turned his passion for music into a successful career.
"I've been musical for as long as I can remember," Myles says. "When I was younger I was lucky to have a small window of sound when using hearing aids. I experimented with the cello, piano, trumpet, drums and saxophone before settling on the guitar aged 14. I was also drawn to the tactile and visual elements of music, for example the feeling of pressing down the keys on a grand piano."
After graduating with a degree in computer animation, Myles moved to America and joined a band. However his hearing loss was progressive and he began to miss musical cues and struggle in changing acoustic environments. "An idea came to me," Myles explains. "What if I could create a lighting system that would visualise sound for me?"
"When I was younger I was lucky to have a small window of sound when using hearing aids."
With the help of other artists, Myles began by creating a seat to plug his guitar into which would light up and vibrate in response to his performance. Eventually he invented a sound-to-light system which he called the Audiolux. This device creates an engaging multi-sensory experience and makes sound accessible through light.
Myles, who used speech growing up, also became more interested in the Deaf community and learnt American Sign Language (ASL) which is now his primary means of communication.
"In 2013 I realised I wanted to merge my passion for music and Deaf culture and founded a non-profit called CymaSpace," he says. "The mission of CymaSpace is to facilitate arts and cultural events that are inclusive of the deaf."
To find out more about Myles, visit his websites: www.myles.debastion.com, www.cymaspace.org and audioluxdevices.webflow.io.