How do I… help my hearing children to understand their sibling's deafness?
For young children, finding out their new baby brother or sister is deaf can be a difficult experience. We asked two mums how they help their hearing children to understand deafness, and seven children what they like best about their siblings.
Spring 2023 Families magazine
---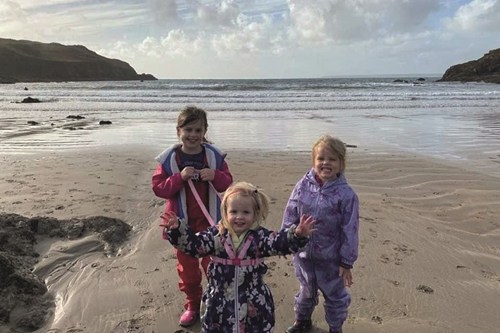 Rebecca is mum to Lucy (8) and Sophie (4) who are hearing, and Hannah (2) who's profoundly deaf and wears cochlear implants.
"Hannah was born during the Covid-19 pandemic, when we were spending lots of time at home as a family. Lucy and Sophie are really caring big sisters, and quickly understood that Hannah was deaf. Lucy's main concern was that Hannah couldn't hear her read. We used this to explain that Hannah would follow the story in a different way and that Lucy could still read to her. They were both very keen on learning sign language and Mr Tumble was helpful in engaging them with different ways to communicate.
In the early days, 'hunt the hearing aid' was our main game! Both girls would quickly realise if one 'ear' was off and come running with it. Sophie would get quite cross with us if Hannah didn't have her hearing aids on for any reason!
Lucy and Sophie love being big sisters and can often be found helping Hannah to get into mischief. When Hannah got home after having her cochlear implants switched on, she was delighted to hear her sisters' voices. I'm sure that's why we've been able to keep her wearing them for so many hours each day, as she loves being in the thick of the action! Now Hannah has started speaking more, she's learned to call their names when she wants their attention and is often leading them into trouble. Now we're more confident about her keeping her cochlear implants on all day, we've been to visit family by the coast so Hannah can run around with her sisters on the beach and explore."
Lucy says: "The best thing about having a deaf sister is learning sign language and teaching her new things like colours and words."
Sophie says: "Hannah is really funny."
---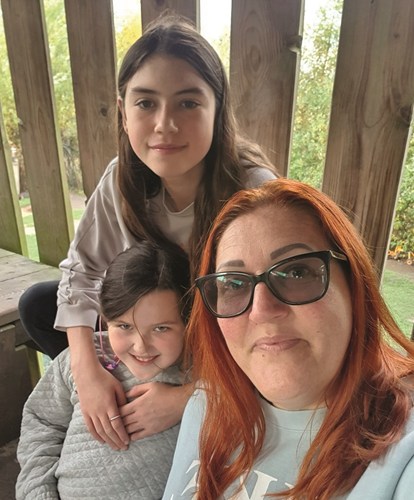 Tegan (12) is big sister to Connie-Mai (8), who is profoundly deaf.
"When I found out Connie-Mai was deaf, I was shocked. The best thing about having a deaf sister is learning to sign, meeting new people, and knowing that every day is going to be different with her. My advice to other children who find out their baby brother or sister is deaf is don't be scared! Having a deaf sibling is great because you learn new things every day, without even realising, and you get to socialise with loads more new people."
Connie-Mai says: "I love having a big sister who's hearing. She helps me when we're surrounded by hearing people, like when we go on holiday, she helps me pick my ice creams. We enjoy swimming and going to the park together.
"Hearing and deaf children are all the same, we like to play games and do the same activities. If one of my friends found out their new baby brother or sister was deaf, I'd tell them it's not as bad as people think! I love being able to turn sound off if it gets too noisy. It's one of my magic powers."
---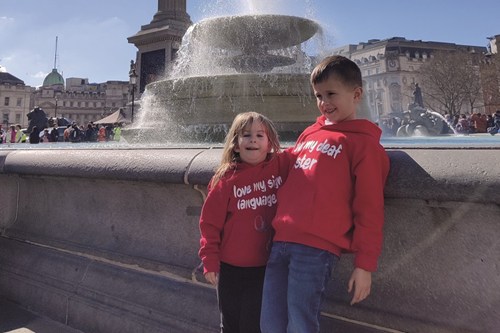 Tanya is mum to Emily (3), who is profoundly deaf and uses British Sign Language (BSL), and Hugo (5), who is hearing.
"As a family, we use books to help Hugo understand deafness. Julia Donaldson's 'Freddie and the Fairy' and 'What the Jackdaw Saw' are particularly good for deaf awareness. We also have most of Cath Smith's 'Let's Sign' books and flashcards, which help with learning BSL.
Before Hugo started school, I took both children to Happy Hands, a pre-school group run by Hull Deaf Club. It's been an excellent way for Emily and Hugo to meet Deaf adults. I believe it's important for both children to have Deaf role models. We also went to Hull Deaf Club's Christmas party. Hugo loved turning on a light to 'wake up' Santa and asked if he can go back again this year! We've recently become part of Leeds Deaf Children's Society, through which we attended a soft play session. Hugo was thrilled to play with boys his own age who use BSL. He thoroughly enjoys using BSL.
In March 2022, I took both children to the BSL rally in Trafalgar Square. Hugo's school allowed him the day off to come along. Hugo was brilliant, he signed all day and was very proud to be there with the Deaf community.
When we're out and about, Hugo looks after Emily. He often tells people, "My sister is Deaf, so we need to sign," and he's promoted the use of BSL within his school. Hugo and Emily have a brilliant bond. Whenever Hugo's friends have a party, they invite Emily along, too. All his friends have been so accepting of deafness and have learned basic signs to communicate with Emily too."
Hugo says: "I like having a deaf sister because she signs. Mummy is teaching me signs, so when Emily signs something I know what she wants and can help her."
---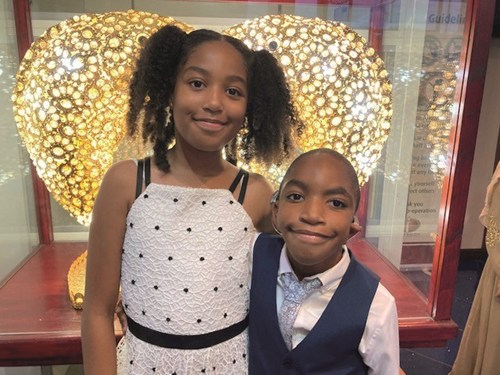 Tahlia (10) is big sister to Marcus (8), who is moderately to severely deaf and wears a bone conduction hearing implant (BCHI).
"Marcus is two years younger than me. We're really close in age, so I don't remember how my parents told me he was deaf. He used to wear a bone conduction hearing aid on a headband, and I remember asking why he wore it. Now he has BCHIs, sometimes I get into trouble if I accidentally knock them off! I don't like it when people stare at his hearing aids because most people don't know what they are. Marcus can't wear his hearing aids in the swimming pool which means he can't hear, so going swimming is a bit tricky.
Marcus and I like playing 'Just Dance' and board games together. The best thing about having a deaf brother is going to National Deaf Children's Society and Mousetrap deaf theatre events with him."
Marcus says: "The best thing about having a sister who isn't deaf is that she can help me when I can't hear things. She explains and repeats things for me. We enjoy watching TV and playing games together."