How do I...encourage my child to use technology independently?
Technology is ever important to us all, but for deaf children in particular it can aid with communication, safety and leisure. Here four families tell us how they encourage their children, from as young as two years old, up to a teenager, to be independent in caring for and using their own technology.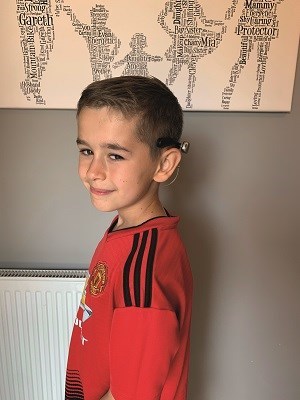 Kate is mum to Evan (9) who is unilaterally deaf and wears a bone-anchored hearing aid.
Evan was born hearing but developed acute mastoiditis when he was seven and was very poorly. We discovered he had lost all hearing in his left ear two months later.
When he got better, Evan returned to school, football and swimming. After about 10 months, he independently asked if he could try a removable Baha. He had a Baha on loan in March this year and found it very beneficial. Before wearing it, Evan held a class assembly to explain why he was having the Baha and what it would mean for him. The children responded very positively to him explaining the technology that helps him. Evan felt empowered.
Evan now has his own removable Baha. He takes full responsibility for it; it's his job to make sure it's put in the same safe place when he's not wearing it. He replaces the battery and knows he's not to take it off in school and put it down. He's very confident using his Baha and appreciates the difference it has made to his life. We couldn't be prouder of Evan and his positive attitude.
Angela is mum to Rory (3) who is severely to profoundly deaf and wears cochlear implants.
Despite us trying not to use too much technology with Rory, during lockdown he used my phone to look at pictures and videos we'd taken and for FaceTime with friends. When using FaceTime, he happily takes the phone away from me so he's the centre of attention, although he has also managed to cut people off when he's had enough! He knows how to change the screen so they can see what he's talking about and he likes taking photos with my phone too for sharing with friends and family.
During lockdown our Hearing and Vision Support Service has run a weekly live session with one of the staff singing and signing. I let Rory watch this on my phone; he controls pausing and restarting it as and when he's distracted but will also replay previous sessions.
He's becoming a pro with the TV remote control and, with a techno-keen dad, I'm sure he'll be a gamer in no time! He's a really practical little boy and only needs to watch how to do something once before he'll pick it up.
Rory has cochlear implants and can put the Universal Headpiece (UHP) back on but not quite the processor yet, although he will have a good try! We always encourage him to give it a go. He also helps to put the implants together in the morning and take them apart at bedtime.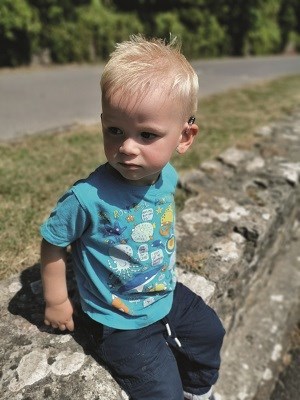 Rebecca is mum to Mackenzie (2) who is profoundly deaf and wears cochlear implants.
Routine and persistence are key for getting Kenzie to wear his implants as much as possible and enjoy wearing them. He was born deaf and wore hearing aids from seven weeks old. As he was so little, it was important we encouraged him to wear his 'ears', as we call them, as much as possible. From day one we introduced a routine which included keeping his 'ears' in the same place by his bedside so he always knew where to find them by himself. When he woke up, they were put straight on, and we used a song: 'One, two, can you hear mummy, because mummy can hear you.' With this we would get a cheeky smile showing he could hear!
Since having his implants fitted in January we've kept the same routine, except now his response is, "Mummy yeah!" which is so lovely to hear! We use a routine at night too where I read him a story and kiss him goodnight, we say, "night night," and he passes me his 'ears' so he knows it's time to go to sleep.
Through following this routine and consistently putting his implants straight
back on if they come off, Kenzie has worn his 'ears' for an average of 11 hours per day from just three months old. It's made such a difference to his speech and language development. If they come off or stop working for any reason, Kenzie is able to tell me straight away by saying "Uh oh," and pointing to his ear. We're now teaching him to put them back on himself so he can become even more independent in wearing them.
Cathy is grandma to Maisy (13) who is moderately deaf and wears hearing aids.
We live on the Orkney Islands so Maisy gets the ferry by herself over to the main island to school where she boards for the week. Maisy can find school frustrating as few people routinely use face-to-face communication, so wearing her hearing aids is essential and using lipreading helps as well. Maisy also has a radio aid for her teachers to wear that allows their speech to be directed straight to her hearing aids.
Maisy's houseparent and deaf awareness teacher set her goals every term. Recently they were to take care of her own hearing aids and to do a deaf awareness talk by herself at school. The goals are reviewed monthly and achievements are celebrated. This has really helped Maisy to become more confident and independent, particularly with looking after her hearing aids and radio aid at school. There are still times when she's forgetful and loses them, but it's much better than it used to be. With the support in place, Maisy is positively encouraged to be independent with her technology.
Maisy recently bought Apple AirPods which gave her new enjoyment as she could enjoy quality music and spoken sound through them on her own. Maisy is a loud, confident, and very talkative teenager. She is determined to succeed, and with modern hearing aids, her radio aid and other technology, I'm sure she'll go far.