Nursery nurse
I'm a nursery nurse because...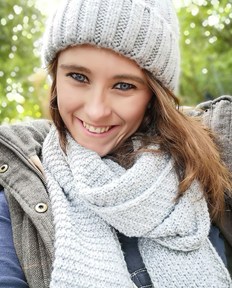 I'm passionate about working with children and seeing them find joy in the simplest things.
I studied Childcare and Education CACHE BTEC Level 3. As I'm profoundly deaf and wear a cochlear implant, I used a radio aid so I could hear the teacher, and had a notetaker so I could look at the notes afterwards.
At work, I don't use any special equipment. I make sure the staff speak clearly so that I can hear what they're saying over background noise, as I like to build my listening skills. I've taught my colleagues some deaf awareness and I show the children my cochlear implant and explain that I can hear them when it's on. I also teach them some sign language.
When an opportunity came up as Deputy Room Leader in the Toddler's Room, I applied and got it. I felt such pride.
Away from work, horse riding has helped me, especially with my sense of balance. My next goal is to work with deaf children as a classroom assistant.
It's important to remain positive, believe in yourself and never give up. Hard work pays off!
Kristina Elkins