Poet
I'm a poet because…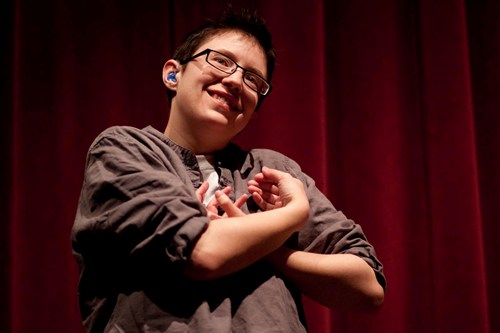 I love poetry! I enjoy composing poetry and seeing other people's poems. I've always liked reading poetry in English but I was blown away the first time I saw a BSL poem performed at university. Soon after, I started composing my own poems. I found performing nerve-wracking at first! Now I enjoy the experience and engaging with an audience.
I'm profoundly deaf and I use BSL interpreters to access events. They become part of my performance when they voice over my poems. I give the BSL interpreter my transcript for the poem and rehearse with them before a show to make sure the timing and pacing is right. We need to be confident in each other to make sure a show will go well.
Performing BSL poetry in Brazil at a deaf folklore festival was a big highlight for me, as was performing BSL poetry as part of the Relaxed Proms at the Albert Hall.
Donna Williams