My deafness didn't stop me travelling the world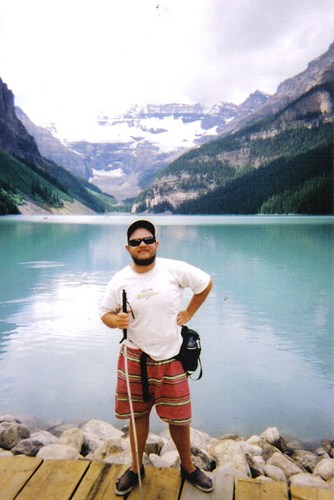 Inspired by his dad's adventures in the merchant navy, Tony (40), who is severely deaf and blind, has set himself the challenge of visiting every country in the world.
"As a teenager I learnt about the geography and history of the world and this made me curious," Tony explains. "After having a successful kidney transplant in December 2008, I decided I wanted to travel for the remainder of my life and visit every world country. Travelling makes me happy."
Tony is currently up to country 115 on the United Nations list of 193 countries. "New Zealand is my favourite because of the nature and friendly people," Tony said. "Plus the fact you can do almost any crazy sport imaginable there. I've tried them all – more than once!
"One of my most memorable experiences is hiking to Angel Falls in Venezuela. It was a real challenge, my toes hit every stone and I constantly tripped over logs and tree roots. Nevertheless, with the help of my guide, I managed to reach the falls."
"
I don't allow my blindness and deafness to stop me from living a full and active life."
Tony's hearing and sight loss can make it harder for him to communicate with others during his travels. "My lack of hearing affects how I'm able to interact with people and my blindness prevents me from lipreading or signing," Tony, who wears hearing aids and uses speech, explains. "But I overcome these challenging situations by having a belief that most people want to help. For example if I want to use a cash machine in a foreign country, I try to find another traveller I feel I can trust or ask a staff member at my accommodation to accompany me. I also undertake research of a country before visiting and attempt to learn some local words.
"My favourite thing about travelling is being constantly on the go and meeting different people. I don't allow my blindness and deafness to stop me from living a full and active life."
To find out more about Tony's adventures, visit his blog* at www.tonythetraveller.com.
*Please note we promote blogs that we think might be of interest to our readers but the opinions expressed in them are not necessarily our own.