How do I... deal with people staring at my child?
It can be frustrating when you spot people staring at your child and their hearing aids and implants when you're out and about. We've asked parents to give their advice on how they handle this situation and how they encourage their child to react. 
Be honest and relatable...

Charlotte
Hayley is mum to Charlotte (2), who is profoundly deaf.
"We used to get lots of comments when Charlotte had hearing aids, but now she has  body-worn bilateral implants we get less as I think people don't always know what they are.
I find you get all kinds of reactions, people ask in the way they feel comfortable but most of the time they are just curious. The way we describe Charlotte's implants to older children is that they are her magic ears. She can't hear without them. Some people wear glasses because they can't see, Charlotte has her implants or magic ears because she can't hear. 
The most common question I get is 'Will she grow out of it?' or 'Will she always have them?' I tend to be very factual and give a straight answer; it all helps give broader awareness and education. We tell them that yes she will always have them, but they might not always look how they do now as technology will change over time, but she will always need help to  hear. 
We find making it honest but relatable has really worked with her older friends and cousins. All of the children we've talked to have been immediately accepting, and I've even heard some teaching their friends about Charlotte's magic ears and what they are for."
It's about educating society...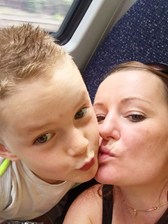 Jack and Louise
Louise is mum to Jack (7), who is profoundly deaf and wears bilateral cochlear implants.
"Staring isn't something that Jack notices a lot but I do. The first time he did it broke my heart as he asked "Why does everyone stare at me?"
I always explain everything I can to anyone who asks or looks, as for me, it's about educating society. I always say, "Please ask questions as I love to answer them." If I explain it to one person a week, that person will always tell someone else. 
Almost everyone is amazed at the technology and keen to ask more questions. When explaining about his implants we've always included Jack in our conversations with people we know and strangers alike. I think by keeping him as involved as possible his confidence will naturally grow as his language develops.
He is beginning to be aware that he is different from others but also realises other people are different too (some wear glasses, some are in wheelchairs, for example). We encourage him to engage in conversation with someone who questions and also to accept that people will stare as, unfortunately,  not everyone is aware just how important his implants are. 
I think if another parent found the staring difficult, which I do from time to time, it's something we just have to accept. I'm sure any other parent feels the same about their child with a disability. Yes it's upsetting but without his implants he can't hear a thing so that always puts it into perspective for me."
Be proud and tell the truth...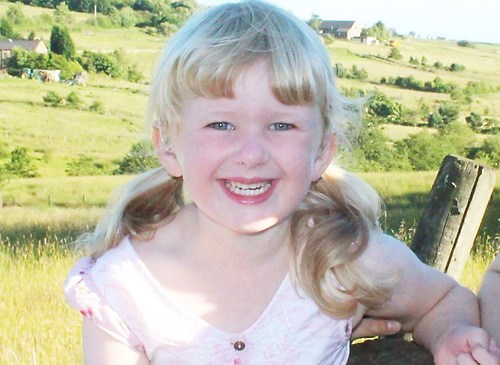 Megan
Sean is dad to Megan (7), who has bilateral mild to moderate sensorineural hearing loss.
"We just take life as normal. Megan has been a hearing aid user for two years. She has a radio aid in school which helps her a lot as she also has glue ear which means her hearing fluctuates. Her speech and reading skills are fantastic.
The children at school had questions so the teacher did a lesson devoted to Megan's hearing aids for the children to understand. It just seems to be the adults that have a fear of a 'different' child. We've made Megan proud of her 'super' ears and she lets people know that with her aids she can hear.
She's very confident and if asked in the street by others, she knows to just tell the truth and let other people know that they're needed to help her hear, just like many other aids (glasses, for example) help other people in their different ways. So people can look and stare all they want. Megan wouldn't be Megan without her hearing aids."
Call out people who stare...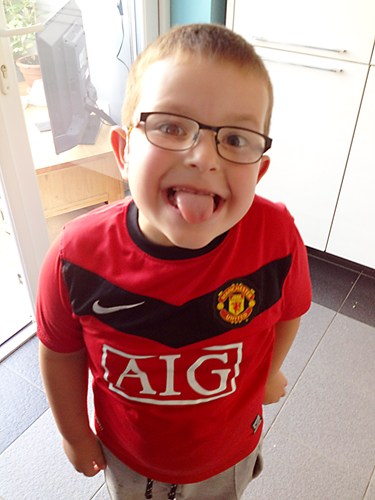 Lucas
Charlotte is mum to Lucas (5), who is moderately deaf. 
"At the moment our son is a very confident five-year-old. He also wears glasses and tells other children his hearing aids are like  glasses for his ears. I know that children (and adults) can be mean but I think on the whole attitudes  to disability are changing.
I hope Lucas will be confident enough to ignore the negative comments and explain to those who are genuinely interested that his hearing aids help him hear more clearly, just like glasses make him see more clearly. 
I usually call people out if they are staring and break the ice by saying something like, "Have you noticed his hearing aids? They are so funky nowadays, aren't they? He loves them." I would advise other parents to do this too.
If I get unhelpful comments such as 'Have you tried...' or 'Why don't you...,' I used to go into a long explanation and end  up feeling like I had to defend my decisions. Now I thank them for their concern and explain that we, together with the audiologist, consultant and Teacher of the Deaf, are doing the best thing for him."