A day out in London
Published Date

: 08 Dec 2022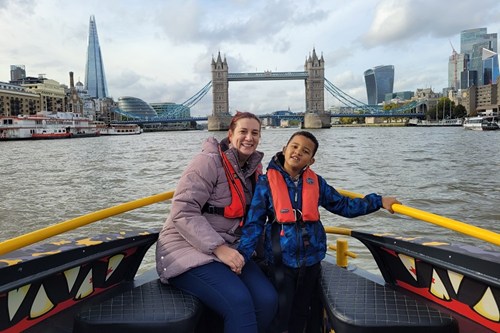 During half-term, we visited London for the day and had booked a speedboat activity. I love visiting London, and Isaac is beginning to share the same love for it too. Over summer, we visited the Natural History Museum and Covent Garden too.
When we go to London, I always worry about how busy it is, especially the rush of using the Underground. I worry about losing Isaac in the busyness if he gets distracted and can't hear us call out in the hubbub of it all. When we can (when I remember to get it from school), we find the radio aid works wonders in these situations. I also write our phone numbers on a piece of paper that Isaac keeps in his pocket for a worst case scenario.
This time we were visiting to ride a speedboat on the Thames; Isaac gets his love of thrill seeking from me! I had a look on the website before we went, and it explained there would be little narration of the experience. As the boat is loud and they play music during the journey, I explained all of this to Isaac beforehand, giving him the choice to keep his hearing aids in or remove them. He chose to keep them in but said if it was too loud, he would then remove them. I was a little nervous about his aids coming out, but they were fine and stayed securely in place.
We had a blast! It was fun, bumpy, fast and very loud. I checked with him throughout and used any quieter moments to talk about the sights. The beauty of holding on to each other as we sped down the Thames meant he could lip-read throughout when he needed to. Thankfully, we were lucky with the weather, and we didn't have to battle rain on hearing aids too.
We always have to consider adaptations for Isaac on days out and prepare for all eventualities, but it's 100% worth it when I see the fun he's having and the new experiences we create together.