Asking for more in school
Published Date

: 09 Jun 2022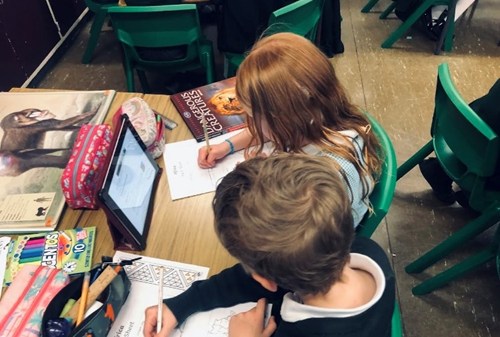 Charlotte goes to a mainstream school in Northern Ireland. She is currently in Primary 4 (equivalent to Year 3 in England) and has a Statement of Special Educational Needs (equivalent to EHCP in England) providing her with a classroom assistant for 25 hours a week amongst other accommodations.
At this year's annual review, my husband and I met with the principal, special educational needs coordinator (SENCO), Charlotte's current teacher and one of her classroom assistants.
We are in a strange situation, but one that might resonate with you. Charlotte is doing really well at school: she is an intelligent child, her test scores are good and she is improving in all subjects – this, however, creates its own unique challenges.
We know that the reason for this success is all the hard work put in at home and in school, recognising Charlotte's deafness, the accommodations she needs and her preference for learning in a multi-sensory way.
This is the first year that Charlotte is in school every day from 9am to 3pm, meaning that she is without her assistant for one hour each afternoon. During this time, several days a week, a different teacher will come to the class and teach a curriculum enhancing subject such as music, religion or personal development. This is frequently a time of increased background noise due to groupwork and team activities, and without support, Charlotte finds it hard to follow, hear and process what's being said within a group of her peers, to understand instructions or even to concentrate.
We truly believe that Charlotte needs her classroom assistant for all the hours that she attends school, and at the annual review, everyone agreed that this should be requested as an updated need. Having her classroom assistant in the afternoon would provide support during this time of day when Charlotte is suffering from both listening and concentration fatigue.
We have sent a written request, along with the school, in the hope that these extra support hours will be granted, but it's a nervous wait as Charlotte's reports clearly show she is making continual progress and not struggling in any specific areas of the curriculum. Trying to make our case was really difficult, but we know it's vital that we advocate for Charlotte now until she is able to do so for herself.
Previously, we have received excellent support and advice from the Advice and Guidance Officers in the National Deaf Children's Society and also their Appeals Team, and I would highly recommend you contact them if you are struggling to get the support you believe your child needs.