Buying Christmas presents
Published Date

: 25 Nov 2021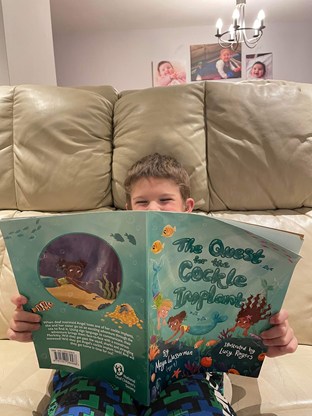 Many children like to write a list for Santa of all the toys they would like at this time of year and Oliver is no different. I'm sure his list is getting longer and more expensive every year he gets older.
There were several things we look for when buying Oliver his Christmas presents and I've listed them below. Also bear in mind, second-hand toys, washed and repainted make brilliant presents too, you don't need to spend lots of money.
Making sure gifts are compatible with his hearing aids: We don't want the TV, iPad or radio blaring out when you can't connect them to his 'ears', I just have to make sure I know what he's watching.


Developing his speech and reading with books with deaf characters in them: Books are excellent, and we've bought several from the National Deaf Children's Society over the years, which Oliver has really enjoyed reading. He loves that the other characters in the book are also deaf. After reading a book, we ask Oliver to make up his own story. He's very good at it, Oliver has a great imagination!


Gifts for creative play and imagination: Lego and brick toys are brilliant for building and development, and last for years. Oliver has a Lego set which is over 40 years old! It can be quite expensive so we tend to buy it when it's on offer – roll on Black Friday! Dressing up clothes are fun too, many can be bought from charity shops. Oliver's favourite is his The Greatest Showman costume – he has the top hat, jacket and a cane. Wearing the outfit, Oliver has learnt all the words and actions from the show, which is amazing!


Arts and crafts always go down well: Look for old items around the house; toilet rolls, cereal boxes, wrapping paper from last year, yoghurt pots, all of these make really good arts and crafts and you could pull them together into a kit for a great gift. We also buy pens and glue every Christmas and Oliver and his siblings go round and see what they can make with the items they can find around the house. It's a cheap and fun way to spend an afternoon with us all building something. Then the others have to guess what we've made… Easier said than done! And no Oliver you can't cut up Nanny's curtains….


Games that help develop social skills: Let's not forget good old-fashioned board games; Monopoly, Cluedo, Snakes and Ladders. Hours of fun on Christmas day after a large lunch! They also teach the children to take turns and not talk over each other.


Keeping fit and active for wellbeing: We bought Oliver a bike for £10 second-hand, but it looks brand new. We did go for a new cycle helmet to make sure it wasn't damaged and could protect Oliver's head around his hearing aids. Oliver loves cycling, he loves the feeling of going fast and being free. He even rode his bike back in September 2020 along the Bristol to Bath cycle path raising money for the National Deaf Children's Society. He loved it!


Toys which teach a new skill: Teaching Oliver new skills through toys is great. For example, baking a cake, building something in the garden using hand tools (supervised, of course), writing a story, painting a picture, or making Christmas cards and writing them out. Tidying their toys up is a must-learn skill too!
Whatever you decide to buy your child for Christmas, I hope the above helps and everyone has a wonderful time.