Christmas with a deaf child in the family
Published Date

: 12 Dec 2019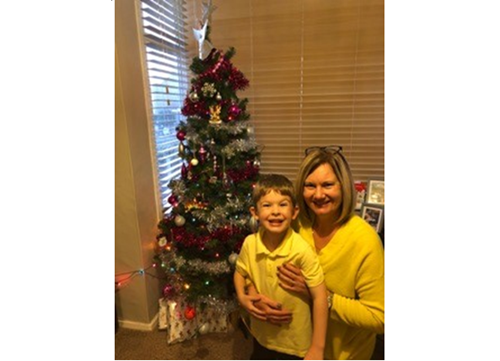 Like all children, my grandson Oliver loves getting involved with school activities so the school nativity play should be no different. Last year Oliver was a donkey but we made sure he had nothing covering his hearing aids so he could still hear. This year he's an angel and he has a radio aid so we don't need to worry about him wearing big wings or a hat which covers his ears!
Oliver also sang in the school choir this week – several children from his class were selected to sing at the Bath Forum with other children from schools in Bath. As Oliver sometimes doesn't hear all the sounds so he doesn't always pick up on all the words, we practise the songs at home and we practise any words he has to say. Oliver likes to be reassured about what's happening, when it's happening and who will be going/watching.
Oliver has two younger sisters Thea (4) and Lara (1) so they all practise the songs and act out the words together.
Here are some of my top tips for supporting a deaf child through performances:
Speak to their teacher and find out the words/songs they're going to sing.
Speak to your child to reassure them about what's happening, why and when (sometimes Oliver doesn't hear the whole sentence and jumps to his own conclusion).
Discuss what costume they will wear so it doesn't interfere with their hearing aids or other technology.
Make sure the teacher has extra batteries for hearing technology.
Tell your child about your nativity experience, for example Oliver's mum was an angel and dad was a lamb. It often makes them laugh to hear what you were when you were younger and to share your experience with them.
Every year we also visit Father Christmas in December so we try and find a quiet time when there aren't lots of children causing lots of background noise. Oliver and his siblings love to visit Santa. We always make sure Santa is aware that Oliver can't hear everything, especially with Santa's big beard, his voice is often muffled! We explain to Oliver that the room will be dimly light as he doesn't like the dark (he has a night light on at night) but we will be there as well.
Christmas Day is always exciting with family and lots of presents to open. Because it's so busy once the grandchildren arrive we spend Christmas morning taking our time to open all the presents away from any background noise like the television or radio. We also make sure we have lots of spare batteries as the audiologist is closed over the Christmas period and we regularly check Oliver's hearing aids to make sure they are working correctly. Oliver gets very tired during this period so we make sure we have plenty of quiet time when he can read his books or quietly do some drawings or painting away from all the noise - it can get very noisy with 21 people in our house at Christmas!