George's cochlear implant journey: Part 2
Published Date

: 01 Jun 2023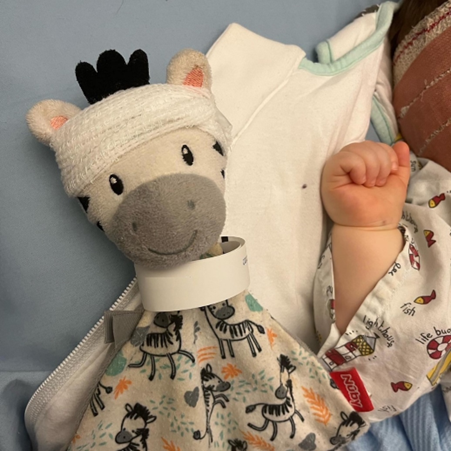 From the very beginning of George's diagnosis, the audiologist made it clear that, given the level of George's hearing loss, he would be eligible for cochlear implants and they would be the best chance for him to access spoken language.
I did a lot of research online and came across some negative opinions about cochlear implants. Before this, I just thought it was something we should definitely do. Reading all of these opinions made me worried about George's future. Will the deaf community accept him? Will he hate that we've given him bionic ears?
We then attended a friend's wedding, and there was a lovely young lad called William who was the life and soul of the party – spinning me around on the dancefloor, having the time of his life! William has cochlear implants. I spoke to his mum, and she told me how life changing they have been for him! We're still in touch now, and we're so grateful to have met this inspirational family.
As spoken language was always our preferred method of communication for George, we decided to continue with the cochlear implant process. We were made aware throughout that we could stop at any time if we decided to.
When George could sit unaided (around seven months old), he had a behavioural hearing test to confirm his diagnosis from when he was a newborn. George sat on my knee and was connected up to the computer while the audiologist played with toys in front of him. There were boxes on either side of him with some teddies in each one. The computer would play a sound into his ear and if he turned to look for the sound, one of the boxes would light up. George picked this up quickly and he completed all the testing over two appointments. The results showed that his newborn diagnosis was accurate and that he was still eligible for cochlear implants.
Things started moving fairly quickly after this, and we were given an appointment for an MRI scan to check that his anatomy was compatible with cochlear implants. This was the first time we experienced George being under general anaesthetic. As awful it is to see your baby being put to sleep, it also helped prepare me for the actual operation day.
In January 2023, we kissed our baby as he was put to sleep and told him how much we loved him as we said goodbye to him for the next six hours or more. Leaving your most precious gift in the hands of complete strangers is nerve wracking. The anaesthetist said she would call us when they had done one ear to let us know how it was going. I waited eagerly for that phone call and breathed the biggest sigh of relief when she rang to say things were taking longer than expected as his anatomy is difficult but everything was going well.
The next phone call we received was to say George was in recovery and we could go and see him. We hurried through the corridors to get to him and there he was, having a cuddle off a nurse with a huge bandage on his head. We feel extremely lucky that George's immediate recovery was quite straightforward. We spent two nights in hospital and were discharged after an X-ray to confirm the implants were OK.
When we got home, George was pretty much back to his usual self but quite dizzy – he struggled to hold his head up without wobbling, so we were careful with him until this improved and the swelling had gone down. His scars healed really well and fast. We had a short three-night stay back in hospital on IV antibiotics and steroids as one side of George's face started to droop, but this resolved itself after treatment and he's back to normal.
We then had the three-week wait for switch-on day. Not once during this time did I have any regret with choosing to get George implanted. He was a superstar and so resilient. We just couldn't wait to see what the future held for us…