Genetic testing for Isaac
Published Date

: 03 Feb 2022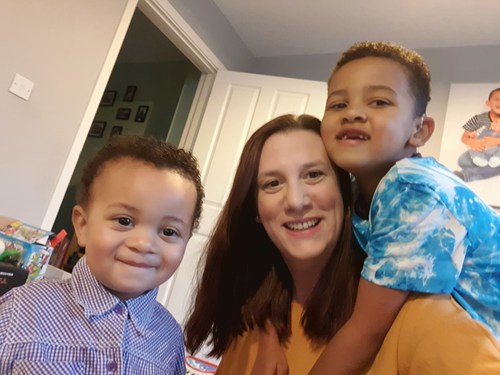 When Isaac was diagnosed with sensorineural hearing loss at birth, it was a complete shock. He was the only deaf child on either side of the family as far as we were aware. When we were offered a genetics appointment, we were unsure what it meant, but we went ahead and had the Connexin 26 tests, which came back clear. A chromosome deletion was found, but this was not thought to be clinically significant.
At a follow-on genetics appointment, we were offered the chance to be one of the last families to take part in the 100,000 Genomes Project. We decided to go ahead, still thinking it was highly unlikely they would find a specific gene, but it was worth a try. We wanted to find answers to the questions we had then as well as questions Isaac may ask in the future.
After almost a year, we were called back to the genetics department to discuss the findings. They had found the specific gene mutation that caused Isaac's hearing loss. The gene had come from me, his mother. Women can be carriers but not deaf themselves. Again, with no history of this in the family, it came as a huge shock but made Isaac even more special in our eyes.
We now feel more equipped to answer any questions which may arise. For example, we now know the likelihood of Isaac passing deafness onto any future children he may have, and we can tell him about this in the future.
At the time of the follow-up appointment, I was 16 weeks pregnant with our second child (who went on to be born hearing). It was always a possibility we would have another deaf child, but the results of the genetics appointment provided us with the likelihood of this happening. All we knew at that point was raising a deaf child, so we thought having a hearing one may well be the challenge!
The only issue with having most of the answers is the waves of guilt I have, sometimes laying blame on myself. We knew nothing about the gene mutation before having children, and I wouldn't change Isaac for the world, but it's still emotionally challenging at times for me.
The best thing is having the knowledge for Isaac, which is why we went ahead initially with the appointment. We were lucky to be involved with the 100,000 Genomes Project, and we may have never got these answers in the standard genetic testing for deaf children. The hardest thing with all genetic testing is the wait - it's a lengthy process, and that's not easy for parents of newly diagnosed children. For us, it was worth it in the end!