How having deaf children changed our lives
Published Date

: 11 Nov 2021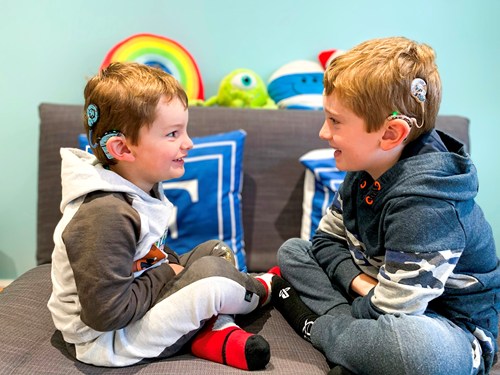 Before having our first son Baye, neither Marc nor I had had much experience with deafness. I worked as a teacher in a special educational needs school, so I had come across the odd hearing aid and radio aid, but cochlear implants were totally alien to both of us.
Finding out through the newborn hearing screening that Baye was profoundly deaf was tough. We were thrown into a world of hearing tests, scans and appointments. The National Deaf Children's Society's workshops and parents we met in our local group were a godsend in providing us with support at that time. I quickly learned that I had to be brave and confront people's questions (and stares) about my baby's hearing aids head on. If we wanted Baye to be confident about his hearing equipment, we had to be confident and proud of it first.
When he was around six months old, we found out through genetic testing that Baye was deaf due to the gene Connexin 26. Therefore, we had a quarter chance of further children we had being deaf.
Baye was implanted at 10 and a half months old. He has done amazingly well with his cochlear implants and has just started Year 2 in a mainstream school.
When our second son Flynn was born, we refused the newborn hearing screening test. We decided to enjoy our baby for a couple of weeks before being thrown back into the world of tests and appointments. We knew that regardless of whether Flynn passed the screening, we'd want further tests. By the time he had his automated otoacoustic emissions (AOAE) test, we already knew he was deaf.
We were a lot more prepared and knowledgeable the second time around, and at around this time, we started thinking about what we could do to support our children further in developing a positive self-image.
I began writing down my experiences and Marc, who is a graphic designer, decided to make some stickers for the boys' hearing devices. Baye was thrilled to have superhero ears to match his costume at his fourth birthday party and we were quickly inundated with requests from friends to make stickers for their children's equipment too. We realised this was a great way to raise deaf awareness, as well as improve self-esteem in both deaf children and adults.
When Flynn was seven months old, we launched our business HEAROES, which provides skins for hearing aids and cochlear implants, as well as coloured tubing and cable twists. The business took off immediately and we now send our products out worldwide, encouraging deaf children and adults to be proud of their hearing equipment. Around the time that we launched the business, I also decided to pursue my ambition to become a Teacher of the Deaf (ToD). It was something I'd thought about since having Baye, but launching the business and seeing what a difference we were making to people's lives gave me a fresh drive to use my teaching background to support deaf children and their families.
Today, Marc runs the business on top of working part-time as a graphic designer. I've recently left my long-standing teaching position to concentrate on my second year of ToD training and helping more with the business which is constantly busy! Flynn is a mischievous (almost) three-year-old who loves to chat and sing, and Baye is a typical six-and-a-half-year-old who loves to play football.
Being told that our firstborn son was deaf back in 2015 was traumatic and extremely overwhelming. Our lives changed instantly. However, the path that having Baye led us to has been an amazing ride so far, we couldn't be prouder of our own little HEAROES and the resilience they've shown on their hearing journeys!