Kenzie starts swimming lessons
Published Date

: 23 Feb 2023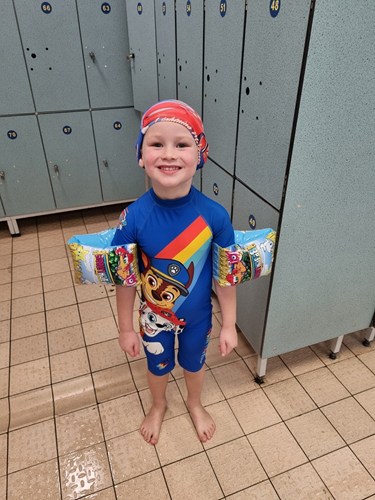 If you have read any of my blogs before, you will know Kenzie loves swimming. He's a real water baby. He's so confident in the water and loves splashing around.
He has been on the waiting list for several months for swimming lessons in our local leisure centre, and this month he finally got to start them. I was so eager for him to start as I really struggle to find him activities and hobbies he's able to do and will enjoy, so I was so pleased he finally got his space.
I was worried how he would get on in the water without me and how he would cope with wearing his swimming ears (aqua kit), but he absolutely loves it! He's so confident in the water and has no problem making friends with new people as he's such a sociable little boy.
If any of you use the aqua kit, you will know how difficult it is to keep them on when splashing in and out of the water. I have always used a head band (like a sweat band) with Kenzie to help secure them in place, but this still came off quite easily when putting his head under water. I also make sure he has them clipped to his swimsuit in case they do come off in the water.
We now use a swimming hat – not a tight lycra one as this would be uncomfortable for him and would also make it difficult for him to hear. Instead, I managed to find a similar style but made from fabric, and I would highly recommend them! They hold his ears securely in place even when he's dunking his head in and out of the water, and he even got to choose his own funky designs. He chose superheroes and cars of course!
He has now been to a few sessions, and he absolutely loves it and can't wait to pack his swimming bag – he's so independent. I'm also teaching him how to use the aqua kit and how to change the pieces, and he now enjoys telling me which pieces go where and how to fit them in as we change them over. He also likes popping them in his dry box that evening and turning on the button.
The swimming teacher is really supportive and makes sure she speaks louder and also demonstrates the actions to Kenzie. It's difficult for him to hear in such a noisy environment, but this doesn't stop him at all, and he manages to keep up and follow the rest of the group with no problem.
This week we're going to try using the mini mic and see if this helps increase the sound of the teacher's voice for him. I will let you know how we get on!