My daughter's struggle to communicate in hospital
Published Date

: 14 Jul 2022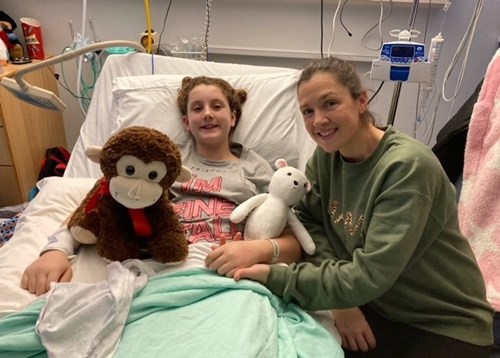 Recently, my daughter Ffion-Hâf (12) spent six weeks in hospital to treat an extremely severe, rare and painful ear infection. To us, she is the bravest, most courageous and most special little girl in the world. Being a Mum (and a Teacher of the Deaf) to a deaf child, my role as an advocate hit its all-time high over those six weeks.
Ffion-Hâf faced daily struggles in hospital because she is profoundly deaf. She is a bilateral cochlear implant user, but while in hospital, she would only wear one - or often neither - due to all the background noise. With her implants on, she still has a moderate hearing loss; without them, she is profoundly deaf.
Face masks proved to be very problematic. Doctors and hospital staff regularly forgot to remove their masks before speaking to her, making communication impossible. Deaf people need to be able to see your mouth to lip-read - it's a fact.
The background noise was constant - the bleeping of machines, babies crying, food trolleys, radios blaring, toddlers screaming, movies playing, children laughing, beds and chairs moving, nurses and doctors conversing… all this just added to the difficulty she had in hearing staff, even when they were standing directly next to her bed.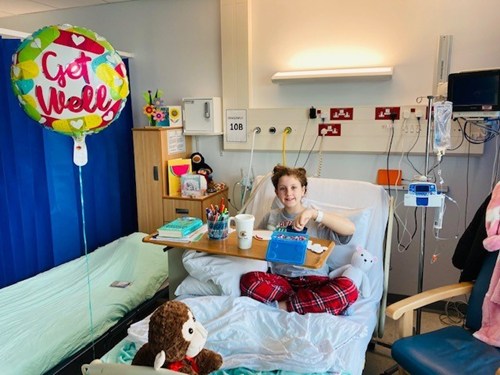 When she was wearing one of her implants, auditory (listening) fatigue was a huge factor; she was continuously exhausted from trying to listen to the advice/diagnosis of the doctors and nurses. Subsequently, she suffered with daily headaches. On top of this, due to a language delay caused by her deafness, she struggled to understand and interpret what she heard, 99% of the time completely misunderstanding what was said. It was heart-breaking to watch day in, day out. She became very upset and frustrated, hence the removal of the working implant.
Without her implants on, the only way to communicate with her is through British Sign Language (BSL). But the lack of sign language in the hospital added further complexities to the communication barriers Ffion-Hâf faces.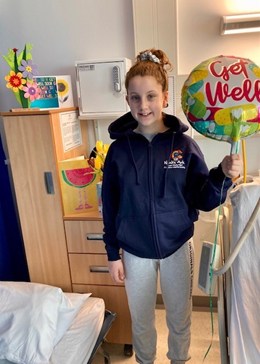 Many of the doctors and nursing staff regularly commented on the fact that they were unable to communicate effectively with her, and I've been asked to help improve deaf awareness and to teach some basic sign language to staff in the hospital. This will hopefully enable doctors and nursing staff to be able to communicate effectively with other deaf children in the future.
The lack of public understanding and awareness around deafness and sign language is a big issue, and I will continue to do whatever I can to raise awareness of this invisible disability. With this in mind, my partner Elin and I thought it would be a good idea to raise awareness of childhood deafness and the importance of sign language by taking part in the RideLondon cycling event this year! RideLondon is a 100-mile bike ride (the equivalent to a London marathon!). We also wanted to raise funds for the National Deaf Children's Society (NDCS), a charity that is very close to our hearts. Not only has the NDCS helped us as a family, but it has also helped me immensely in my role as a Teacher of the Deaf.
Elin and I completed RideLondon with a finishing time of 6 hours and 57 minutes. The ride was a massive challenge for novices like us, and for anyone wishing to participate in this event in the future, be warned, London is definitely not flat! After a rocky start - managing to fall over before the start line (!), mile 20 proved to be simply amazing when I was approached by a deaf rider and managed to have a one-handed BSL conversation with him! That was definitely a highlight for me, and Elin managed to capture the moment on video too!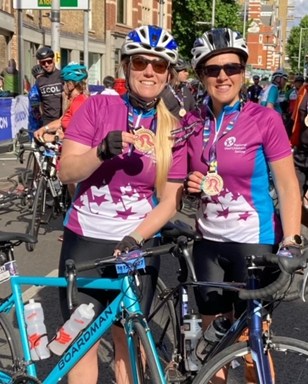 The RideLondon experience had an immense atmosphere and made this a truly rewarding charity event for us. Seeing the finish line at Tower Bridge, we both became very emotional… to actually complete the 100 miles was such an amazing feeling; we felt proud, elated and exhausted!
Our fundraising goal was £500, but people were so generous, we moved it up to £2,000! We're now at £2,335 and it's still rising!
If you'd like to contribute, however small, it would mean the world to us! You can donate by going to our JustGiving page.