Olive's grandma
Published Date

: 12 Oct 2023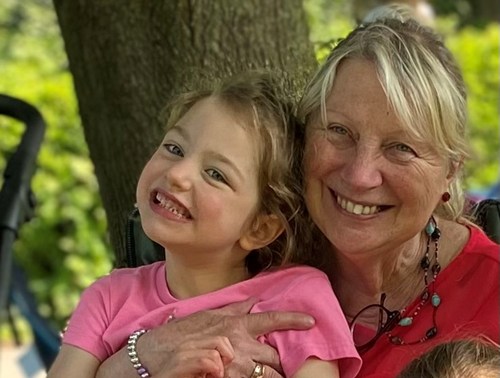 It's hard to put into words how grateful we are for Grandma Rose (and Grandad Bryan). She's always ringing or texting 'would this be good for Olive' or 'would she like this', and she makes sure that no matter what's happening, Olive has some involvement in the fun.
Olive and her Grandma Rose have a very special relationship. She is one of Olive's favourite people. Olive is 6, her Grandma Rose is a little bit older than that, but both of them have a very cheeky sense of youthful mischief.
They're often up to no good together, making a mess or playing tricks. They can sometimes (actually, a lot of the time) be found snuggling under a blanket on the sofa eating a big bar of chocolate. Both of them are chocoholics – Rose says it's genetic.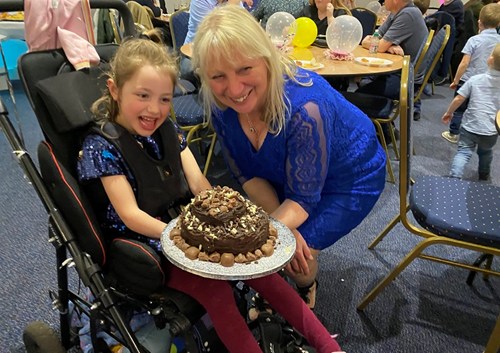 Olive is profoundly deaf and is a bilateral implant user. She has cerebral palsy, and although she can hear and speak, she relies on some sign supported language. On some days, she prefers to have her implants off, so we use British Sign Language (BSL).
Rose has learned some basic BSL and continues to go to a relaxed signing session to keep up her skills. Even when she doesn't know which signs to use, she and Olive have a way of communicating through giggles, touch and eye contact that no one else has.
Rose attended tots groups with us and chatted to deaf adults to build up her deaf awareness, and she's always asking questions about Olive's needs.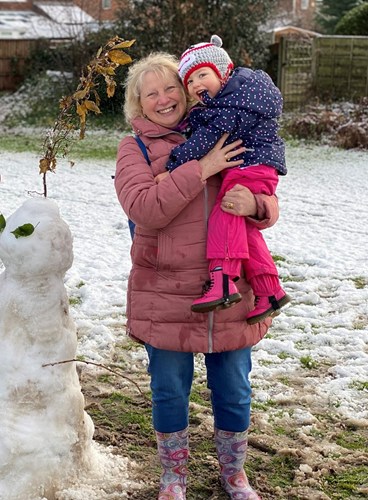 Someone once described Rose as 'the grandma we'd all love to have', and it's certainly true. Olive adores Rose. Grandma Rose comes every morning to help with school drop offs. Since Olive attends a special school, it's hard to coordinate two children leaving the house to go to different places at the same time. When the doorbell goes, Olive always squeals, and all three kids shout, 'Grandma's here!' and make a dash for the door. It's a little mini chorus of appreciation for how much they all love her.
We're lucky to have grandparents who live so close and do so much to help out. They often say they're lucky for that too, although after a night putting our children to bed recently, they may have changed their minds… but we really do appreciate them.