Sybil's swimming journey
Published Date

: 30 Sep 2021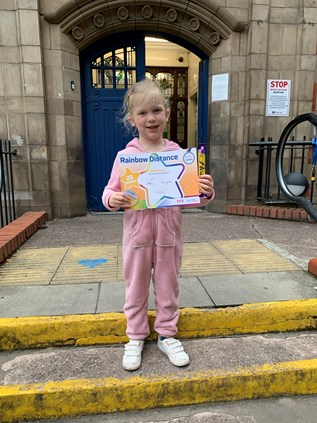 When Sybil was diagnosed as profoundly deaf, we had many questions about what her life would be like, including how difficult it would be to do things like learn to swim. As someone who is not confident in water, I was determined to get Sybil swimming at an early age.
Sybil wears cochlear implants, which can't get wet, but we were given an aqua kit by the cochlear implant company so she could wear them in water. The kit is made up of silicone cases for her processors, and waterproof coils. The cases muffle a lot of the sound that Sybil receives, so she can't hear speech as well as usual. In addition, swimming pools are such acoustically challenging environments, with hard surfaces for sounds to bounce off of, and a lot of background noise including splashes and shouts. The result can be a wall of indecipherable sound that's incredibly difficult for a deaf child to navigate. When we go swimming, Sybil communicates using British Sign Language (BSL), gesture, and lip-reading. If we want to speak to her, we talk directly into her processors to give her the best chance of catching what we've said. I also find the aqua kit useful as it gives other people a visible clue that Sybil is deaf and may not hear them.
Due to all the issues around acoustics and communication, we decided to start Sybil off with one-to-one swimming lessons, and she started around her fourth birthday. Before she started her lessons, I took Sybil to the pool so she could familiarise herself with the environment, and we talked about learning to swim and water safety. As she wants to be a mermaid when she grows up, she was excited to start!
We found a swimming teacher who had experience working with children with additional needs, and he immediately put Sybil at ease with his calm and encouraging manner. I gave him some basic BSL flashcards relevant to swimming, and explained a bit about deaf awareness, as well as the limitations of Sybil's technology. As they've got to know each other, they've figured out ways to effectively communicate, and now have a great relationship. While Sybil was a bit reluctant to do things like jump in at first, she trusted her teacher and he worked hard to boost her confidence in the water.
Initially one of the problems we encountered was that her processors were constantly falling off. Every time she jumped in, pushed off the side of the pool, or brushed her arm against her ears, they'd be knocked off. We tried a headband to hold them in place, but Sybil didn't like the feel of it. Eventually we worked out a way to use the straps of her goggles to keep her coils on, and now much less time is spent reattaching her technology.
Sybil quickly gained confidence and was swimming after only a few weeks, but the first lockdown saw her lessons abruptly stopping. Unfortunately, she'd lost most of her skills by the time she got back into the water in the summer, but quickly got the hang of things again. Another lockdown came along, plus various self-isolation periods, but it hasn't affected her enthusiasm, and she recently got her 25 metres award. At a family trip to a water park this summer, she was happily throwing herself down huge water slides, while keeping herself safe.
The one-to-one swimming lessons have been wonderful, but they're expensive. Sybil's swimming teacher put us in touch with our local authority's short breaks service, who did an assessment and agreed to fund Sybil's lessons. I'd never heard of this service before, and it was a relief to get funding so Sybil can continue to learn safely at her own pace.
We're so pleased with how much confidence Sybil now has in the water and, thanks to her brilliant, inclusive teacher, as well as her tenacity and perseverance, her swimming is going from strength to strength.